Gynecological Check-Up (examination) (program ID:

356114

)
University Hospital Frankfurt am Main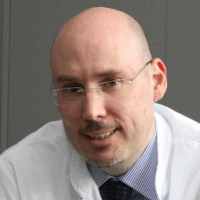 Head Physician
Prof. Dr. med.
Sven Becker
Specialized in: adult and pediatric gynecology, obstetrics, mammology
Department of Adult and Pediatric Gynecology, Obstetrics and Mammology
Program includes:
Initial presentation in the clinic
clinical history taking
review of medical records
physical examination
laboratory tests:

blood coagulation analysis (aPTT, PT, INR)
inflammatory parameters (CRP, ESR)
tumor markers (CEA, CA19-9, AFP, CA125)
hormone test (LH, FSH, prolactin, estradiol, progesterone, testosterone)
immunological status (protein electrophoresis)

urinanalysis:

Ph
leukocytes
protein
ketones
erythrocytes
urobilinogen
nitrites

gynecological examination:

colposcopy
vaginal swab
cervical biopsy (if clinically indicated)
pelvic ultrasound
transvaginal ultrasound
breasts ultrasound
mammography

nursing services
services of all leading experts
interview and recommendations after examination
written statement
Required documents
Medical records (if availale)
Service
Price:
Type of program :
Expected duration of the program:
You may also book

Price:
About the department
According to the Focus magazine, the Department of Adult and Pediatric Gynecology, Obstetrics and Mammology at the University Hospital Frankfurt am Main ranks among the top German departments specializing in the provision of obstetric services and breast cancer treatment!
The department offers all diagnostic and therapeutic options for patients of all ages with diseases of the female reproductive system, mammary gland, as well as provides the comprehensive pregnancy management, childbirth and postpartum care in accordance with the highest standards of modern obstetrics. One of the priority focuses of the department's work is the treatment of oncopathology in women. All specialists have excellent qualifications and tremendous experience, and therefore they achieve successful results even in extremely difficult clinical cases. The department is headed by Prof. Dr. med. Sven Becker.
In the field of gynecology, the patients are provided with the treatment of general gynecological diseases, oncological pathologies of the female reproductive organs, endocrine diseases of gynecological genesis, therapy of urinary incontinence, pelvic prolapse, etc. A specially trained team of doctors is available to serve young patients with gynecological problems. They specialize in the treatment of infectious diseases, inflammatory processes of the genital organs in girls, correction of malformations and puberty disorders.
The department's mammologists deal with the diagnostics and treatment of breast cancer and benign breast diseases. The department is certified by the German Cancer Society and also has DIN EN ISO 9001: 2008 certification. The doctors have at their command the very latest therapy methods and surgical techniques, which allow them to fight against breast diseases as efficiently as possible. At the advanced stages of cancer, when the patient requires complete mammary gland resection, the doctors perform reconstructive interventions to ensure a good aesthetic result.
Another important focus of the department's work is obstetrics. All specialists in this field make every efforts to ensure the best possible safety and make labor painless and as comfortable as possible for any woman. the department has modern ultrasound equipment for all types of ultrasound examinations in each trimester. The spectrum is complemented by chromosome analysis and fetal therapy (cordocentesis, drug treatment of cardiac arrhythmias in fetus (intrauterine administration of drugs)). The department's obstetricians have vast experience in managing high-risk pregnancies, multiple pregnancies. The patient can have a water birth, If necessary, a caesarean section can be performed as well. To relieve pain, the patients are offered peridural anesthesia.
The service range of the department includes:
General gynecology

Diagnostics and treatment of uterine fibroids

Hormone therapy
Placement of the hormonal coil Mirena®
Endometrial removal
Fibroid enucleation (organ-sparing surgery)
Hysterectomy (removal of the uterus)
Arterial embolization

Diagnostics and treatment of endometriosis

Hormone therapy
Placement of progestogen-containing intrauterine coil Mirena®
Surgical treatment (at the advanced stage of the disease)
Electrocoagulation

Diagnostics and treatment of cervical, vaginal and vulvar dysplasia

Cervical conization
Laser therapy using CO2 laser

Diagnostics and treatment of menstrual disorders

Gynecologic oncology

Ovarian cancer
Cervical cancer
Endometrial cancer
Vulvar cancer
Vaginal cancer
Borderline ovarian tumors
Cervical and vulvar dysplasia (precancerous conditions)
Rare ovarian tumors
Sarcomas of the uterus and reproductive organs

Urogynecology

Diagnostics and treatment of urinary incontinence

Conservative therapy (for example, hormone therapy, pelvic muscle strengthening, Biofeedback, drug therapy, etc.)
Surgical treatment (for example, TVT sling procedure, transobturator sling, colposuspension)

Diagnostics and treatment of pelvic prolapse

Pediatric gynecology

Preventive measures (tips on intimate hygiene, sex education, contraception and infection prevention)
Diagnostics and treatment of inflammatory processes of the reproductive organs
Diagnostics and correction of genital malformations in girls (for example, closure or absence of the vagina)
Diagnostics and treatment of developmental disorders in girls (for example, delayed mammary gland development, absence of menstruation)

Gynecological endocrinology and reproductive medicine

Reproductive problems (also in case of endometriosis, uterine fibroids, polycystic ovary syndrome)

Intrauterine insemination
In vitro fertilization
Intracytoplasmic sperm injection (ICSI)
Testicular sperm extraction
Microsurgical epididymal sperm aspiration
Preservation of fertility during chemotherapy, radiation therapy

Hormonal disorders

Menstrual disorders
Polycystic ovary syndrome
Menopause

Mammalogy

Diagnostics

High-resolution ultrasound imaging
Ultrasound-guided biopsy (fine needle, punch, high-speed)
Ultrasound- or mammography-guided tumor marking in mammary gland
Digital mammography with high-resolution
Stereotactic vacuum-assisted biopsy
CT-guided biopsy
MRI-guided marking and biopsy of the mammary gland tumors in the case of tumors, which cannot be imaged using ultrasound or mammography

Therapy

Outpatient treatment (biopsy, non-extensive surgical interventions)
Treatment as part of clinical trials
Second opinion
Surgical treatment (organ-sparing interventions, plastic reconstructive surgery and aesthetic breast surgery)
Sentinel lymph node biopsy (including its removal)
Implantation of venous port systems for chemotherapy

Obstetrics

Integrated management of pregnancy, including high-risk pregnancy
Ultrasound screening in all trimesters
Fetal therapy
Chromosome analysis
Сhildbirth (including water birth)
Cesarean section
Postpartum care for mother and baby (Neonatal Intensive Care Unit)

Other diagnostic and therapeutic options
Curriculum vitae
Education
1987 - 1994 Study of Medicine at the Johannes Gutenberg University of Mainz.
1989 - 1990 Study at the Université René Descartes Paris.
1991 Study at the Autonomous University of Madrid.
1992 - 1993 Study at the Nihon University in Tokyo.
1994 Third Medical State Exam in Germany and the US State Exam (USMLE I+II).
Doctoral Thesis
1999 Doctoral thesis defense (magna cum laude) at the Institute for Physiological Chemistry, Johannes Gutenberg University of Mainz: "In vitro testing of potential antiviral agents against HIV in the MTT assay" (supervisor: Prof. Dr. med. Werner E.G. Müller).
Habilitation
2006 University Hospital Tuebingen: "Tumor cell dissemination and tumor cell persistence in breast cancer – the effect of systemic treatment and characteristics of cells" (supervisor: Prof. Dr. med. Diethelm Wallwiener).
Professional Career
1995 - 1996 Academic Teaching Hospital of the University of Frankfurt am Main, Department of Gynecology of the St. Joseph Hospital in Wiesbaden.
1996 - 1997 Institute of Pathology at the Technical University of Munich, University Hospital Rechts der Isar Munich.
1997 - 2001 Residency in Gynecology and Obstetrics at the Johns Hopkins Hospital of the Johns Hopkins University in Baltimore (Prof. Harold Fox).
2001 Board certification for Gynecology and Obstetrics by the American College of Obstetricians and Gynecologists (ACOG).
2001 Board certification for Gynecology and Obstetrics, Germany.
2002 - 2004 Head of the Section for Clinical Obstetrics/Delivery Unit, University Hospital Tuebingen
Since 2004 Operative Senior Physician, Head of the Section for Operative Gynecology, Department of Gynecology, University Hospital Tuebingen.
Since 2008 Leading Senior Physician, Department of Gynecology, University Hospital Tuebingen.
2008 Associate Professor, Department of Gynecology, University Hospital Tuebingen.
2010 Extraordinary Professor, University of Tuebingen.
Since 07.2012 Head of the Department of Adult and Pediatric Gynecology, Obstetrics and Mammology at the University Hospital Frankfurt am Main.
Membership in Professional Societies
German Society of Obstetrics and Gynecology (DGGG).
Professional Association of Gynecologists (BVF).
German Cancer Society (DKG).
German Senological Society (DSG).
American College of Gynecology and Obstetrics (ACOG).
Working Group on Gynecological Oncology (AGO).
Working Group on Gynecologic Endoscopy (AGE).
German Society for Perinatal Medicine (DGPM).
European Society for Obstetrics and Gynecology.
German Society of Ultrasound in Medicine (DEGUM).
European Society of Gynecological Oncology (ESGO).
European Society of Gynecologic Endoscopy (ESGE).
Photo of the doctor: (c) Universitätsklinikum Frankfurt
---
About hospital
Accommodation in hospital
Check-up
Program [Description]
Gynecological Check-Up (examination)
Hospital: University Hospital Frankfurt am Main
Type:
Duration:
Price:
date_range
There are 97 check-up diagnostic hospitals on Booking Health website
Show all clinics
Certificates