Left bundle branch block (lbbb) conservative treatment and holter monitoring (program ID:

76507

)
University Hospital Frankfurt am Main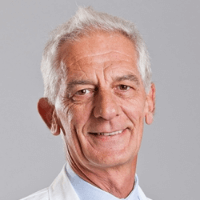 Head Physician
Prof. Dr. med.
Andreas Zeiher
Specialized in: cardiology, angiology
Department of Cardiology and Angiology
Program includes:
Initial presentation in the clinic
clinical history taking
review of medical records
physical examination
laboratory tests:

complete blood count
biochemical analysis of blood
thyroid function test (TSH-basal, fT3, fT4)
mineral metabolism analysis (Na, K, Ca, Mg)
lipid metabolism (HDL/LDL, cholesterol, triglycerides,
Lip(a), homocysteine)
iron content (ferritin, iron)
blood coagulation analysis (aPTT, PT, INR)
metabolic status (uric acid, total glucose, HbA1c)
inflammatory parameters (CRP, ESR)
cardiovascular disease risk markers

vascular system assessment
resting and exercise ECG
vessel elasticity measurement
color doppler echocardiography
color doppler sonography of cerebral vessels
measurement of arterial blood pressure electrocardiogram
Holter monitoring (24h)​
nursing services
treatment by chief physician and all leading experts
explanation of individual treatment plan
written statement
Required documents
Medical records
ECG (if available)
Service
Price:
Type of program :
Expected duration of the program:
You may also book

Price:
About the department
According to the prestigious Focus magazine, the Department of Cardiology and Angiology at the University Hospital Frankfurt am Main ranks among the top German medical facilities specializing in the treatment of heart diseases!
The department offers the full range of modern diagnostic and conservative therapeutic techniques for patients with cardiovascular diseases. The department houses a General Cardiology Outpatient Clinic, high-tech Cardiac Catheterization Laboratory and Emergency Cardiac Care Unit. The medical facility is also certified as an Interdisciplinary Center for Heart Failure and a Center for Transcatheter Aortic Valve Implantation. All this creates excellent conditions for the provision of highly professional and effective medical care. The department is headed by Prof. Dr. med. Andreas Zeiher.
To make an accurate diagnostics and develop an optimal treatment strategy, the department's cardiologists carry out modern diagnostic examinations. An important structural object of the department is the Cardiac Catheterization Laboratory. It offers all methods of invasive diagnostics of ischemic heart disease, pathologies of large blood vessels, myocardial diseases, heart valves, pulmonary circulatory disorders, etc. In addition, the doctors of the laboratory specialize in unique examinations, which are available only in the advanced medical centers in Europe, for example, intravascular ultrasound (IVUS), optical coherence tomography (OCT), intracoronary Doppler flow velocity and pressure measurements for the assessment of endothelial function, etc.
If necessary, doctors can perform medical invasive procedures, in particular, coronary artery interventions. An important focus of the Cardiac Catheterization Laboratory is the treatment of structural heart diseases, such as atrial septal defect and ventricular septal defect. Also, the department's doctors have exceptional experience in the field of catheter treatment of aortic stenosis and mitral valve insufficiency (MitraClip technique, mitral valve annuloplasty).
Of particular interest is the diagnostics and treatment of cardiac arrhythmias (electrophysiology). In order to eliminate these disorders, the doctors use the very latest techniques, such as cardiac resynchronization therapy, implantation of pacemakers, defibrillators, event recorders, cardiac contractility modulation systems.
The department's angiologists specialize in the diagnostics and treatment of patients with vascular diseases. All methods of non-invasive and invasive diagnostics of vascular pathologies are available here. One of the priority clinical interests is the treatment of patients with peripheral arterial occlusive disease.
The service range of the department includes:
Cardiology
Diagnostic options

Non-invasive examinations

Resting and stress ECG
Spiroergometry
24-hour Holter monitoring
Diagnostics using an event recorder
24-hour blood pressure monitoring
Orthostatic test (tilt test)
Transthoracic echocardiography
Transesophageal echocardiography
Stress echocardiography
Magnetic resonance imaging
6-slice CT scanner (with two X-ray sources)

Invasive examinations

Heart catheter diagnostics
Left heart catheterization
Right heart catheterization
Intravascular ultrasound (IVUS)
Fractional flow reserve measurement
Endothelial function examinations
Myocardial biopsy
Electrophysiological examinations
Carto 3D mapping technique
Event recorder implantation

Therapeutic options

Invasive treatment of cardiac pathologies

Percutaneous transluminal coronary angioplasty (PTCA)
Coronary stent implantation, including drug-coated stent implantation
Minimally-invasive valve replacement, MitraClip technique in mitral valve insufficiency
Left atrial appendage closure (left atrial appendage occluder)
Closure of atrial septal defects, interventricular septal defects, open foramen ovale
Stem cell therapy in acute infarction and coronary artery disease
High-frequency and cryoballoon techniques for the treatment of arrhythmias, including atrial fibrillation
Implantation of pacemakers and defibrillators
Cardiac resynchronization therapy device implantation
Cardiac contractility modulation in heart failure

Conservative treatment of cardiac pathologies

All modern pharmacological products, drugs and intensive therapy methods

Other diagnostic and therapeutic options
Angiology
Diagnostic options

Duplex ultrasonography and continuous-wave Doppler of all blood vessels
Determination of ankle-brachial pressure index
Oscillography
Treadmill ergometer
Microcirculation assessment
Percutaneous measurement of oxygen partial pressure
Capillary microscopy
Digital subtraction angiography

Therapeutic options (minimally invasive techniques)

Percutaneous transluminal coronary angioplasty (PTCA)
Balloon angioplasty
Angioplasty using special drug-coated stent implantation
Implantation of vascular endoprostheses
Recanalization in prolonged and chronic occlusions
Local intra-arterial thrombolysis
Therapy using autologous stem cells in stage III-IV peripheral arterial occlusive disease according to Fontaine classification

Other diagnostic and therapeutic methods
Curriculum vitae
Education
1974 - 1981 Medical School, University of Freiburg.
1979 - 1981 Doctoral thesis.
May 1981 Licence to practice medicine.
Professional Career
11.1981 - 03.1983 Resident, Department of Internal Medicine, Division of Cardiology, University Hospital Freiburg.
04.1983 - 02.1986 Clinical Fellow, Department of Internal Medicine, Division of Cardiology, University Hospital Freiburg.
03.1986 - 12.1987 Research Fellowship of the German Research Foundation (DFG) at Cedars-Sinai Medical Centre, School of Medicine, University of California, Los Angeles, CA, USA.
01.1988 - 09.1990 Clinical Fellow, Department of Internal Medicine, Division of Cardiology, University Hospital Freiburg.
01.1990 Associate Professor.
10.1990 - 05.1995 Director of the Section for Interventional Cardiology, Department of Internal Medicine, Division of Cardiology, University Hospital Freiburg.
Since May 1995 Head of the Department of Cardiology and Angiology at the University Hospital Frankfurt am Main.
2002 - 2004 Chairman, Working Group on Interventional Cardiology, European Society of Cardiology.
2001 - 2006 Vice Chairman, Board of Directors at the University of Frankfurt.
Prizes and Honours
1991 Rudolf Thauer Award of the German Society for Heart and Circulation Research.
1995 Franz Loogen Prize of the Society of Heart and Circulation Research, Essen.
2001 Fritz Acker Prize, Fritz Acker Foundation, Bad Homburg.
2004 CARIM Lecture, University of Maastricht, the Netherlands.
2005 HJC Swan Professorship, Cedars-Sinai Medical Center, University of California, Los Angeles.
2006 Princess Lilian Professorship, Belgian Society of Cardiology, University of Brussels.
2007 Ernst Jung Prize.
2009 Paul Morawitz Prize of the German Society of Cardiology.
2009 Princesses' Lecture, Victor Chang Cardiac Research Institute, Sydney.
2010 Award of the International Society for Cardiovascular Translational Research.
2010 Stanley Davidson Lecture, Royal College of Physicians of Edinburgh, Scotland.
2012 Krakoff International Lecture, Brigham and Women's Hospital, Boston.
Research Interests
Basic and clinical aspects of vascular biology and atherosclerosis.
Role of stem and progenitor cells for endogenous cardiovascular repair, as well as their therapeutic application for regenerating cardiovascular function.
Use of biomarkers for risk prediction and therapeutic stratification of patients with acute coronary syndromes.
Memberships in Professional Societies
Fellow of the European Society of Cardiology.
Past Chairman of the Working Group on Interventional Cardiology of the European Society of Cardiology.
Co-Chairman of the Excellence Cluster Cardio-Pulmonary System (ECCPS) of the German Research Foundation (DFG).
Photo of the doctor: (c) Universitätsklinikum Frankfurt
---
About hospital
Accommodation in hospital
Left bundle branch block (lbbb)
Program [Description]
Left bundle branch block (lbbb) conservative treatment and holter monitoring
Hospital: University Hospital Frankfurt am Main
Type:
access_time Duration:
Price:
date_range
There are 93 left bundle branch block (lbbb) treatment hospitals on Booking Health website
Show all clinics
Certificates