Chemotherapy for germ cell tumors of the ovary (dysgerminoma) (1 course) (program ID:

471782

)
University Hospital Freiburg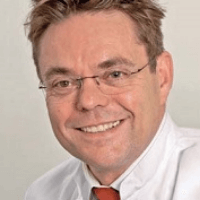 Head Physician
Prof. Dr. med.
Justus Duyster
Specialized in: hematology, oncology
Department of Hematology and Oncology
Program includes:
Initial presentation in the clinic
clinical history taking
review of medical records
physical examination
laboratory tests:

complete blood count
general urine analysis
biochemical analysis of blood
TSH-basal, fT3, fT4
tumor markers
inflammation indicators
indicators of blood coagulation

CT scan / MRI of the abdomen and retriperitoneum
abdominal and retroperitoneal ultrasound scan
1 course of chemotherapy
nursing services
consultations of related specialists
explanation of individual treatment plan
How program is carried out
During the first visit, the doctor will conduct a clinical examination and go through the results of previous laboratory tests and instrumental examinations. After that, you will undergo an additional examination, including laboratory assessment of liver and kidney function, ultrasound scan. Based on the received results, the doctor will elaborate the chemotherapy regimen. If necessary, related medical specialists will be involved in the elaboration of a treatment regimen (tumor board).
Chemotherapy is carried out as the day hospital procedure, without mandatory admission to the hospital. After the placement of a venous catheter, you will stay in a comfortable ward. An infusion system will be connected to the catheter, through which the required drug or a drug combination will be administered. All drugs are administered by intravenous drip, slowly, so the total duration of the infusion can be up to several hours. All this time, doctors and nurses will monitor your health condition closely.
After the course of chemotherapy, you will stay under medical supervision in the ward for a few more hours. If your general condition is good, your doctor will allow you to leave the hospital. You will receive the medical report with detailed recommendations regarding further treatment. In the future, you will be able to have a distant consultation with your attending physician and schedule the next course of chemotherapy, if necessary.
Required documents
Medical records
MRI/CT scan (not older than 3 months)
Biopsy results (if available)
Service
Price:
Type of program :
Expected duration of the program:
You may also book

Price:
About the department
The Department of Hematology and Oncology at the University Hospital Freiburg offers the full range of diagnostics and treatment of blood diseases, coagulation disorders, oncological diseases and related pathological conditions. The treatment is provided both on an outpatient and inpatient basis. The patient is offered a comprehensive treatment, including intensive care to eliminate side effects associated with the tumor and therapy, development of individual recommendations on nutrition, physiotherapeutic measures and psycho-oncological care. The department is headed by Prof. Dr. med. Justus Duyster.
The department specializes in the diagnostics and treatment of the following diseases:
Malignant solid tumors

Head and neck tumors
Tumors of the digestive tract
Lung cancer
Breast cancer
Cancer of the female genital organs (ovarian cancer, cervical cancer, endometrial cancer, other rare tumors in women, for example, vulvar and vaginal cancers)
Urogenital tumors (kidney cancer, urinary tract tumors, testicular cancer, prostate cancer, penile cancer, extragonadal germ cell tumors)
Thyroid cancer
Endocrine tumors (neuroendocrine tumors, pheochromocytoma, adrenal cortical tumors, pituitary tumors)
Tumors of the central nervous system (CNS)
Sarcomas
Skin tumors (malignant melanoma, squamous cell carcinoma, basal cell carcinoma, Merkel-cell carcinoma)

Hematologic malignancies

Leukemia
Hodgkin's lymphoma
Non-Hodgkin's lymphoma
Multiple myeloma (plasmacytoma)

Benign blood diseases

Anemia
Thrombocytopenia
Thrombosis, embolism and thrombophilia

Other diseases and pathological conditions
The range of diagnostic and therapeutic services of the department includes:
Diagnostics

General laboratory tests (for example, blood, urine, cerebrospinal fluid tests)
Special blood tests (peripheral blood smear, bone marrow cytology, cytochemical studies)
Blood cell testing
Fluorescence in situ hybridization (FISH method)
Ultrasound diagnostics
Bone marrow puncture, lumbar puncture, paracentesis and pleural puncture
Other diagnostic services

Therapy

Immunotherapy
Chemotherapy
Antihormone therapy (especially effective for breast cancer, prostate cancer, endometrial and ovarian cancer)
Other treatments

Supportive therapy

Psycho-oncological care (for the patient and his/her relatives)
Recommendations on nutrition
Pain therapy
Special physiotherapy for cancer patients

Other medical services
Curriculum vitae
1981 - 1982 Public Service, Hanover Medical School.
1982 - 1989 Study of Medicine at the University of Freiburg.
02.1987 - 05.1987 Scholarship of the German Academic Exchange Service (DAAD), Vita Insani Clinic, Pematang Siantar, Sumatra.
1987 - 1990 Dissertation, Department of Cardiology, University Hospital Freiburg. Subject: "Long-term therapy with captopril in experimental heart failure".
Professional Experience
11.1989 - 04.1991 Internship, Institute of Biochemistry, Freiburg, within the framework of the joint research project "Tumor development and prevention of this process".
1991 Admission to medical practice.
05.1991 - 10.1992 Research Fellow, joint research project "Tumor development and prevention of this process" Institute of Biochemistry, Freiburg.
10.1992 - 10.1994 Research Fellow, University of California, San Diego, Department of Biology (under the guidance of Prof. Wang), scholarship of the German Cancer Society.
11.1994 - 01. 1996 Assistant Physician, Free University of Berlin, University Hospital Virchow, Max Delbrück Center for Molecular Medicine, Department of Oncology.
02.1996 - 01.1998 Medical Assistant, Department of Hematology and Oncology, University Hospital Ulm.
02.1998 Medical Assistant, Department of Hematology and Oncology, University Hospital Rechts der Isar Munich.
07.2001 Medical Specialist in Internal Medicine.
01.2002 Senior Physician in the Department of Hematology and Oncology, University Hospital Rechts der Isar Munich.
01.2003 Habilitation, Internal Medicine.
07.2005 Partial specialization in Hematology and Internal Oncology.
01.2003 - 08.2012 Leading Senior Physician and Deputy Head of the Department of Hematology and Oncology, University Hospital Rechts der Isar Munich.
12.2004 Acceptance of the proposal to fill the position of C3 Professor of Internal Medicine and Experimental Hematology, Technical University of Munich.
2007 Invitation to the position of W3 Professor of Hematology and Oncology, Otto von Guericke University of Magdeburg (refused).
09.2012 W3 Professor of the Department of Hematology and Oncology at the University Hospital Freiburg (successor to Prof. Mertelsmann).
Photo of the doctor: (с) Universitätsklinikum Freiburg
---
About hospital
Accommodation in hospital
Germ Cell Tumors of the Ovary (Dysgerminoma)
Program [Description]
Chemotherapy for germ cell tumors of the ovary (dysgerminoma) (1 course)
Hospital: University Hospital Freiburg
Type:
Duration:
Price:
date_range
There are 93 germ cell tumors of the ovary (dysgerminoma) treatment hospitals on Booking Health website
Show all clinics