Treatment of hairy cell leukemia with cytostatics (program ID:

411281

)
University Hospital Mannheim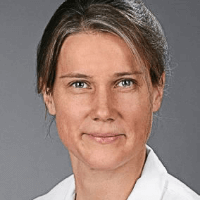 Head Physician
Prof. Dr. med.
Georgia Metzgeroth
Specialized in: hematology, oncology
Department of Hematology and Oncology
Program includes:
Initial presentation in the clinic
clinical history taking
review of medical records
physical examination
laboratory tests:

complete blood count
general urine analysis
biochemical analysis of blood
blood smear
TSH-basal
inflammation indicators
indicators blood coagulation

ultrasound of spleen
aspiration biopsy of bone marrow
cytogenetic analysis
therapy with cytostatics (1 curse)
nursing services
services of all leading experts
explanation of individual treatment plan
Required documents
Medical records
MRI/CT scan (not older than 3 months)
Bone marrow biopsy results (if available)
Service
Price:
Type of program :
Expected duration of the program:
You may also book

Price:
About the department
The Department of Hematology and Oncology at the University Hospital Mannheim offers the full range of services in these medical fields. It diagnoses and treats all benign and malignant blood diseases, cancers. The huge clinical experience and high competence of the doctors working in the department allow them to achieve excellent treatment results even in the most severe cases. The department is headed by Prof. Dr. med. Georgia Metzgeroth.
The main clinical focuses of the department include:
Complex diagnostics of malignant diseases of all organs and blood
All types of drug therapy for the treatment of malignant diseases

Chemotherapy
Immunotherapy
Hormonal therapy
Other targeted therapies

Treatment of complications after chemotherapy
Other services
The medical team of the department makes every effort to help patients overcome serious diseases and improve the quality of life.
Curriculum vitae
2010 Visiting Professor, Additional Qualification in Palliative Medicine.
Since 2008, Head of the Department of Hematology and Oncology at the University Hospital Mannheim, Heidelberg University.
2007 Habilitation. Subject: "Soluble transferrin receptor in hematology" (Prof. Dr. med. R. Hehlmann, Prof. Dr. med. Hochhaus), focuses: Hematology and Internal Oncology.
2005 Medical Specialist in Internal Medicine.
1999 Admission to Medical Practice.
1997 Doctor's Degree: "Urodynamic parameters and results of surgery to treat urinary incontinence" (Supervisor: Prof. Dr. Dr. h. c. mult. W. Schmidt).
1997 - 1999 Intern and Assistant Physician, Department of Internal Medicine IV, University Hospital Aachen (Prof. Dr. med. R. Osieka).
1991 - 1997 Study of Medicine, Saarland University, Homburg.
Photo of the doctor: (c) Universitätsklinikum Mannheim
---
About hospital
Accommodation in hospital
Hairy cell leukemia
Program [Description]
Treatment of hairy cell leukemia with cytostatics
Hospital: University Hospital Mannheim
Type:
Duration:
Price:
date_range
There are 61 hairy cell leukemia treatment hospitals on Booking Health website
Show all clinics