University Hospital Muenster
Department of Pediatric Cardiology (

289956

)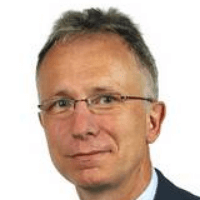 Prof. Dr. med.
Hans-Gerd Kehl
Specialized in: pediatric cardiology
About the Department of Pediatric Cardiology at University Hospital Muenster
The Department of Pediatric Cardiology at the University Hospital Muenster offers the full range of first-class services for the diagnostics and treatment of all types of congenital and acquired cardiovascular diseases in newborns, children and adolescents. Particularly important focuses of the department's work include the treatment of congenital heart and vascular diseases using cardiac catheterization techniques (interventional catheter therapy), intensive cardiological and cardiac surgery care, as well as medical care as part of outpatient counseling. To ensure the best comprehensive medical care, the department's specialists work in close cooperation with the Departments of Pediatric Cardiac Surgery, Obstetrics and Perinatal Medicine. The department is headed by Prof. Dr. med. Hans-Gerd Kehl.
The department became the first German medical facility, which introduced into practice the regular ultrasound monitoring of cardiac function in the operating room during the surgical correction of congenital heart defects (transesophageal echocardiography). In addition, the department has a specialized outpatient clinic, within which the doctors hold comprehensive consultations on many cardiovascular pathologies, for example, Marfan syndrome, pulmonary hypertension, genetically determined cardiac rhythm disorders, etc.
Each member of the medical team aims not only to provide excellent medical care, but also to create an atmosphere of complete security and develop trust relationship with young patients. The department has all necessary conditions to prevent emotional shocks and quite stressful situations in children because of the pathology and its treatment. The friendly nursing staff, psychologists, teachers, therapists, and physiotherapists take care of the children. Also, the department regularly holds children's theatre performances, shows with clowns. All this helps to distract the young patient from the therapeutic process and give him a lot of pleasant impressions, which contributes to the rapid recovery.
The diagnostic and therapeutic service range of the department includes:
Invasive diagnostics (cardiac catheterization laboratory)

Right and left heart catheterization
Ventriculography
Angiography of the large vessels
Electrophysiological examinations

Interventions

Balloon dilatation in heart valve stenosis
Stent implantation in vascular stenosis
Closure of the patent ductus arteriosus using spirals or a probe
Closure of atrial septal defect using transvenous implantation of the very latest catheter systems
Closure of vessels using synthetic materials (spirals)

Transesophageal echocardiography (also intraoperative)
Other medical services
Photo of the doctor: (c) Universitätsklinikum Münster
Department of Pediatric Cardiology.
University Hospital Muenster:

Request more information now.
We will be happy to answer all your questions.
---
Certificates