Plastic webbed fingers or toes separation surgery (syndactyly) (program ID:

127829

)
University Hospital Rechts der Isar Munich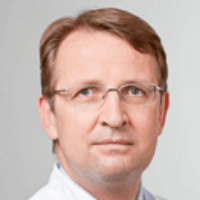 Head Physician
Prof. Dr. med.
Hans-Günther Machens
Specialized in: plastic surgery, hand surgery
Department of Plastic Surgery and Hand Surgery
Program includes:
Initial presentation in the clinic
clinical history taking
review of medical records
physical examination
laboratory tests:

complete blood count
biochemical analysis of blood
inflammation indicators (CRP, ESR)
indicators blood coagulation
hormonal examination

x-ray of the hand
preparation according to preoperative standard
surgery aimed at webbed fingers or toes separation
nursing services
the cost of essential medicines and materials
full hospital accommodation
explanation of future recommendations
written statement
Required documents
Medical records
X-ray of the affected region (if available)
Service
Price:
Type of program :
Expected duration of the program:
You may also book

Price:
About the department
The Department of Plastic Surgery and Hand Surgery at the University Hospital Rechts der Isar Munich offers the full range of services in the field of plastic reconstructive, aesthetic surgery and hand surgery. The doctors of the department have a unique experience in the field of tissue transplantation, finger, arm and hand replantation, as well as perform all types of classical aesthetic procedures. Thanks to the high rate of successful treatment results, the department enjoys an excellent reputation both in Germany and far beyond its borders. The department is headed by Prof. Dr. med.
Hans-Günther Machens.
The medical team of the department consists of 16 highly qualified doctors, who make every effort to achieve the best functional results, taking into account the aesthetic aspects. Surgical interventions are performed in state-of-the-art operating rooms, equipped with all necessary technical facilities. Outpatient operations are performed in a separate outpatient operating room. To provide medical care in case of urgent clinical situations, a specially trained team of doctors works round the clock in the department.
The main clinical focuses of the department include:
Reconstructive plastic surgery

Microsurgical tissue transplantation to close defects after accidents or tumor removal
Lymph node transplantation in severe forms of lymphedema of the upper or lower extremities
Reconstructive interventions on the mammary gland (breast plastic surgery after its removal, reconstruction in breast malformations and asymmetry, gynecomastia treatment)
Reconstructive interventions after skin cancer treatment
Reconstructive interventions and transplantation in facial nerve paralysis, partial paralysis or facial nerve muscle motor disorders
Innovative therapy for severe wounds of all parts of the body
Other services

Plastic aesthetic surgery

Breast augmentation (with implants, patient's own tissues)
Breast reduction
Liposuction
Body contouring surgery (breast, abdominal and thigh lift)
Scar revision (using a laser and other latest techniques)
Eyelid lift
Facelift
Forehead lift (endoscopic method)
Neck lift
Abdominoplasty
Lip augmentation
Wrinkle treatment
Nose reshaping
Ear reshaping
Chin reconstruction and reduction
Other services

Hand surgery

Replantation of the fingers and upper limbs (specialized round-the-clock Replantation Center)
Treatment of pain syndrome due to compressed nerves
Treatment of Dupuytren's contracture
Correction of hand developmental malformations
Reconstructive interventions on the hand after severe injuries
Other services

Treatment of nerve lesions and restoration of motor function after severe injuries, treatment of tumors or congenital malformations
Regenerative therapy

Cell therapy
Tissue therapy
Therapy with the use of innovative biomaterials and growth factors
Other types of therapy

Other therapeutic options
Curriculum vitae
Since 12.2007 and until now, Head of the Department of Plastic Surgery and Hand Surgery at the University Hospital Rechts der Isar Munich.
11.2003 Visiting Professor (University Hospital Lubeck).
10.1999 - 11.2007 Senior Physician (since 02.2004 Leading Senior Physician) of the Department of Plastic Surgery and Hand Surgery at the University Hospital Lubeck.
11.2002 Additional qualification in hand surgery.
10.2001 Optional advanced training, intensive therapy in plastic surgery, including medical care for severe burns.
07.1999 Habilitation.
02.1999 Medical Specialist in Plastic Surgery.
08.1997 - 09.1999 Senior Physician of the Department of Plastic Surgery, Hand Surgery and Reconstructive Surgery, Hannover Medical School.
12.1996 Additional qualification in plastic surgery.
04.1995 Medical Specialist in Surgery.
06.1993 - 07.1997 Assistant Physician, Department of Plastic Surgery, Hand Surgery and Rehabilitation Surgery, Hannover Medical School.
03.1991 - 06.1993 Assistant Physician, Department of Abdominal and Transplant Surgery, Hannover Medical School.
08.1988 - 02.1991 Civil Service Physician and Assistant Physician (since 04.1990), Department of Surgery, University Hospital Heidelberg.
06.1988 Admission to medical practice.
10.1981 - 06.1988 Study of Medicine in Hannover, Göttingen, Heidelberg, Wuhan (China) and Chicago.
Photo of the doctor: (c) Klinikum rechts der Isar der Technischen Universität München
---
About hospital
Accommodation in hospital
Syndactyly (webbed fingers or toes)
Program [Description]
Plastic webbed fingers or toes separation surgery (syndactyly)
Hospital: University Hospital Rechts der Isar Munich
Type:
access_time Duration:
Price:
date_range
There are 87 syndactyly (webbed fingers or toes) treatment hospitals on Booking Health website
Show all clinics
Certificates