Pacemaker implantation to treat atrial fibrillation (flutter) (program ID:

178459

)
University Hospital Rechts der Isar Munich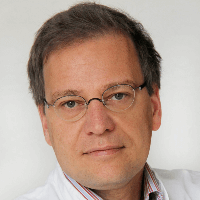 Head Physician
Prof. Dr. med.
Karl-Ludwig Laugwitz
Specialized in: cardiology, angiology, pulmonology
Department of Cardiology, Angiology and Pulmonology
The program includes:
Initial presentation in the clinic
clinical history taking
physical examination
cardiological examination
laboratory tests:

complete blood count
biochemical analysis of blood
TSH-basal
inflammation indicators
indicators blood coagulation

measurement of arterial blood pressure
electrocardiogram
Holter monitoring (24h)
echocardiography
transesophageal echocardiography
preoperative care
pacemaker implantation
symptomatic treatment
control examinations
the cost of essential medicines and materials
nursing services
full hospital accommodation
explanation of future recommendations
Required documents:
Medical records
ECG (if available)
Echocardiography (if available)
Service
Price:
Type of program :
Expected duration of the program:
You may also book:

Price:
About the department
The Department of Cardiology, Angiology and Pulmonology at the University Hospital Rechts der Isar Munich offers the full range of modern diagnostics and treatment of cardiovascular diseases, pathological lesions of the arteries, veins and lymphatic vessels, as well as various respiratory diseases. It is worth noting that the department's cardiologists carry out not only drug therapy for heart diseases, but also many interventional procedures, including TAVI, MitraClip, left atrial appendage closure in case of atrial fibrillation, balloon valvuloplasty and many others. The interventional therapeutic procedures for diseases of the heart, arteries, veins and lymphatic vessels are performed in specially equipped catheterization laboratories. Of particular interest in the field of pulmonology are bronchoscopy, endoscopic lung volume reduction and lung cancer treatment in collaboration with thoracic surgeons, oncologists, radiation therapists and other physicians. The department's specialists give preference to an individual approach to each patient. They use only modern and reliable treatment methods that guarantee an optimal result. The department is headed by Prof. Dr. med. Karl-Ludwig Laugwitz.
The department has excellent diagnostic options for examining the cardiovascular system. The medical facility has diagnostic rooms with state-of-the-art devices for electrocardiography (ECG), including stress and long-term ECG, transthoracic echocardiography (3D, 4D), tissue Doppler echocardiography and speckle tracking echocardiography, transesophageal echocardiography (3D, 4D), contrast-enhanced echocardiography. In cooperation with the Department of Nuclear Medicine, cardiac CT and MRI, myocardial scintigraphy and cardiac PET/MRI are performed. After comprehensive diagnostics, the attending physician determines the optimal course of treatment – it can be drug therapy, surgical interventions, or a combination of these techniques. To perform interventional procedures on the heart and coronary arteries, the department is equipped with three progressive cardiac catheterization laboratories. Cardiologists perform interventional procedures for acute coronary syndrome, chronic coronary artery occlusion, left atrial appendage defect, aortic and mitral valve defects, severe heart failure and other pathologies. This treatment is an excellent alternative to classical cardiac surgery, which often requires thoracotomy. The use of minimally invasive catheter-based techniques allows the doctors to perform the necessary therapeutic manipulations on the heart, heart valves and coronary arteries through arterial or venous vascular access, with minimal trauma to the healthy tissues. Cardiac catheterization procedures are performed under local anesthesia, which is also of great benefit to patients.
The department's therapeutic offer also includes the diagnostics and treatment of diseases of the arteries, veins and lymphatic vessels. Depending on the complexity of the clinical case, the treatment can take place both on an inpatient and outpatient basis. The department's specialists most often admit patients with carotid artery stenosis, pelvic and lower limb artery stenosis, renal artery stenosis, acute deep vein thrombosis, chronic venous insufficiency, pulmonary embolism. The department's specialists successfully carry out balloon dilation, stent implantation, atherectomy, rotary endarterectomy, lithotripsy and other procedures.
Another important field of the department's ​​clinical activity is pulmonology. The doctors of this medical profile admit patients with diseases of the respiratory system, mediastinum, pleural cavity and diaphragm. Particular attention is paid to performing interventions to remove small neoplasms in the chest. In addition, the department's pulmonologists are highly professional in the treatment of alpha-1-antitrypsin deficiency, pulmonary emphysema, interstitial lung diseases, pulmonary hypertension, allergic diseases and rare lung pathologies. The therapeutic spectrum includes drug therapy and various types of bronchoscopy, including laser treatment, stent implantation, and endoscopic lung volume reduction. The department also has an intensive care unit, where various types of non-invasive and invasive mechanical ventilation are performed.
The department specializes in the diagnostics and treatment of the following diseases:
Cardiology

Heart failure
Myocardial infarction
Acute coronary syndrome
Aortic valve stenosis
Mitral insufficiency
Left atrial appendage defect
Heart rhythm disturbances (arrhythmias)

Atrial fibrillation
Focal atrial tachycardia
Atrioventricular nodal reentry tachycardia
Wolff-Parkinson-White syndrome
Ventricular extrasystoles
Ventricular tachycardia

Angiology

Carotid artery stenosis
Pelvic and lower limb artery stenosis
Renal artery stenosis
Acute deep vein thrombosis
Chronic venous obstruction
Subclavian artery stenosis
Abdominal aortic stenosis
Chronic venous insufficiency
Pulmonary embolism

Pulmonology

Lung cancer
Alpha-1 antitrypsin deficiency
Pulmonary emphysema
Interstitial lung diseases
Pulmonary hypertension
Allergic lung diseases, including severe forms of bronchial asthma
Rare lung diseases

Bronchiectasis
Sarcoidosis
Autoimmune diseases affecting the lungs

Other pathologies
The department's range of medical services includes:
Therapeutic options for heart disease

Coronary artery balloon dilatation and stenting
Transcatheter aortic valve implantation (TAVI) for the treatment of aortic valve stenosis
MitraClip procedure for the treatment of mitral valve insufficiency
Left atrial appendage closure
Pacemaker and defibrillator implantation
Cardiac resynchronization therapy
Event recorder implantation

Therapeutic options for diseases of the arteries, veins and lymphatic vessels

Balloon dilation, percutaneous transluminal coronary angioplasty (PTCA)
Stent implantation
Removal of cholesterol plaques in the vessels (atherectomy)
Vascular dilation with drug-coated stents
Lysis therapy for acute venous thrombosis
Catheter-directed lysis for acute pulmonary embolism
Vein stenting for post-thrombotic syndrome

Therapeutic options for respiratory diseases

Bronchoscopy
Stent implantation
Endoscopic lung volume reduction
Pleural interventions
Removal of small neoplasms in the lungs and other organs of the respiratory system

Other medical services
Curriculum vitae
University Education
2002 Habilitation, Technical University of Munich.
1996 Doctorate, Department of Pharmacology, Free University of Berlin.
1988 - 1994 Study of Human Medicine, Free University of Berlin.
Postgraduate Training
1996 - 2000 Junior Research Fellow in the Department of Cardiology, Angiology and Pulmonology at the University Hospital Rechts der Isar Munich.
Medical Practice
Since 2012 Head Physician of the Department of Cardiology, Angiology and Pulmonology at the University Hospital Rechts der Isar Munich.
Since 2006 W2 Professor, Technical University of Munich.
Since 2005 Assistant Professor, Cardiovascular Research Center, Massachusetts General Hospital, Harvard Medical School, Boston, USA.
Since 2000 Principal Investigator in the Department of Cardiology, Angiology and Pulmonology at the University Hospital Rechts der Isar Munich.
Awards, Honors and Scholarships
2005 Louis Katz Prize of the American Heart Association.
2004 AstraZeneca Award in Cardiology.
2002 - 2005 Heisenberg Scholarship of the German Research Foundation, Institute for Molecular Medicine, University of California, San Diego, USA.
1998 Merck Sharp Dhome Award in the field of Heart Failure.
1998 Scholarship of the Technical University of Munich.
1997 Rudolf Buchheim Prize of the German Pharmacological and Toxicological Society.
Main Clinical Focuses
Treatment of myocardial infarction.
Treatment of heart failure.
Treatment of arrhythmias.
Memberships in Professional Societies
Since 2010 Member of the Principal Investigator Group of the Munich Heart Alliance and the German Centre for Cardiovascular Research (DZHK).
Since 2006 Member of the Harvard Stem Cell Institute (HSCI), Section for Cardiovascular Diseases, Harvard University, Cambridge, USA.
Photo of the doctor: (c) Klinikum rechts der Isar der Technischen Universität München
---
About hospital
Accommodation in hospital
Atrial flutter (fibrillation)
Program [Description]
Pacemaker implantation to treat atrial fibrillation (flutter)
Hospital: University Hospital Rechts der Isar Munich
Type:
Duration:
Price:
date_range
There are 93 atrial flutter (fibrillation) treatment hospitals on Booking Health website
Show all clinics
Certificates