Prostate Cancer Treatment with Actinium-225 PSMA (program ID:

447947

)
University Hospital Rechts der Isar Munich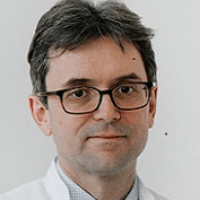 Head Physician
Prof. Dr. med.
Wolfgang Weber
Specialized in: nuclear medicine
Department of Nuclear Medicine
Program includes:
Initial presentation in the clinic
clinical history taking
general physical examination
laboratory tests:

complete blood count
biochemical analysis of blood
urinalysis
TSH-basal, fT3, fT4
PSA blood level
tests for urogenital infections
indicators of inflammation
indicators of blood coagulation

ultrasound scan of the urogenital system
renal scintigraphy
PSMA PET-CT
PSMA treatment with Actinium-225
full body scintigraphy after 24 hours
full body scintigraphy after 48 hours
symptomatic treatment
cost of essential medicines
nursing services
elaboration of further recommendations
stay in the hospital with full board
accommodation in 2-bedded room
How program is carried out
During the first visit, the doctor will carry out a general physical examination and go through the results of previous laboratory and instrumental tests. After that, you will undergo the necessary additional tests such as the assessment of liver and kidney function, scintigraphy of the skeleton and salivary glands, PSMA PET / CT. This will allow the doctor to assess how effective PSMA therapy with Actinium-225 will be and how well you will tolerate it. Also, the doctor will calculate your individual dosage of the radionuclide.
PSMA therapy with Actinium-225 is carried out via intravenous administration of a solution with the radioactive isotope Actinium-225. The solution is injected through a catheter. This is a short procedure, as the infusion usually takes no more than 20 minutes.
During the procedure, you will need to apply cooling bags to the salivary glands, as Actinium-225 partially accumulates in the salivary glands, affecting their function and causing dry mouth. You will also receive intravenous saline solutions to protect your kidneys.
After the infusion of Actinium-225, you will stay in a specially equipped (radiation-shielded) ward for 48 hours. The drug is quickly excreted by the kidneys, and after 48 hours you will no longer be dangerous to others. During these 48 hours, you can read, use a mobile phone, tablet or computer – all these devices will not be a source of radiation in the future.
Follow-up examinations include whole-body scintigraphy or computed tomography in 24 hours and 48 hours after the procedure. Based on the results of the examination, the doctor will determine whether one procedure is enough for you, or whether you will need to visit the hospital again. As a rule, 1-2 procedures are required for achieving a stable positive result. Procedures are carried out with an interval of 8 weeks.
Required documents
Medical records
PSA blood test
MRI/CT scan (not older than 3 months)
Bone scintigraphy (if available)
Biopsy results (if available)
Service
Price:
Type of program :
Expected duration of the program:
You may also book

Price:
About the department
The Department of Nuclear Medicine at the University Hospital Rechts der Isar Munich offers the full range of services in this field. The key clinical focuses include the diagnostics and treatment of tumors, thyroid, kidney, brain and heart diseases. To do this, doctors have at their disposal all the necessary medical equipment of the latest generation, for example, devices for PET-CT, SPECT/CT, MRI, etc. The Chief physician of the department is Prof. Dr. med. Wolfgang Weber.
There are 13 inpatient beds available for patients (the largest Department of Nuclear Medicine in Germany). With more than 5,500 outpatient thyroid examinations, more than 5,000 PET studies, more than 2,000 traditional studies in the field of nuclear medicine, as well as with an annual number of more than 800 inpatients, the Department Nuclear Medicine at the University Hospital Rechts der Isar Munich ranks among the largest and most authoritative Nuclear Medicine Centers in the whole Europe.
The medical team of the department consists of 5 senior physicians and 11 assistant physicians, 15 medical and technical workers, 3 nurses with special training in the field of PET, and 11 care nurses. To provide interdisciplinary, comprehensive medical care, the department works in close cooperation with many other departments of the hospital. In addition, the department is part of the Roman Herzog Comprehensive Cancer Center (Roman-Herzog-Krebszentrums), which contributes to the most effective therapy in cancer treatment.
Also worth noting are the most significant achievements of the department, namely it is the certified Center of Excellence for the diagnosis and treatment of neuroendocrine tumors (the certificate of the European Neuroendocrine Tumor Society (ENETS)) and its PET-CT Unit is certified by the European Association for Nuclear Medicine (EANM).
The service range of the department includes:
Diagnostics and treatment of benign and malignant thyroid diseases

Ultrasound examinations
Scintigraphy
Laboratory blood tests
Fine needle puncture biopsy
Radioiodine therapy for the treatment of benign and malignant thyroid diseases
Other diagnostic and therapeutic options

Diagnostics and treatment of oncological diseases

68Ga-PSMA PET for prostate cancer detection
Radium-223 dichloride therapy in prostate cancer
Lutetium-177-PSMA therapy for metastatic prostate cancer
Selective internal radiation therapy for primary and secondary liver tumors
DOTANOC PET Ga-68 study for the detection of neuroendocrine tumors, as well as for targeted therapy
Other diagnostic and therapeutic options

Diagnostics of heart diseases

Myocardial perfusion scintigraphy (for example, in ischemic heart disease)
FDG-PET scan
Cardiac MRI (to detect structural changes, such as scarring, connective tissue proliferation (fibrosis) or swelling)
Combined PET and MRI (for example, for the detection of myocarditis, cardiac sarcoidosis, endocarditis)
Other diagnostic services

Diagnostics of diseases of the nervous system (for example, FDG-PET for the detection of Alzheimer's disease, some forms of dementia, epilepsy)
Other diagnostic and therapeutic services
Curriculum vitae
Dr. Weber is a graduate of the Medical School of the Technical University of Munich. He was trained in Nuclear Medicine at the Technical University of Munich and joined the Faculty of the Department of Nuclear Medicine at the same university in 2001. From 2004 to 2007, he was Associate Professor at the Department of Molecular and Medical Pharmacology at the University of California, Los Angeles (UCLA). In 2007 he was appointed Professor and Chair of the Department of Nuclear Medicine at the University Hospital Freiburg in Germany. In 2013 he returned to the USA and became Chief Physician of the Department of Nuclear Medicine at the Memorial Sloan Kettering Cancer Center, as well as Professor of Radiology at the Weill Cornell Medical College. He held both positions until the end of 2017.
Dr. Weber's research is focused on molecular imaging of cancer for planning and monitoring of therapeutic interventions. He is also interested in targeted radionuclide therapy of cancer and theranostics. Dr. Weber has published more than 250 papers in leading scientific journals, including the Journal of Clinical Oncology, PNAS, as well journals of the Nature series. He has served on the editorial board of several scientific journals, such as the Journal of Nuclear Medicine, European Journal of Nuclear Medicine and Molecular Imaging, Clinical Cancer Research and Journal of Clinical Oncology.
Photo of the doctor: (c) Klinikum rechts der Isar der Technischen Universität München
---
About hospital
Accommodation in hospital
Program [Description]
Prostate Cancer Treatment with Actinium-225 PSMA
Hospital: University Hospital Rechts der Isar Munich
Type:
access_time Duration:
Price:
date_range
There are 26 metastatic prostate cancer treatment hospitals on Booking Health website
Show all clinics