Necrosectomy, vacuum dressing treatment, dermoplasty (program ID:

378830

)
University Hospital Duesseldorf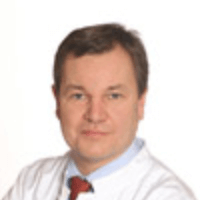 Head Physician
Prof. Dr. med. Dr. dent.
Norbert R. Kübler
Specialized in: adult and pediatric oral, maxillofacial surgery, facial plastic surgery
Department of Adult and Pediatric Oral, Maxillofacial Surgery and Facial Plastic Surgery
Program includes:
Initial presentation in the clinic
clinical history taking
physical examination
review of medical records
laboratory tests:

complete blood count
general urine analysis
biochemical analysis of blood
indicators of inflammation (CRP, ESR)
indicators blood coagulation​
wound swab for bacteriological test

preoperative care
necrosectomy, plastic skin repair
wound debridement
vacuum dressing treatment
symptomatic treatment
control examinations
the cost of essential medicines and materials
nursing services
full hospital accommodation
explanation of future recommendations
Required documents
Medical records
Photo of the target body region
Service
Price:
Type of program :
Expected duration of the program:
You may also book

Price:
About the department
The Department of Adult and Pediatric Oral, Maxillofacial Surgery and Facial Plastic Surgery at the University Hospital Duesseldorf offers the full range of diagnostic and therapeutic services in these fields. The department is a recognized center for the treatment of head and neck tumors, and also, it has a certification of the German Cancer Society. Medical care is provided both on an outpatient and inpatient basis. The specially trained team of specialists takes care of the health of young patients. The Chief Physician of the department is Prof. Dr. med. Dr. dent. Norbert R. Kübler.
Thanks to the advanced technological equipment, including 3D planning systems, navigation systems, intraoperative 3D imaging, as well as outstanding expert knowledge and experience of the department's specialists, each patient is provided with an optimal therapeutic and aesthetic result.
The outpatient service range of the department includes:
Implantation of dental implants
Tooth extraction
Surgical tooth extraction
Root tip removal
Excision of odontoclamis of the wisdom tooth
Medical care in the case of teeth damage due to the accidents
Tooth transplantation
Hemisection / root amputation
Jaw bone augmentation
Preprosthetic surgery
Surgical removal of jaw and soft tissue cysts
Periodontal surgery
Laser surgery
Plastic and aesthetic interventions
Botox and/or filler injection
Other medical services
The inpatient service range of the department includes:
Surgical correction of craniofacial deformities
Distraction osteogenesis
Surgical treatment of dysgnathia
Temporomandibular joint surgery
Treatment of bone inflammation
Laser surgery
Correction of cleft lip, jaw, and palate
Paranasal sinus surgery
Reconstructive nerve surgery
Plastic and aesthetic surgery

Blepharoplasty
Water jet assisted liposuction
Facelift surgery
Wrinkle treatment
Injections/transplantation of the patient's own fat
Nose reshaping
Auricle correction
Scar revision

Plastic reconstructive surgery
Surgical treatment of diseases of the salivary glands
Treatment of maxillofacial injuries
Surgical treatment of maxillofacial, head, and neck tumors
Surgical treatment of soft tissue infections, abscesses
Dental sanitation in concomitant diseases
Other medical services
Curriculum vitae
Since 2002, Professor Norbert Kübler is the Head of the Department of Adult and Pediatric Oral, Maxillofacial Surgery and Facial Plastic Surgery at the University Hospital Duesseldorf.
Since 1979 to 1988, he studied medicine and dentistry at the University of Mainz, after which for one year he was engaged in research activity at the University of California in Los Angeles. There he worked together with Prof. Marshall Urist, a researcher of bone morphogenetic proteins. This has significantly influenced the scientific activities of Prof. Kübler. In 1989, Prof. Kübler received a full clinical education in the Department of Oral and Maxillofacial Surgery at the University Hospital Würzburg (under the guidance of Prof. Jürgen Reuter). In 1994, he received the title of the Medical Specialist, and the next year he was habilitated (subject: "Bone formation by osteoinduction") at the University of Würzburg. He was awarded the Ferdinand Sauerbruch Research Prize for this work. After that, in 1996 he was invited to Japan, where he taught and carried out researches at various universities for several weeks. In 1997, Prof. Kübler received additional qualification in Plastic Surgery, and in 2001 he was appointed as C3 Professor in Oral and Maxillofacial Surgery at the University of Würzburg.
Prof. Kübler performs operations almost every day. He specializes in plastic and reconstructive surgery using microsurgical revascularized soft tissue and bone grafts, tumor surgery, traumatology and surgical treatment of jaw deformities (dysgnathia surgery). Also, the doctor's clinical interests include dental implantology, aesthetic facial surgery, and computerized surgery using navigation and planning methods.
Prof. Kübler's research activities focus on growth factors, stem cells, and tissue engineering, as well as particular aspects of tumor research and dental implantology. It should be noted that the professor is the author of more than 200 scientific publications.
Photo of the doctor: (c) Universitätsklinikum Düsseldorf
---
About hospital
Accommodation in hospital
Bedsores
Program [Description]
Necrosectomy, vacuum dressing treatment, dermoplasty
Hospital: University Hospital Duesseldorf
Type:
access_time Duration:
Price:
date_range
There are 88 bedsores treatment hospitals on Booking Health website
Show all clinics
Certificates