Left bundle branch block (lbbb) conservative treatment and holter monitoring (program ID:

82437

)
University Hospital Duesseldorf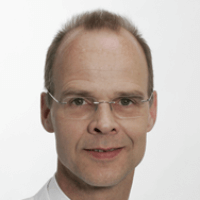 Head Physician
Prof. Dr. med.
Malte Kelm
Specialized in: cardiology, pulmonology, angiology
Department of Cardiology, Pulmonology and Angiology
Program includes:
Initial presentation in the clinic
clinical history taking
review of medical records
physical examination
laboratory tests:

complete blood count
biochemical analysis of blood
thyroid function test (TSH-basal, fT3, fT4)
mineral metabolism analysis (Na, K, Ca, Mg)
lipid metabolism (HDL/LDL, cholesterol, triglycerides,
Lip(a), homocysteine)
iron content (ferritin, iron)
blood coagulation analysis (aPTT, PT, INR)
metabolic status (uric acid, total glucose, HbA1c)
inflammatory parameters (CRP, ESR)
cardiovascular disease risk markers

vascular system assessment
resting and exercise ECG
vessel elasticity measurement
color doppler echocardiography
color doppler sonography of cerebral vessels
measurement of arterial blood pressure electrocardiogram
Holter monitoring (24h)​
nursing services
treatment by chief physician and all leading experts
explanation of individual treatment plan
written statement
Required documents
Medical records
ECG (if available)
Service
Price:
Type of program :
Expected duration of the program:
You may also book

Price:
About the department
According to the Focus magazine, the Department of Cardiology, Pulmonology and Angiology at the University Hospital Duesseldorf ranks among the top German departments specializing in cardiovascular diseases!
It provides an accurate diagnostics and effective treatment of all diseases of the cardiovascular system, lungs, and respiratory tract. The highly qualified world-class specialists work with patients. Various functional and imaging examination techniques are available for the accurate diagnostics. Also, the department has state-of-the-art Cardiac Catheterization Laboratory. The department is headed by Prof. Dr. med. Malte Kelm.
The department provides translational and experimental researches in order to develop new methods of diagnostics and treatment of cardiac pathology, which are introduced into the clinical practice. For example, in the treatment of сoronary artery disease, the very latest treatments of stable and unstable angina are used. For the treatment of acute coronary syndrome, the doctors have all modern methods of cardioprotection, various methods of maintaining cardiac function in cardiogenic shock, as well as intensive care measures.
The service range of the department includes:
Interventional treatment methods of сoronary artery disease and myocardial infarction
Diagnostics and treatment of structural heart diseases
Diagnostics and treatment of heart failure
Diagnostics and treatment of heart rhythm disorders (arrhythmias)
Emergency and intensive care in acute clinical conditions
Methods of general, interventional, and hybrid cardiac imaging
Diagnostics and treatment of diseases of the lungs, respiratory tract

Chronic obstructive pulmonary disease
Bronchial asthma (including severe forms of pathology)
Lung cancer
Malignant pleural mesothelioma
Pulmonary hypertension
Pulmonary fibrosis
Sarcoidosis
Rare and complex lung diseases (for example, pulmonary lymphangioleiomyomatosis, allergic bronchopulmonary aspergillosis, or rheumatological diseases with lung lesions (collagenosis, vasculitis))

Diagnostics and treatment of diseases of the arteries, veins, and lymphatic vessels

Acute and chronic occlusive diseases of the peripheral arteries of the limbs and brain, as well as the arteries of the abdominal cavity and retroperitoneal space
Diabetic foot syndrome
Arterial aneurysms
Arteriovenous fistulas
Vein thrombosis (with and without pulmonary embolism)
Venous diseases
Lymphatic vessel diseases
Vasculitis
Angiodysplasia
Congenital and acquired vascular malformations

Diagnostics and treatment of other diseases
Curriculum vitae
Prof. Dr. med. Malte Kelm completed his study of medicine in 1985. In the same year he defended his doctoral thesis and received the admission to medical practice. In 1986, he also passed the ECFMG examination on preclinical and clinical disciplines. In 1995, he received a title of the Medical Specialist in Internal Medicine. In addition, from 1996 to 1999 he received specialization in Cardiology, Angiology, Internal Intensive Care. In 1996, Prof. Kelm defended his doctoral thesis on the subject: "The Effects of Nitric Oxide on the Cardiovascular System and Its Importance in Arterial Hypertension".
In 1998, Prof. Kelm accepted an invitation to the position of C3 Professor in Internal Medicine at the University of Duesseldorf. In 1998, Prof. Kelm accepted an invitation to the position of C3 Professor in Internal Medicine at the Heinrich Heine University Duesseldorf, and in 2005 he moved to the Department of Internal Medicine / Cardiology (W3 Professor) at the University Hospital Aachen. Since 2009, the Professor heads the Department of Cardiology, Pulmonology and Angiology at the University Hospital Duesseldorf.
The main focuses of his clinical activities include the treatment of acute myocardial infarction, interventional catheter techniques, as well as the combined imaging methods in cardiology, which he plans to improve in the future.
Prof. Kelm has a large number of scientific awards. His research focuses on the study of cardiovascular dysfunction in coronary artery disease, arterial hypotension, and diabetes mellitus, as well as the clinical and molecular aspects of ischemia / reperfusion.
Photo of the doctor: (c) Universitätsklinikum Düsseldorf
---
About hospital
Accommodation in hospital
Left bundle branch block (lbbb)
Program [Description]
Left bundle branch block (lbbb) conservative treatment and holter monitoring
Hospital: University Hospital Duesseldorf
Type:
access_time Duration:
Price:
date_range
There are 93 left bundle branch block (lbbb) treatment hospitals on Booking Health website
Show all clinics
Certificates