Multimodality treatment of peritoneal carcinomatosis with cytoreductive surgery and HIPEC (program ID:

363433

)
University Hospital Muenster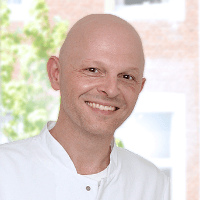 Head Physician
Prof. Dr. med.
Andreas Pascher
Specialized in: general, abdominal, transplant surgery
Department of General, Abdominal and Transplant Surgery
Program includes:
Initial presentation in the clinic
clinical history taking
review of medical records
physical examination
laboratory tests:

complete blood count
general urine analysis
biochemical analysis of blood
TSH-basal, fT3, fT4
tumor markers
inflammation indicators (CRP, ESR)
indicators blood coagulation

abdominal ultrasound
CT/MRI or PET-CT examination of abdomen
preoperative care
cytoreductive surgery to remove visible tumors
within the abdomen and HIPEC
histologically and immunohistochemically
examination of removed tissue
symptomatic treatment
cost of essential medicines
nursing services
stay in the hospital with a full board
accommodation in a 2-bed room
elaboration further recommendations
Required documents
Medical records
MRI/CT scan (not older than 3 months)
Biopsy results (if available)
Service
Price:
Type of program :
Expected duration of the program:
You may also book

Price:
About the department
According to the Focus magazine, the Department of General, Abdominal and Transplant Surgery at the University Hospital Muenster is ranked among the top German medical facilities specializing in bowel cancer treatment!
The department offers the full range of services in these medical fields. The main clinical focuses include the surgical treatment of abdominal oncopathology, robotic surgery, minimally invasive surgery, endoscopy, organ transplantation and intensive care after surgical treatment. The department's doctors have special competence in the treatment of intestinal, pancreatic, stomach and liver cancers (certification of the German Cancer Society). The department is headed by Prof. Dr. med. Andreas Pascher.
The department is a recognized Center of Excellence in pancreatic surgery. For many years, the department's surgeons have performed a large number of operations on the pancreas (the special focus is on the surgical treatment of pancreatic cancer) with high success rates. The treatment is based on an interdisciplinary collaboration. The department's specialists also offer the advanced experience in the treatment of chronic inflammatory bowel diseases, particularly Crohn's disease and ulcerative colitis. The surgical therapy is used in the treatment of acute or chronic complications.
Another department's key focus is small bowel and rectal surgery. The department's doctors perform more than 200 operations on these organs annually. The most common pathologies include diverticulitis, benign intestinal polyps and colon cancer. In addition, the department's tasks include the treatment of liver diseases, especially liver cancer and liver metastases. In the treatment of peritoneal cancer, the innovative HIPEC treatment technique is widely used, which combines a surgical removal of the peritoneum (peritonectomy, cytoreductive surgery) with washing the abdominal cavity with a heated solution of chemotherapeutic drugs (hyperthermic intraperitoneal chemotherapy (HIPEC)). As a combination of the surgical intervention and drug therapy, this unique technique is available only in a few specialized surgery centers in Germany. The therapy gives excellent results and often saves patients' lives even in the most complex clinical cases.
It should be noted that the department is one of the largest German transplantation centers, which performs all modern types of abdominal transplantations (liver, pancreas, kidney and small intestine). At the moment, the department's surgeons have performed more than 2,500 kidney transplantations, 300 liver transplantations, 50 pancreatic transplantations and 4 small intestine transplantations.
The major purpose of the department's medical team is to provide patients with the most effective and at the same time sparing treatment, if possible using minimally invasive techniques. The department also has excellent technical equipment in order to carry out robotic surgery, which today is a breakthrough in modern medicine.
The service range of the department includes:
Diagnostics and treatment of pancreatic diseases

Pancreatic cancer
Pancreatic neuroendocrine tumors
Cystic tumors of the pancreas (for example, intraductal papillary mucinous neoplasm)
Pancreatic pseudocysts
Chronic and acute pancreatitis
Endocrine pancreatic insufficiency (diabetes mellitus)
Pancreatic malformations
Traumatic pancreatic injuries
Benign tumors (adenomas) of the major duodenal papilla
Cancer of the major duodenal papilla

Diagnostics

Multidetector spiral computed tomography
Combined PET-CT technique
Magnetic resonance cholangiopancreatography
Endoscopic retrograde cholangiopancreatography
Endoscopic ultrasound examinations
Endoscopic needle biopsy

Therapy

Pancreatic head resection according to Traverso-Longmire
Pancreatic head resection according to Kausch-Whipple
Left-sided pancreatic resection
Pancreatotomy
Duodenum-preserving pancreatic head resection according to Frey or Beger
Pancreatic drainage surgery (Partington-Rochelle technique)
Diagnostics and treatment of pelvic floor and fecal incontinence

Internal rectal prolapse and rectocele
Slow transit constipation
Bowel obstruction
External rectal prolapse
Fecal incontinence

Diagnostics

Endoscopy
Manometry
3D endosonography
Defecography

Therapy

Stimulation of the pelvic floor sacral nerves
Sphincter reconstruction
Stapled transanal rectal resection (STARR)
Laparoscopic ventral rectopexy
Laparoscopic resection rectopexy
Rectal resection (Altemeier procedure)
Laparoscopic colectomy with ileorectostomy

Diagnostics and treatment of chronic inflammatory bowel diseases (Crohn's disease, ulcerative colitis)

Strictureplasty in stenoses
Minimally invasive techniques
J-Pouch procedure

Diagnostics and treatment of diseases of the small and large intestine, rectum

Diverticulitis
Benign bowel polyps
Colon cancer

Diagnostics and treatment of anal and rectal diseases (proctology)

Rigid and flexible recto-/sigmoidoscopy
Transrectal endoscopic ultrasonography with 3D reconstruction
Rectoscopy
Proctoscopy in hemorrhoid or rectal tumors
Sphincter manometry
Conservative therapy of hemorrhoids (hardening and ligature)
Surgical treatment of hemorrhoids, including Longo procedure
Conservative and surgical treatment of anal fissures
Surgical treatment of anal fistulas
Transanal endoscopic microsurgery
Sphincter reconstruction
STARR operation
Sacral nerve stimulation
Exercises to strengthen the pelvic floor muscles, including Biofeedback technique

Diagnostics and treatment of diseases of the endocrine organs (thyroid, parathyroid glands, adrenal glands)
Diagnostics and treatment of diseases of the liver, gallbladder and bile ducts

Minimally invasive surgery
Installation of port systems in liver diseases
Typical and atypical liver resections (also in liver cirrhosis)
Two-stage resections
Ablative treatment methods in liver diseases (radiofrequency laser-induced thermoablation, cryoablation)

Diagnostics and treatment of esophageal and stomach diseases

Gastroesophageal reflux disease
Zenker's diverticulum
Esophageal cancer
Stomach cancer
Gastritis
Stomach ulcer
Benign tumors of the esophagus and stomach

Diagnostics and treatment of peritoneal cancer (one of the few medical facilities in Germany, which offers the innovative HIPEC therapy)
Transplantation surgery

Liver transplantation
Kidney transplantation
Pancreas transplantation
Small bowel transplantation

Robotic surgery

Upper gastrointestinal surgery

Operations on the esophagus and stomach (benign and malignant tumors)
Bariatric surgery in morbid obesity

Diaphragmatic surgery

Diaphragmatic rupture
Gastroesophageal reflux (heartburn)

Surgery of the small and large intestine, rectum

Removal of malignant tumors
Diverticular disease treatment (inflammation of intestinal diverticula)

Pancreatic and liver surgery

Removal of malignant and benign tumors

Spleen surgery (spleen removal)

Endoscopy

Endoscopic diagnostics

Esophagogastroduodenoscopy
Endosonography of the esophagus, stomach, pancreas
Examination of the biliary tract and pancreas (endoscopic retrograde cholangiopancreatography)
Diagnostic and therapeutic colonoscopy
Bronchoscopy (for example, in lung tumors or metastases)

Endoscopic therapy

Esophageal stent implantation
Endoscopic stone removal
Stent implantation in the pancreatic and bile ducts
Endosonography-guided puncture
Percutaneous endoscopic gastrostomy
Installation of PEG probes for artificial nutrition

Special treatment methods

Intraoperative radiation therapy
Neuromonitoring in thyroid surgery
Radiofrequency ablation
Preoperative liver function monitoring
Transarterial liver chemoembolization
MARS therapy
Functional neuromonitoring of the pelvic organs during bowel surgery

Other diseases, diagnostic and therapeutic methods
Curriculum vitae
On 1 April 2018, Prof. Dr. med. Andreas Pascher was appointed as the Head of the Department of General, Abdominal and Transplant Surgery at the University Hospital Muenster. Prior to this, the doctor held the position of Deputy Head of the Department of Surgery at the University Hospital Charite, as well as the Medical Director of the Charité Campus Mitte. During his work at the Charité, the main areas of his specialization included oncological and reconstructive abdominal surgery. As of today, while holding the position at the University Hospital Muenster, Professor focused his activities on computerized surgery and sparing imaging-guided surgical techniques.
In 2017, Doctor received Von Langenbeck Prize for his outstanding scientific achievements in the field of small bowel and multivisceral transplantation. This prize is one of the most prestigious awards of the German Society of Surgery and it is awarded for special scientific achievements in surgery.
Photo of the doctor: (c) Universitätsklinikum Münster
---
About hospital
Accommodation in hospital
Ovarian cancer
Program [Description]
Multimodality treatment of peritoneal carcinomatosis with cytoreductive surgery and HIPEC
Hospital: University Hospital Muenster
Type:
access_time Duration:
Price:
date_range
There are 31 ovarian cancer treatment hospitals on Booking Health website
Show all clinics
Certificates