Due to the difficulties associated with the organization of treatment in Turkey, Switzerland, South Korea and India, we are not currently processing requests to these regions.
If you are interested in treatment in Germany, please leave a request and our specialists will contact you as soon as possible.
Content
What is autism?
Autism is a mental disorder that is diagnosed in 2% of children. The etiology of the illness is unknown, as there is no single mechanism responsible for of its occurrence. Autism manifests itself with antisocial behavior, lack of communication skills, a tendency to rituals in behavior and systematization. The autistic child does not come into contact with either adults or peers. Such children usually do not smile, do not hold eye contact, and do not play with other children. They are very picky with food.
Can autistic child be treated?
Yes, autism is treatable. However, autistic people are not able to completely give up all their peculiarities. Treatment of autism in adults is an actually almost an unexplored area of medicine. Sometimes symptoms tone down with age, but sometimes they worsen. Everything depends on the fact if some kind of therapy was administered during the childhood of such a person. Autistic people frequently find it difficult to lead a social life as an adult.
Diagnostics of autism
To diagnose a child with autism and confirm supposition, the following indicators are evaluated:
Behavior (atypical expression of emotions, facial expressions)
Too low or too high pain threshold
Anxiety and fear, sleep and speech disorders
Ignorance or vice versa – extra pronounced reaction to sounds, and other external stimuli)
Retardation of reaction, lack of emotion
Gastrointestinal disorders (due to limited eating habits)
Seizures
In addition, they do a number of instrumental and laboratory studies like MRI, EEG, genetic test and others.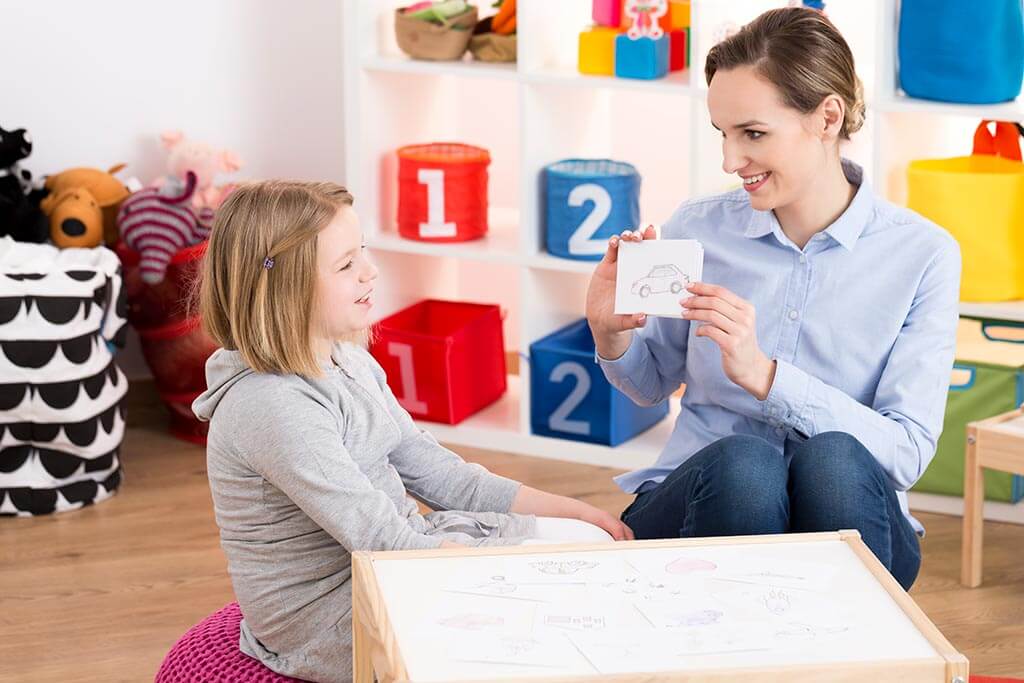 Methods of Autism Treatment
One of the most important aspects of autism treatment abroad is the systemic approach. Among modern methods of treating autism in children used in foreign centers, we can distinguish:
Drug therapy. The treatment of autism with the help of pharmaceuticals is symptomatic. Neuroleptics and psycho stimulants are prescribed according to the individual, carefully selected schemes. It has to be added that by stopping some symptoms, they can aggravate others. Therefore, it is very important to contact a qualified expert whose opinion you can trust.
Psychological therapy. Doctors in foreign hospitals use psychotherapeutic techniques to correct autistic behavior of the patients. Any kind of psychotherapy, especially for children, begins with establishing a contact between the patient and the doctor. Therefore, it should be understood that children with developmental peculiarities should receive the help of a psychotherapist in their native language. Otherwise, the effect of therapy will be zero. Therefore, when choosing a clinic abroad, it is necessary to specify in advance the presence of Russian-speaking specialists. Autism therapy in modern abroad centers includes an element of the game. This approach allows the doctor to both analyze the child's state, and facilitate the establishment of a trusting relationship.
Special training. Since it is difficult for autistic children to establish contacts and communicate with others, foreign specialists practice special programs for teaching social skills. Behavioral aspects can be effectively adjusted with the help of such programs as children learn how to establish social contacts during such a program.
Snoezelen therapy. This method allows using the external stimuli to influence the child's sensory organs. The method consists of placing the child in a special room equipped with luminous objects, convex patterns, and garlands. In the room there will be a smell of flowers, music, birds singing, prattle of water. There are many things that affect the tactile sensations - water, sand, fluff, small objects. Snoezelen therapy is very effective, because it draws the attention of an avoidant child, to reach out to his inner world.
Pet therapy is a type of treatment based on the child's communication with animals. Certain clinics use cats, dogs, hamsters and rabbits for this purpose. There can be dolphinariums or stables at other foreign centers. Communication with dolphins and hippo therapy (communication with horses) are the most effective of all the types of pet therapy. They cause healthy emotions in a kid, teach him/her to find contact with a living being.
Diet and nutrition plays a special role in autism treatment. It's because more than 60% of autistic children are extra picky with food which can lead to the secondary illnesses - gastrointestinal disorders. That is why foreign centers very responsibly approach the nutrition of young patients. Professional nutritionists develop an individual menu for each child, taking into account his/her preferences and medical indications.
Stem cells. The use of cellular technologies in the treatment of autism has become popular in recent years. Researchers believe that the regenerative potential that stem cells carry in themselves can have a positive impact on the health of an autistic child. However, the official medicine does not have confirmed data on this yet.
Non-traditional (alternative) methods of autism treatment. The use of alternative medicine methods for the treatment of autistic children is possible only with the permission of the attending physician as an addition to the main therapy. Unconventional treatment of autism can in no case replace adequate comprehensive therapy. Many of the alternative approaches found on the Internet can simply endanger the child's life.
Where is autism treated?
A major part of research in autism treatment is conducted in Israel. This is where the best clinics are located, where autism is treated, most of the modern methods are being developed. Clinics for the treatment of autism can also be found in Germany and other European countries. One can go to German hospitals to undergo stem cells treatment course (from 14 years) and Ukraine (at any age).
It is your choice is where to treat autism, the main thing at the same time to remember the systemic approach and the availability of specialists who speak your language.
Arranging treatment with Booking Health
In order to send your child for autism treatment abroad, you can contact our managers. They will help to find the correct medical center for autism treatment and the expert, suitable especially for your case.
Also our company will take care of:
Booking tickets and hotel (if outpatient treatment is chosen)
Insurance of your medical tour
Providing you with an interpreter in a foreign clinic
Translations of your medical statements
Choose treatment abroad and you will for sure get the best results!
---
Authors: Dr. Vadim Zhiliuk, Dr. Nadezhda Ivanisova
Read:
Why Booking Health - questions and answers
How to make right decision when choosing the clinic and specialist
7 reasons to trust to the rating of clinics on the Booking Health portal
Booking Health quality standards
Send a request for treatment