Due to the difficulties associated with the organization of treatment in Turkey, Switzerland, South Korea and India, we are not currently processing requests to these regions.
If you are interested in treatment in Germany, please leave a request and our specialists will contact you as soon as possible.
A lung cancer vaccine is a modern opportunity to achieve cancer remission at any stage and reduce the risk of disease recurrence. Clinics in Germany carry out dendritic cell vaccination in parallel with surgical treatment, radiation therapy, and chemotherapy. In the manufacture of the vaccine, German doctors use fragments of a tumor removed from a patient. This allows them to create an individual and highly specific drug. The procedure is well tolerated and has practically no contraindications.
Content
Who may need dendritic cell vaccination?
Dendritic cell lung cancer treatment was initially carried out for people with stages 1 and 2 and sometimes stage 3 cancer. A tumor was removed during the operation, and vaccination helped to suppress the growth of micrometastases remaining in the body and prolong remission. It was also convenient in that the tumor material needed to create a vaccine could be obtained during the surgical treatment.
Later, doctors noted that dendritic cell treatment was also effective for advanced cancers with multiple metastases and contraindications to radical surgery. Recent clinical studies have shown a 25% increase in 5-year survival in these patients with a full course of dendritic cell treatment.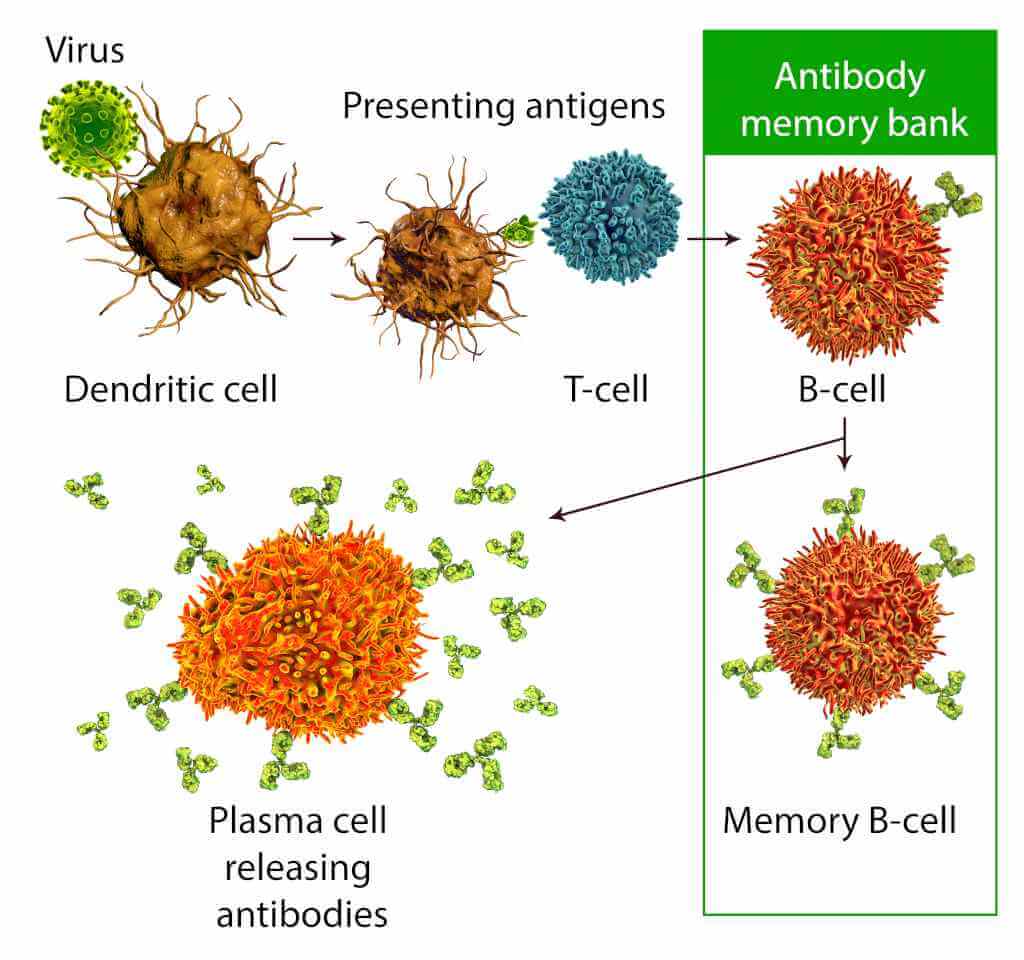 Dendritic cells are a type of human leukocyte and one of the central regulators of the immune response in lung cancer. Dendritic cells recognize cancer antigens (unique molecules on the surface of malignant cells) and display them to T lymphocytes, the killer cells of the immune system. Once the target for an attack is designated, T lymphocytes actively destroy the tumor and transmit information about its antigenic composition to the next generations of immune cells.
"The main task of dendritic cells is to direct anticancer immunity to the destruction of a lung tumor. Without their work, T lymphocytes are not able to detect and recognize malignant neoplasms."
The drug is synthesized for each patient individually, considering lung tumor antigens. This makes vaccination with dendritic cells more effective as possible. The treatment provides excellent success rates, even if chemotherapy and other types of immunotherapy fail.
What is the process of treatment?
The first step in creating a vaccine is the determination of specific tumor antigens. Ideally, doctors can detect antigens unique to a patient's tumor. Specialists process tissues of a surgically removed lung tumor and extract samples of nucleic acids from them, DNA, and RNA. The resulting nucleic acids are then compared with the DNA of healthy cells. Differences are genetic mutations inherent in cancer cells in a particular person.
"Doctors select the most immunogenic mutations to create a vaccine, that is, those against which it is easiest to form a stable immune response."
In the second stage, the patient's blood cells are collected. The most effective and sparing method used in German hospitals is leukapheresis, the collection of only leukocytes. Due to the selectivity of leukapheresis, erythrocytes and platelets remain in the blood, which reduces the risk of anemia and bleeding. Doctors select monocytes from the total volume of leukocytes, which, under laboratory conditions, are transformed into young dendritic cells.
Immature and untrained dendritic cells are "introduced" to previously identified antigens and lung tumor mutations. Thus, they undergo specialization and learn to destroy malignant cells precisely. Trained dendritic cells become the basis of an antitumor vaccine. Anti-inflammatory drugs can sometimes be introduced into their composition to enhance their efficiency further.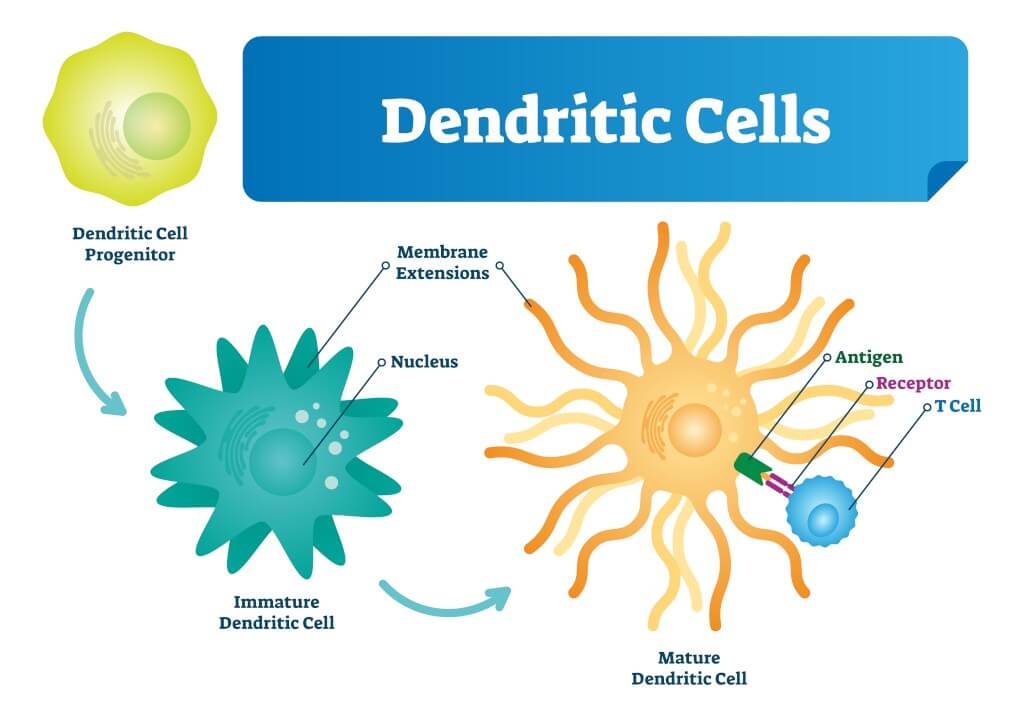 The finished product is injected subcutaneously into the region of the lymph nodes and large lymph node basins of the affected lung. The treatment is well tolerated and does not cause any severe side effects: a patient is under medical supervision for some time, but there is no need for a long-term hospitalization period. A course of 4 injections is required to form a stable antitumor immune response.
Find specialized hospital & treatment
Results of vaccination at different stages of cancer
The goals of administering the vaccine differ depending on the stage of lung cancer and previous treatment:
Vaccination for early-stage cancer helps a patient to enter remission by destroying the atypical cells remaining after the operation. A prerequisite, in this case, is surgical tumor removal because the vaccine will not be able to destroy large malignant foci in the lung tissue;
Vaccination for stage 4 cancer suppresses the growth of existing metastases and the formation of new ones. In such a situation, doctors seek to relieve symptoms (for example, improving respiratory function or reducing the risk of bleeding) and better control the disease;
The administration of a dendritic cell vaccine also serves as a prevention of cancer recurrence because a patient forms an immunological memory, and new cells with similar malignant mutations will be quickly destroyed.
Another promising application of dendritic cells for advanced lung cancer is their combination with the Newcastle disease virus and γδ T cell therapy. In clinical studies, combination treatment has shown the highest efficacy in patients with advanced cancer.
How to undergo dendritic cell cancer treatment in Germany?
You can undergo DC therapy for lung cancer treatment in a German hospital regardless of your nationality or country of residence. Booking Health will help you make your treatment appointment, prepare the necessary documents, and organize your trip.
Booking Health is an international medical tourism provider that has been organizing the treatment of patients with lung cancer and the treatment of pleural mesothelioma in leading German clinics for more than 12 years.
The service range of the Booking Health company includes the following:
assistance in selecting a clinic and a doctor;
preliminary communication with the selected doctor, remote counseling;
preparation of a preliminary treatment program: this may include only vaccination, or additional examination, surgery, and other treatment methods;
favorable cost of medical services provided without additional fees for foreigners (saving up to 50%);
quick appointment, considering the preferred date;
control of all stages of the medical program by independent doctors from the Booking Health company;
assistance in buying and forwarding medicines for outpatient treatment after returning home (if required);
communication with the hospital after the completion of your treatment;
control of prices, invoices, and return of unused deposit funds to your bank account;
organization of additional examinations or rehabilitation (if required);
organization of flights, transfers, accommodation, and all everyday issues;
interpreting service.
Your personal Booking Health coordinator will be in touch with you 24/7 until your successful return home. You can contact Booking Health for any question related to lung cancer treatment in Germany, including dendritic cells in the treatment of lung cancer.
Choose treatment abroad and you will for sure get the best results!
---
Authors:
The article was edited by medical experts, board certified doctors Dr. Nadezhda Ivanisova and Dr. Vadim Zhiliuk. For the treatment of the conditions referred to in the article, you must consult a doctor; the information in the article is not intended for self-medication!
Sources:
Good Clinical Practice Network
European Society for Medical Oncology
Read:
Why Booking Health - questions and answers
How to make right decision when choosing the clinic and specialist
7 reasons to trust to the rating of clinics on the Booking Health portal
Booking Health quality standards
Get a free quote