Due to the difficulties associated with the organization of treatment in Turkey, Switzerland, South Korea and India, we are not currently processing requests to these regions.
If you are interested in treatment in Germany, please leave a request and our specialists will contact you as soon as possible.
The number of people with obesity has doubled over the past 30 years. The prevalence of this pathology continues to increase. In some countries, such as the United States of America, Saudi Arabia and Turkey, every third person suffers from obesity. Fortunately, modern medicine has successfully solved this problem. Even the most severe cases of obesity can be treated. You can go abroad for receiving high-quality medical services at a reasonable price.
Content
How dangerous is obesity?
Obesity is not just a cosmetic problem. An increase in body mass leads to the development of diabetes mellitus, arthrosis, gallstone disease, high blood pressure, atherosclerosis, heart disease, stroke. Obesity reduces significantly the quality of life and its duration.
Reduced importance of physical labour, improvement in the welfare of the population, and availability of food and drinks – all this has led to an increase in obesity rates, especially in the countries with high economic development. The problem of overweight has become a national problem in North America, Europe, and Arab states. Obesity increases significantly the cost of medical care, increasing the number of people with disability.
Not everyone can lose weight on their own. Short-term diets or visits to a fitness center are ineffective. If a person wants to lose weight and keep it at the achieved level, he needs to completely change his lifestyle and eating habits, but another option is possible, namely bariatric surgery. It is usually used if obesity is severe, cannot be treated by other methods or is associated with other diseases.
How is severe obesity treated?
The severity of obesity is determined by body mass index. BMI between 25 and 30 kg/m2 is considered overweight. At 30 kg/m2, obesity of grade 1 starts, BMI of 35 kg/m2 is grade 2 of obesity, and BMI of 40 kg/m2 is grade 3 of obesity.
The higher the weight is, the greater the negative impact on health is. Surgical treatment is indicated for grade 3 obesity, or grade 2, if obesity-related diseases have developed. Let us look at the main techniques, which are used abroad for rapid weight loss.
Gastric balloon
It is used in mild obesity. Gastric balloon requires a diet for weight loss, but makes it much easier.
The essence of the procedure is that a balloon is inserted into the stomach. It is inflated, and therefore occupies a large part of the stomach. As a result, a person cannot eat much food and the feeling of hunger disappears quickly.
A balloon does not stay in the stomach constantly. In 4-6 months it is pulled out. A patient's task is to lose as many extra pounds as possible during this time. A person has to limit his calorie intake. After the removal of a balloon, he needs to change his lifestyle if he does not want to regain excess weight.
The procedure has obvious advantages – there is no need to perform the operation, no risk of serious complications, low treatment cost. Anyway, it has such disadvantages as possible ineffectiveness in severe obesity, this approach requires self-control.
Adjustable gastric banding
During laparoscopic surgery, a ring is put on the stomach. It separates its upper part, the so-called "gastric pouch" with a volume of 15 ml.
When eating, food first enters the upper part of the stomach, stretches the walls and activates the receptors, which are responsible for satiety. A person reduces the servings and gradually loses weight.
The benefits of surgery:
Low invasiveness
Complete reversibility – the ring can be removed
Efficiency of the operation is about 85%
Although this operation is the least traumatic among other methods of bariatric surgery, it is inferior to them in effectiveness. The problem is that after bandaging the need for self-control is still essential. A person has to refuse high-calorie foods. About 15% of patients do not lose weight after this operation.
Sleeve gastroplasty
A "sleeve" is made from the stomach – a doctor removes part of it, performing a longitudinal resection. The result is a "tube" with a diameter of 1 to 3 cm, with a volume of about 100 ml. Weight loss occurs due to the following mechanisms:
Reduction of the stomach size accelerates satiety, limits too large portions
Part of the stomach that produces the hormone of hunger – ghrelin, is removed
Secretory activity of the stomach decreases, which leads to lower digestive efficiency
The risk of complications in a good clinic does not exceed 1%. During 2 years after the surgery, the patients lose 60% of excess weight on average. Сonscious diet control is not required after the operation, since a person's taste preferences and eating behavior change.
Gastric bypass surgery
It is one of the most effective operations. It can be used for the treatment of obesity in patients with body mass index of more than 45 kg/m2.
The essence of the operation is that a doctor separates the upper part of the stomach and forms an anastomosis with the small intestine. The following results are achieved:
Stomach is reduced in size
Food bolus passes by the duodenum
Food does not enter the upper part of the small intestine
Weight loss is provided by two mechanisms at once: early satiety and impaired digestion. Many nutrients are simply not absorbed.
In modern clinics, surgery is performed using the laparoscopic method. Doctors occasionally have to switch to open surgical access.
The surgery ensures the following benefits:
Loss of 75% of excess weight during the first year after surgery
Improvement of blood lipid profile and reduction of cardiovascular risks
Normalization of carbohydrate metabolism – 2 out of 3 patients with diabetes mellitus cancel oral hypoglycemic drugs intake
Such therapy has a number of disadvantages. To avoid hypovitaminosis and anemia, a person has to take vitamin-mineral complexes for life. In 4% of operated patients, ulcers may develop in the upper gastrointestinal tract. Protein deficiency develops in some patients.
In general, gastric bypass has more advantages than disadvantages. This operation solves the problem of obesity, increases quality of life and life expectancy, prevents many complications, including fatal ones. Therefore, it remains the "gold standard" for the treatment of obesity in North America.
Biliopancreatic diversion
It is the most effective surgery for the treatment of obesity. At the same time, it is the most complex one. The stomach is reduced up to 200 ml. The small intestine is divided into alimentary (200-250 cm long), biliopancreatic and general (50-100 cm long) loops. The following aims are reached as a result of the operation:
Reduced stomach volume
Food bolus passes by part of the gastrointestinal tract, where the food is usually digested
Bile with pancreatic juice do not get into the food, so the food is absorbed poorly
The operation is relatively rare. After it a deficiency of fat-soluble vitamins often develops, and it is not always possible to compensate it even with the help of drugs. Trophological insufficiency is developed in some patients, and they need enzymatic agents. Some patients suffer from dyspepsia, they have to take antisecretory drugs.
Liposuction
Liposuction is not a treatment for obesity. It only improves the appearance of a person with overweight. At the same time, cardiovascular, metabolic and other risks are not reduced.
During liposuction, fat is removed from the anterior abdominal wall in one way or another, and if necessary, from other areas. Fat is usually emulsified with a laser, ultrasound, vibration, special solutions, and then suctioned with an aspirator. The procedure is less traumatic, it is performed under local anesthesia.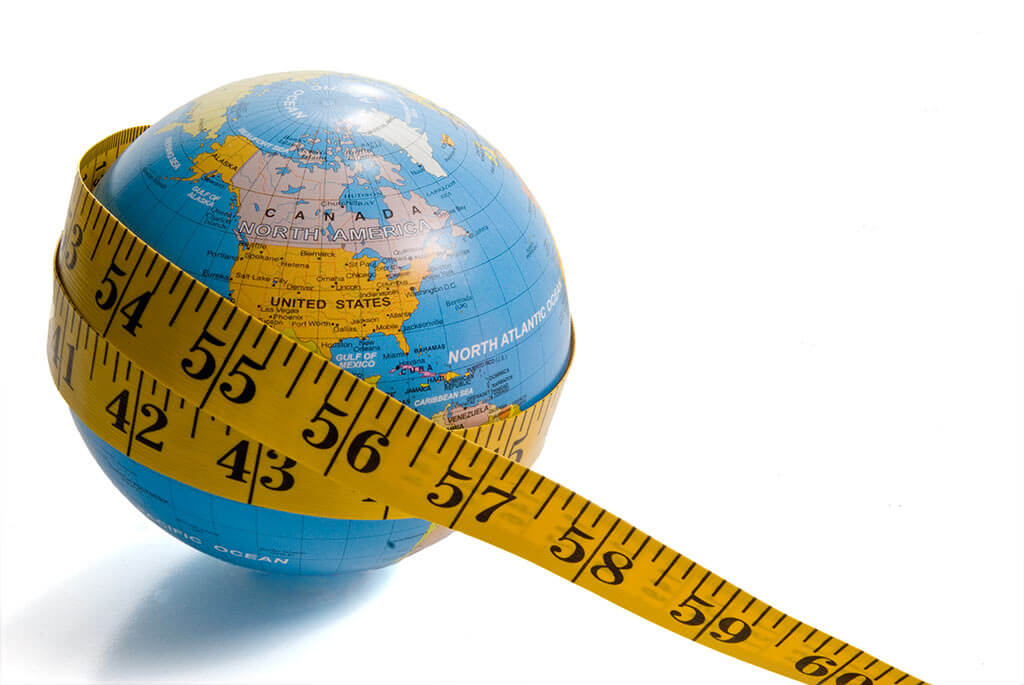 In which countries can I undergo obesity treatment?
Choice of the country for this procedure depends on a patient's requirements for comfort, financial well-being, and geographical location. Most people want to undergo the treatment in nearby countries, since they spend less time and money on the road.
The following factors influence the decision:
Level of medicine
Geographical location – how far is the country from your country
Cost of medical services
Level of services
Opportunity to combine treatment with recreation or excursions
Price is the most important criterion in selection of the country and clinic. In most cases, patients from developed countries go abroad to save money. They could receive services of similar quality in their homeland, but bariatric surgery is often too expensive. Below we present a table with prices in two countries, which are popular among medical tourists. Costs for different operations and procedures are indicated.
| Country/price (EUR) | Turkey | Germany |
| --- | --- | --- |
| Gastric balloon | 4,200 | 5,300 |
| Gastric banding | 12,000 | 15,000 |
| Sleeve gastroplasty | 11,700 | 13,500 |
| Gastric bypass surgery | 11,800 | 15,000 |
| Liposuction | 6,500 | 7,300 |
As you can see, Turkey provides the lowest price for a treatment. This country has good clinics with talented surgeons. You can undergo effective, minimally traumatic, safe operation here. This country offers a high level of comfort, services and care after surgery.
The level of medicine is higher in German clinics. In addition, prices in Germany are not the highest in the world. For example, in the United States or Japan, they are much higher, so residents of these countries often visit German clinics.
Organization of a trip abroad with Booking Health
If you want to go abroad for the treatment of obesity in the best specialized clinics in the world, you can use the service of Booking Health. You can get the information about the main medical programs on our portal, compare prices, book a treatment at affordable price. The specialists of Booking Health will arrange a trip abroad for you. We provide the following services and advantages:
Selection of the clinic, which specializes in the treatment of obesity, performs minimally invasive procedures and operations, achieves the best results with minimal health risks
Reduced waiting period for a treatment
Reduced costs of medical services due to avoiding additional coefficients for foreign patients
Direct communication with the doctor
Elaboration of a treatment program without repeating previously performed diagnostic tests
Buying and forwarding medicines
Communication with the clinic after the treatment program completion
Organization of additional diagnostics, treatment or rehabilitation
The specialists of Booking Health provide TOP-class services. We will book a hotel and airline tickets for you, meet you at the airport and take you to the clinic by car.
Choose treatment abroad and you will for sure get the best results!
---
Authors: Dr. Vadim Zhiliuk, Dr. Nadezhda Ivanisova
Read:
Why Booking Health - questions and answers
How to make right decision when choosing the clinic and specialist
7 reasons to trust to the rating of clinics on the Booking Health portal
Booking Health quality standards
Send a request for treatment