Due to the difficulties associated with the organization of treatment in Turkey, Switzerland, South Korea and India, we are not currently processing requests to these regions.
If you are interested in treatment in Germany, please leave a request and our specialists will contact you as soon as possible.
Abdominoplasty is a plastic surgery that pursues an aesthetic purpose. It allows a person to improve the appearance. The surgery restores aesthetic proportions of the abdomen, removes excess skin and subcutaneous fat. When performing this surgery, German surgeons ensure the best possible quality and safety.
Content
Who needs abdominoplasty?
Abdominoplasty is most commonly used by elderly, patients after obesity treatment and women after childbirth.
Although abdominoplasty is not a method of treating obesity, it can be performed together with liposuction. These two surgeries should be performed with an interval of several months. The doctor should determine this interval bearing in mind the extent of the previously performed surgery, the age of the patient and specifics of his/her postoperative recovery.
The main indications for abdominoplasty:
Sagging skin and soft tissues in the abdomen resembling an apron
Stretch marks due to pregnancy or extra weight
Flabby abdominal muscles and lack of the waist contour
Divergent rectus abdominis muscles
Excess abdominal skin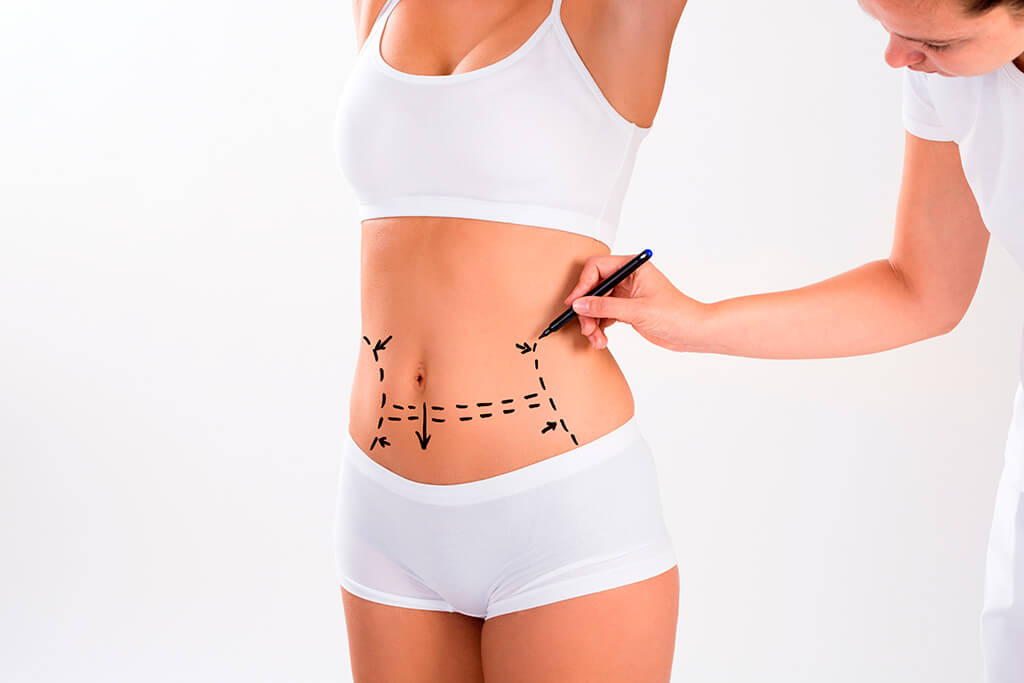 Benefits of abdominoplasty in Germany
Most patients living in the countries with poorly developed medicine do not want to undergo any surgical treatment at home. They prefer to trust their health and beauty to top-class specialists from German clinics.
Abdominoplasty in Germany offers a variety of benefits:
Experience. Germany is a leader in Europe with the largest number of aesthetic plastic surgeries on the abdomen performed annually.
Excellent aesthetic effect. Doctors will perform operations in such a way as to leave a minimal amount of aesthetic defects, such as scarring.
Safety. The surgery is preceded by thorough examination of the patient, assessment of individual features in the structure of the abdominal wall and detection of possible pathological processes. When performing all manipulations during the surgery, the doctor is as careful as possible. Therefore, Germany shows the lowest complication rates as compared to most countries of the world.
Good tolerability. Germany uses quality anesthesia both during abdominoplasty and in the postoperative period. With this anesthesia, a correction of the abdominal shape can be tolerated easier.
Minimally invasive surgery. German specialists perform not only conventional open abdominoplasty, but also minimally invasive interventions. These include mini tummy tuck and endoscopic abdominoplasty. The latter does not involve any large incisions in the anterior abdominal wall. The intervention is performed by inserting under the skin several light tubes equipped with a video camera and miniature surgical instruments.
Speedy recovery. Doctors use special medicines and procedures to ensure both accelerated and effective rehabilitation after the surgical intervention.
What clinics can perform abdominoplasty?
Germany offers a variety of clinics where one can undergo abdominoplasty. These include both medical centers specializing in plastic surgery and non-specialized medical institutions. The medical facilities usually include either units or even entire departments of plastic surgery.
Here are some examples:
How can one go to Germany to undergo abdominoplasty?
Many people who need abdominoplasty want to do it in Germany. However, the arrangement of the trip for receiving medical services presents serious challenges. If you are going to arrange treatment on your own, be ready to have a lot of obstacles and difficulties, such as:
Extra financial expenses for medical services due to wrong choice of the clinic
Substantial financial costs charged for medical services (insurance, accommodation of the accompanying person, translation of medical documents, nutrition, etc.)
Problems with the preparation of documents for traveling abroad
The patient has to wait for a very long time to have an appointment with the specialist and to undergo plastic surgery
One should find a translator specializing in medicine to translate medical documents into German
One should find an interpreter in Germany to communicate with the administration and staff of the clinic
Should any complications or a necessity for additional diagnostic and therapeutic procedures arise, the clinic will charge extra costs exceeding the previously agreed amounts
You can solve all these problems by using Booking Health services. We will fully arrange your trip to Germany for you to undergo abdominoplasty. You will save up to 70% of the costs of treatment and its organization. Since the insurance of Booking Health covers all unexpected expenses, you can be sure that the cost of surgery will not be changed.
Choose treatment abroad and you will for sure get the best results!
---
Authors: Dr. Nadezhda Ivanisova, Dr. Farrukh Ahmed
Read:
Why Booking Health - questions and answers
How to make right decision when choosing the clinic and specialist
7 reasons to trust to the rating of clinics on the Booking Health portal
Booking Health quality standards
Send a request for treatment