Prostate cancer immunotherapy is a modern treatment option for men with stage 4 cancer who have already undergone surgery and received chemotherapy and hormone treatment. Immunotherapy works where other treatments have failed and can no longer stop cancer progression. When restoring a man's antitumor immunity, immunotherapy suppresses the growth of metastases and significantly increases life expectancy. Modern treatment protocols include several types of immunotherapy, and German doctors will select the best one for you.
Content
Who may need immunotherapy?
Immunotherapy treatment for prostate cancer is indicated for men with metastatic hormone-resistant tumors. It is part of a comprehensive treatment regimen that also includes surgery, chemotherapy, radiation therapy, and hormone therapy.
The leading group of candidates for immunotherapy are men with metastatic cancer who have already undergone prostate removal surgery but have not fully recovered. If postoperative radiation therapy and chemotherapy have proved ineffective and cancer is insensitive to hormones, doctors proceed to the use of immunotherapy drugs.
Immunotherapy does not aim to cure a person with stage 4 cancer completely. Its main goal is to prolong life and effectively control the disease. Numerous studies and doctors' practical experience show that the technique copes with these tasks perfectly. Patients can receive immunotherapy for a long time. For this, they need to visit a hospital once every 3-8 weeks and undergo regular follow-up examinations.
"Immunotherapy works when a patient has contraindications to surgery and in the ineffectiveness of other treatments, cancer recurrence, and metastatic tumors. That is, in almost all cases."
Clinical studies are currently ongoing that are investigating the use of immunotherapy drugs for early-stage cancer to slow the progression of oncology, better control symptoms in the future, and extend the relapse-free period.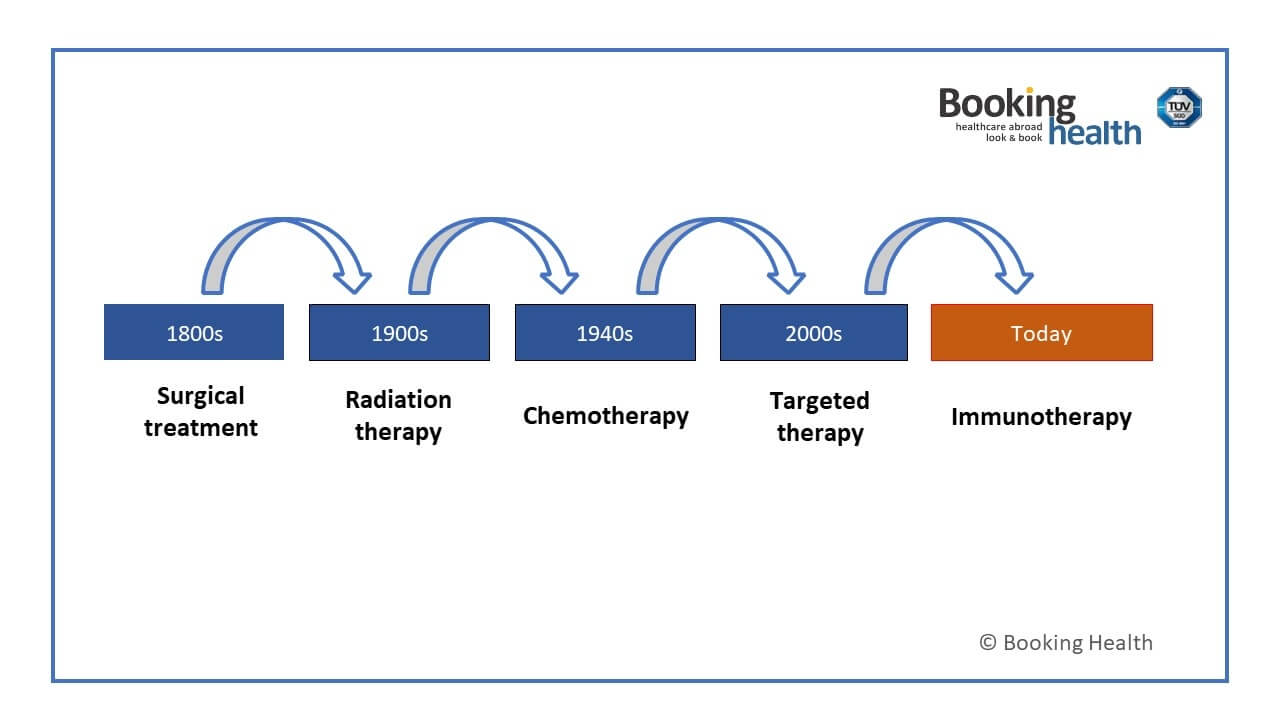 Types of immunotherapy for prostate cancer
Doctors in clinics in Germany use four types of immunotherapy, each of which has its own advantages and characteristics and affects different parts of the immune system:
Vaccination is the most studied and actively used type of immunotherapy for metastatic prostate cancer. The Sipuleucel-T vaccine was the first to receive FDA approval and enter clinical practice. This consists of dendritic cells pre-trained to recognize and attack a prostate tumor in a particular man. Another vaccine is PSA-TRICOM, which contains the smallpox virus and allows more active penetration into cancer cells. The PSA-TRICOM vaccine is currently being studied in clinical studies and is not used in routine medical practice.
Monoclonal antibodies (bispecific T-cell engager (BiTE)). BiTEs are bispecific monoclonal antibodies that simultaneously bind to T-cells and tumor antigens. At the same time, T-cells themselves do not need to have receptors for the tumor. To date, drugs in this group have received FDA approval for treating B-cell acute lymphoblastic leukemia. Their use for prostate cancer is the next step in scientific research. One of the advantages of this type of treatment is that there is no need to synthesize the drug for each patient individually, which significantly reduces the cost of treatment.
Immune checkpoint inhibitors (CTLA-4, PD-1/PD-L1) affect tumor "masking" and allow anti-cancer immunity to work. These drugs are effective in men with certain genetic changes, such as deficient DNA mismatch repair (dMMR) and high tumor mutation burden (TMB-H). Their advantages include the possibility of being prescribed at any stage of treatment: before or after surgery, after a recurrence is detected, or at the stage of metastasis spread.
CAR T-cell therapy is based on the genetic modification of the patient's white blood cells. The leukocytes extracted from the blood are genetically modified. A gene responsible for recognizing a prostate tumor is introduced into them. Altered leukocytes are returned to the patient's body, where they begin to destroy malignant cells actively. This technique has high success rates for metastatic cancer but is not very commonly used due to its high cost and lack of access to gene technologies.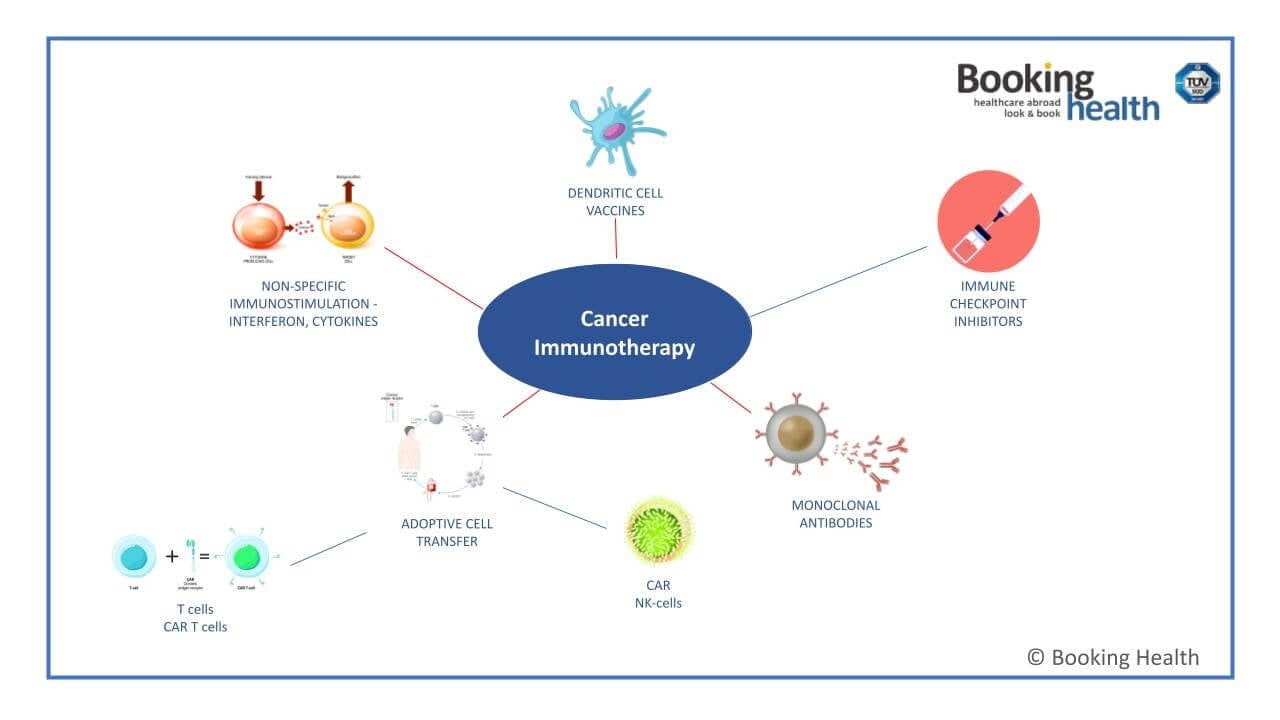 How is immunotherapy for prostate cancer carried out?
The prostate cancer vaccine is made for each man individually, considering the characteristics of his malignant tumor. Doctors isolate immune cells from the blood, "acquaint" them with prostatic acid phosphatase (a prostate cancer tumor marker, which is actively synthesized by the tumor), and inject them back into the man. The course of treatment consists of three injections of the drug at an interval of 2 weeks. Vaccine therapy for prostate cancer is well tolerated. The most severe side effects are headache, fever, and joint pain, which go away on their own within a few days. A patient's life expectancy after vaccination increases by several months or even years.
Therapy with monoclonal antibodies and immune checkpoint inhibitors requires preliminary laboratory testing: doctors are looking for specific mutations that make the tumor sensitive to this type of treatment. Physicians also evaluate kidney and liver function, the size of the primary tumor (if surgery has not yet been performed), and the number of distant metastases. Most drugs are administered intravenously once every 3-4 weeks. A patient can receive additional treatment or stay at home between injections, keeping in touch with the clinic by phone.
CAR T-cell therapy is carried out in several stages. First, a patient visits the clinic for a preliminary examination and blood sampling, during which leukocytes will be isolated, and the remaining components will immediately be returned. The process of genetic modification of leukocytes and the creation of an individual drug will take two to three weeks. A patient will spend this time at home. CAR T-cells are injected intravenously. In most cases, the procedure is conducted in a day hospital. Additionally, a doctor may administer drugs to suppress the immunosuppressive environment of the tumor and symptomatic drugs.
A doctor chooses a specific immunotherapy treatment regimen based on preliminary diagnostic examination results and considering a patient's condition. In most cases, it is part of a combination treatment regimen for prostate cancer.
Find specialized hospital & treatment
How to undergo immunotherapy for prostate cancer in Germany?
If prostate cancer treatment in your native country does not seem modern and effective enough to you, you can opt for your treatment at German hospitals. A team of doctors will meet at a tumor board to develop an optimal treatment regimen for you personally and recommend the most suitable immunotherapy option. All this is possible thanks to the work of the international medical tourism provider Booking Health.
For more than 12 years, Booking Health has been helping men with prostate cancer from 75 countries to undergo their treatment in leading clinics in Germany.
The Booking Health specialists accompany you at every stage of your trip:
selection of a hospital that specializes in prostate cancer immunotherapy;
selection of your attending physician;
preliminary preparation of an additional diagnostic or treatment program (for example, if you need to clarify your diagnosis);
сontrol of the cost of clinic services and elimination of additional fees for foreign patients (saving up to 50%);
appointment for an outpatient appointment or hospitalization on the preferred date;
independent control of the medical care program by doctors from the Booking Health company;
assistance in buying and forwarding medicines for maintenance treatment in your native country;
communication with the hospital after returning home;
control of invoices and prices, return of unspent deposit funds;
organization of rehabilitation activities (if necessary);
booking apartments, airline tickets, and transfers;
interpreter and personal medical coordinator services.
Do not hesitate to contact the Booking Health company to undergo modern immunotherapy in a specialized clinic in Germany quickly.
Choose treatment abroad and you will for sure get the best results!
---
Authors:
The article was edited by medical experts, board certified doctors Dr. Nadezhda Ivanisova and Dr. Vadim Zhiliuk. For the treatment of the conditions referred to in the article, you must consult a doctor; the information in the article is not intended for self-medication!
Sources:
Read:
Why Booking Health - questions and answers
How to make right decision when choosing the clinic and specialist
7 reasons to trust to the rating of clinics on the Booking Health portal
Booking Health quality standards
Get a free quote