Due to the difficulties associated with the organization of treatment in Turkey, Switzerland, South Korea and India, we are not currently processing requests to these regions.
If you are interested in treatment in Germany, please leave a request and our specialists will contact you as soon as possible.
Many diseases require surgical procedures. It can be necessary for saving a person's life or improving its quality. Some patients undergo surgery at their place of residence, while others prefer to receive surgical treatment abroad.
The first approach can save you money, but surgery abroad and, especially in Germany, can provide better treatment results and minimize the risks that may threaten a patient's life and health.
Content
Particularities of surgery in Germany
Germany offers one of the most effective and, at the same time, safest surgery options than most other countries in the world. This is evidenced by objective statistical data that reflect a superior quality workmanship by German surgeons.
The particularities of surgery in Germany include the use of advanced technologies and the latest achievements of medicine in the war against serious diseases.
Endoscopic and laparoscopic surgery. Germany tends to give preference to minimally invasive surgical techniques. There is used video endoscopy equipment with which one can make all the necessary manipulations through small incisions.
Robotic surgery. It is an expensive but very effective surgical technique. The hands of even the most experienced surgeon cannot perform such a precise action as that by a man-controlled machine with a remote control. Robotic surgery is much safer for the patient. The healthy tissues are less affected and this surgery is far more accurate, making thin and even incisions possible. Thus, both the risk of complications and the period of postoperative rehabilitation are reduced.
The latest prosthesis. Germany uses the latest, safest, most functional devices to implant them in the human body. These include mechanical joints, prosthesis of blood vessels, heart valves, fragments of the spine and even artificial ocular organs!
The latest surgical techniques. Germany uses the most advanced surgical techniques. The country performs many operations, which are not available in most countries, since they require expensive equipment and doctors with the necessary knowledge, skills and experience.
Combination of surgery with other treatments. Many surgical interventions increase their effectiveness in combination with other innovative treatments. This is particularly the case for oncological diseases. Germany uses therapeutic techniques that significantly reduce the risk of cancer recurrence after surgery.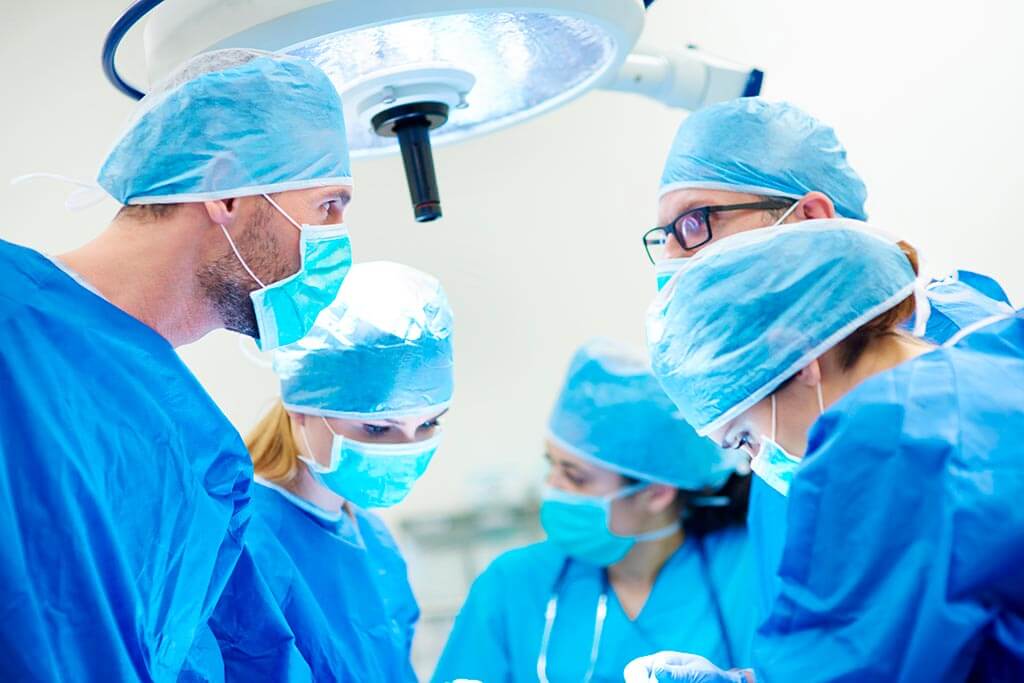 Advantages of surgery in Germany
Operations are performed in any country of the world. Nevertheless, surgical interventions in Germany offer a number of advantages, namely:
Lower intraoperative mortality rate. Any surgical intervention carries a risk for patient's life. The mortality rates during the surgery vary significantly from country to country. Due to highly qualified doctors and good equipment at hospitals, mortality rates are low in Germany.
Less risk of complications after surgery. Through the use of the latest surgical techniques, high quality supplies, as well as state-of-the-art medical equipment, the risk of complications (bleeding, infection, nerve damage) is minimized.
Less postoperative pain. The use of high-tech, sparing surgical interventions and effective anaesthesia contribute to patient's easier tolerance of the early postoperative period.
Rapid healing of postoperative wounds. In Germany doctors try to perform surgery that results in minimal tissue damage. The main reasons for a rapid recovery of the patient after surgical intervention are very thin, short length incisions, high quality suture material and an appropriate postoperative care of the wound.
Shorter rehabilitation period. German specialists pays particular attention to providing the appropriate rehabilitation of the patient. This kind of care is missing in third world countries. The procedures and medical manipulations that doctors carry out after surgery allow not only a speedy recovery after the intervention, but also minimises the risk of residual events.
Less negative consequences after surgery. Some surgical procedures carry certain risks of organ dysfunction. For example, neurosurgical operations can cause a neurological deficit. Surgery on the joints or other structures of the musculoskeletal system can cause an incomplete recovery of mobility. The surgical interventions on cavities often cause adhesions. Through the use of the most progressive surgical techniques, these risks are minimized in Germany.
Better aesthetic effect. German doctors try to use minimally invasive surgery. The incisions are small. The surgeon tries to make them in the areas of the natural skin folds and/or with access through the mucous membranes. As a result, there are no visible scars at all or they are small.
How to undergo surgery in Germany?
To undergo surgery in Germany, you can contact one of these hospitals:
Booking Health will help arrange travel to Germany for surgical intervention. Booking Health is the medical tourism operator that has been organizing surgical treatment of people from 75 countries in the world's leading hospitals for more than 10 years. Compliance of the quality of the company's work with high international standards is confirmed by the prestigious ISO 9001: 2015 certificate.
You will receive help with the following issues:
Search of the most suitable hospital, where doctors have succeeded in the treatment of a certain disease
Preparation of documents for traveling abroad
Preparation and translation of medical records
Logistics provision: flight to Germany, transfer from the airport to the hospital and around the country
Household and organizational issues (translator, nutrition, accommodation, etc.)
The additional care should no longer be an obstacle to receiving high quality medical services. Furthermore, if you seek help in our company, you will also receive considerable financial benefits, because:
We will help you to get the best possible treatment and the volume of diagnostic procedures in such a way that you will save up to 70% of the total cost of medical services.
You will receive an insurance against unforeseen medical expenses (for example, intraoperative or postoperative complications) for the entire treatment period plus 48 months after its completion.
You will have an opportunity to get free doctor's consultations within 3 months after your surgery in Germany.
All financial transactions will be completely transparent. You can get information about how and where your funds are spent at any time.
You simply need to make a request on the site as soon as possible. We will help you to choose the best hospital with a high end quality of treatment that meets your expectations.
Choose treatment abroad and you will for sure get the best results!
---
Authors: Dr. Vadim Zhiliuk, Dr. Sergey Pashchenko
Read:
Why Booking Health - questions and answers
How to make right decision when choosing the clinic and specialist
7 reasons to trust to the rating of clinics on the Booking Health portal
Booking Health quality standards
Send a request for treatment