Due to the difficulties associated with the organization of treatment in Turkey, Switzerland, South Korea and India, we are not currently processing requests to these regions.
If you are interested in treatment in Germany, please leave a request and our specialists will contact you as soon as possible.
Due to the widespread occurrence of nodular goiter, thyroid cancer remains an urgent problem of endocrine oncology. At the early stages of cancer, malignant nodules are no different from the benign ones, which makes diagnosis difficult. The treatment of thyroid cancer in the leading specialized clinics includes tumor removal followed by targeted irradiation – radioiodine therapy or specialized MIBG therapy. European clinics demonstrate high rates of treatment success along with excellent cosmetic results and a competent selection of the postoperative hormone therapy.
Content
Surgical treatment with a focus on video-assisted interventions
Surgery is the basis of the treatment regimen for patients with thyroid cancer. At the stage of the operation planning, the doctors carry out histological diagnostics and determine the type of tumor:
Papillary thyroid cancer occurs in 70-80% of cases. It is characterized by slow growth and frequent metastasizing to the cervical lymph nodes.
Follicular thyroid cancer accounts for 10-15% of cases. It often invades blood vessels and spreads to bones and lungs.
Medullary thyroid cancer accounts for 5-7% of cases. It develops from hormone-producing C-cells. It can have a hereditary nature and often develops simultaneously with diseases of the parathyroid and adrenal glands.
Undifferentiated or anaplastic thyroid cancer is rare and occurs in 1-2% of cases. It proceeds aggressively, with damage to the muscles and vessels of the neck, larynx, trachea and distant organs.
As a rule, the patients with malignant neoplasms should undergo total thyroid removal. Such an operation is called thyroidectomy. In some cases, when detecting encapsulated tumors several millimeters in size, only one thyroid lobe is removed. This type of surgery is called hemithyroidectomy.
European clinics can perform thyroidectomy for thyroid cancer in several ways. When using both methods, the surgeons perform the operation with the maximum precautions, as the front of the neck includes vital blood vessels and nerves.
Classical open surgery is performed through surgical access at the bottom of the neck. At the same time, the sternothyroid and sternohyoid muscles are not intersect, which accelerates the postoperative recovery. The surgeons use a harmonious scalpel that reduces the risk of bleeding. A constant imaging monitoring of the recurrent nerves condition is also carried out. This minimizes the risk of postoperative laryngeal paresis.
Video-assisted surgery allows for hemithyroidectomy or thyroidectomy through a skin incisions 1.5-2 centimeters long. This is a technically more complicated intervention, which is performed using a miniature endovideo surgical system. Video-assisted surgery reduces tissue trauma, provides the best cosmetic result, avoids the postoperative draining, as well as improves the imaging of the parathyroid glands and recurrent nerves.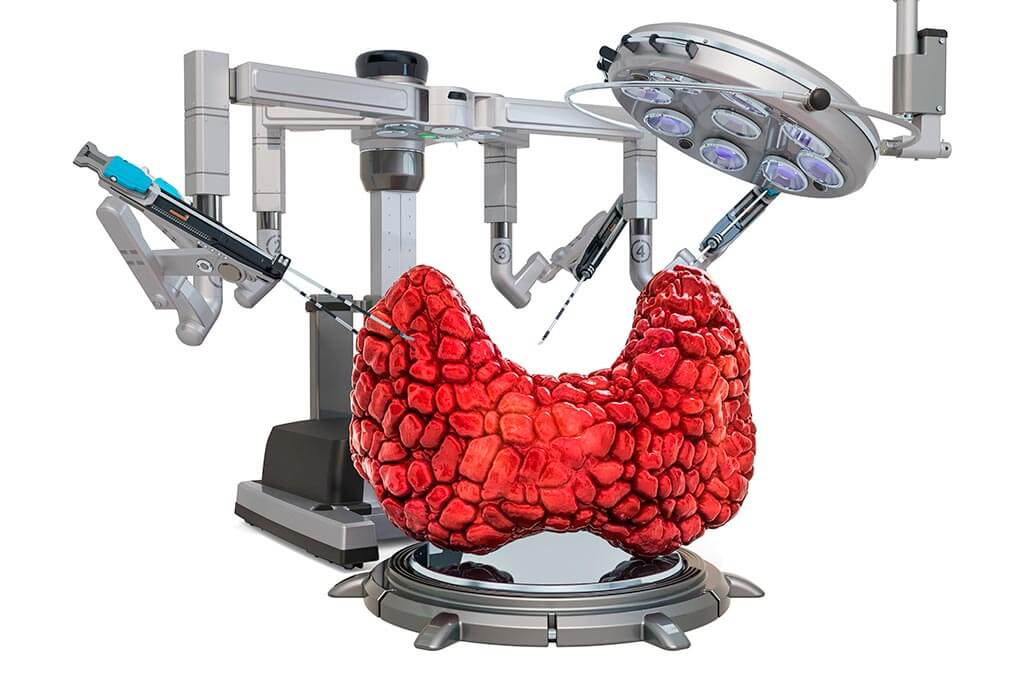 After the operation, the patients receive hormone replacement therapy with levothyroxine and liothyronine, since their own thyroid hormones are no longer produced. With competent individual selection of the drug dosage, the symptoms associated with postoperative hypothyroidism are completely absent.
Radiation therapy – targeted irradiation with iodine
When planning radiation therapy, the oncologists primarily focus on the type of tumor and the stage of the oncological process. In patients with papillary and follicular thyroid tumors, radioiodine therapy is performed after surgery. Radioiodine therapy (RIT) is a type of internal radiation therapy with the radioactive iodine isotope, I-131. Cancer cells, including the primary tumor and distant metastases, actively accumulate iodine, while other tissues do not have this ability. Due to this, RIT is considered a targeted treatment with an excellent profile of efficacy and safety.
Radioiodine therapy for thyroid cancer can be carried out in the three clinical situations:
After surgery, as a consolidation therapy
In case of confirmed tumor metastasizing
In case of cancer relapse, regardless of the cause
External beam radiation therapy is used for medullary and anaplastic thyroid cancer, the cells of which do not accumulate iodine and, accordingly, cannot be destroyed during radioiodine therapy. External beam radiotherapy is also indicated for patients with spinal metastases.
Due to the formation from C-cells, medullary thyroid tumors are neuroendocrine neoplasms that can be effectively treated by the MIBG therapy. When conducting MIBG therapy, the radioactive isotope of iodine is binded to a carrier, metaiodobenzylguanidine, which is selectively accumulated by cells of medullary thyroid tumors. According to the dosimetric control data, MIBG therapy provides a high dose of radiation in malignant lesions with minimal bone marrow irradiation.
It should be noted that thyroid tumors are not very sensitive to chemotherapy. Chemotherapy for thyroid cancer is performed in patients with inoperable neoplasms resistant to RIT, as well as in the detection of distant metastases of highly differentiated cancer. The therapy includes the systemic administration of low molecular weight multikinase inhibitors (Sorafenib).
Thyroid cancer treatment in European clinics with Booking Health
European clinics offer patients with thyroid cancer the full range of therapeutic options combined with the comfort and confidentiality of treatment. The international patients can receive medical services abroad with the help of the Booking Health company, which is a certified medical tourism provider. Booking Health has been certified according to the ISO 9001: 2015 international standard.
The specialists of the Booking Health company will help you with the following important issues:
Selecting the right hospital and doctor based on an annual qualification profile
Direct communication with your attending physician
Preliminary preparation of a treatment program without repeating previous examinations (laboratory tests, ultrasound scan, etc.)
Provision of a favorable cost of clinic services, without overpricing and additional coefficients for foreign patients (saving up to 50%)
Making an appointment with a doctor for the desired date
Monitoring of the medical program at all its stages
Assistance in buying and forwarding medicines
Communication with the clinic after the treatment completion
Control of invoices and return of unspent funds
Organization of additional examinations
Top-class service: booking hotels, airline tickets, transfer
Choose treatment abroad and you will for sure get the best results!
---
Authors: Dr. Nadezhda Ivanisova, Dr. Sergey Pashchenko
Read:
Why Booking Health - questions and answers
How to make right decision when choosing the clinic and specialist
7 reasons to trust to the rating of clinics on the Booking Health portal
Booking Health quality standards
Send a request for treatment