Due to the difficulties associated with the organization of treatment in Turkey, Switzerland, South Korea and India, we are not currently processing requests to these regions.
If you are interested in treatment in Germany, please leave a request and our specialists will contact you as soon as possible.
The global medical community has been recently focusing on the elaboration of novel therapeutic strategies and vaccines against COVID-19. However, it is obviously no less important to pay attention to the long-term post-COVID conditions and carry out follow-up after suffering a coronavirus infection. The emerging practical evidence suggests that the viral damage goes far beyond the respiratory system. German hospitals are currently offering comprehensive rehabilitation programs after COVID-19. All the efforts of healthcare professionals are aimed at detecting the disease consequences and improving a patient's self-rated quality of life.
Content
Long-term effects and complications of COVID-19
Most countries, including Germany, have only about 2 years of experience in the field of coronavirus disease treatment. The evidence is limited to data from the medical practice, as there are only a few small clinical trials, but the presence of long-term pulmonary and non-pulmonary COVID-19 consequences is beyond all doubt.
It would be fair to say that most of the COVID-19 survivors require rehabilitation regardless of the disease severity. Actually, there is currently a large group of patients who have been just infected with SARS-CoV-2 and haven't had any symptoms, but now experience the post-COVID conditions, such as:
Long-term fever, asthenic syndrome (chronic fatigue).
Changes in smell or taste, up to their complete absence.
Neurological disorders, including stroke, headaches, dizziness, sleep problems, mood changes (e.g. depression or anxiety), cognitive impairments (poor memory or concentration), pins-and-needles feeling.
Cardiovascular diseases, including myocarditis and pericarditis, heart palpitations, irregular heartbeat.
Shortness of breath at minimal physical exertion or at rest, difficulty breathing, cough.
Joint or muscle pain, pathological ligament ruptures.
Rash, allergic reactions.
Autoimmune disorders such as thrombocytopenic purpura and antiphospholipid syndrome (conditions that affect blood clotting and increase the risk of thrombosis).
Problems with fertility.
Taking into the consideration the variety of clinical manifestations, the rehabilitation after COVID is elaborated individually, based on the results of the preliminary examinations. Most rehabilitation programs are carried out by the multidisciplinary team of healthcare professionals (general practitioners, neurologists, cardiologists, pulmonologists, endocrinologists, rehabilitation therapists, psychotherapists, etc.) and include physical activity, pharmacological support, education and mental health restoration.
Neurological rehabilitation after COVID-19
The systematic review and meta-analysis of olfactory and gustatory dysfunction in people infected with SARS-CoV-2 have demonstrated that over 52% of patients have suffered from olfactory dysfunction and over 43% have experienced long-term gustatory dysfunction. This is connected with the ability of the virus to cross the blood-brain barrier and enter the central nervous system (CNS). In addition to disrupting the function of cranial nerves, the virus can cause brain inflammation (e.g. meningitis, meningoencephalitis), intracerebral hemorrhage and diffuse brain injury.
Medical help in this case is aimed at suppressing the viral influence on the CNS, curing inflammation, and preventing intracranial hemorrhages. This, in turn, leads to the improvement of memory and concentration, restoration of smell and taste, prevention of unexplainable mood swings, better sleep, better social interactions, etc.
Neurological rehabilitation after COVID requires coordinated work of general practitioners, neurologists, rehabilitation therapists, and psychotherapists. The medical program includes:
Improving memory, concentration and other cognitive skills: pharmacotherapy, neuropsychological therapy, psycho-educational classes, relaxation techniques.
Managing stress and anxiety: individual and group work with a psychotherapist, meditation, yoga, deep tissue massage, acupuncture, visiting the community support groups.
Improving physical abilities such as walking, hand function, etc.: proprioceptive neuromuscular facilitation (PNF), Wii Fit balance training, functional proprio training, ArmeoSpring system for the training of the upper extremities.
Managing tremor and unintended movements: transcranial magnetic stimulation (TNS), functional electrical stimulation / neurostimulation.
Improving bladder and bowel control: biocontrol with feedback, neuromuscular electrostimulation.
Nutritional counseling.
Pain management: pharmacotherapy (including antispasmodic drug therapy), hydrotherapy, massage, acupuncture.
Correction of speech defects and speech therapy in the patient's native language.
Help with the activities of daily living: occupational therapy with the use of the individual assistive devices
Other therapeutic approaches.
Neurological rehabilitation after COVID-19 often requires quite a lot of time, as neural cells "learn" how to replace the damaged ones. Thus, after the inpatient rehabilitation at the specialized hospitals (as a rule, 30-45 days) the recovery goes on at home. The physician assesses the dynamics of improvement and adjusts the program to the current patient's indicators. Distant consultations of German healthcare professionals are available for patients from other countries.
Pulmonary rehabilitation after COVID-19
The respiratory system remains the most common organ system that is severely damaged after contracting SARS-CoV-2. The most severe manifestation is respiratory failure, but even mild pneumonia can cause chronic respiratory complications such as pulmonary fibrosis, pulmonary thromboembolism, etc. Rehabilitation after coronavirus pneumonia in Germany relieves shortness of breath and chronic cough due to improving the blood supply and function of the lung tissue. Rehabilitation activities also reduce the risk of infectious complications in the future.
The main methods of pulmonary rehabilitation after COVID-19:
Respiratory physiotherapy. Postural drainage with percussion and vibration (PDPV) facilitates the airway clearance due to special patient positioning. The effect of gravity in these positions makes mucus in the lungs flow out more actively. Percussion and vibration facilitate this process additionally. The choice of the position depends on the localization of the affected lung segments. Other physiotherapy options are selected by the attending physician individually.
Breathing exercises. Forced expiration technique evacuates mucus from the lungs more effectively than the usual coughing. The patient takes a normal breath in, opens his mouth, and exhales a large volume of air, without much effort. This is somewhat similar to fogging up a mirror. Other breathing exercises are recommended by the attending physician individually.
Pharmacological treatment. If clinically indicated, the coordinating physician may administer antibiotics (in presence of infection), corticosteroids (in presence of inflammation), mucolytics and bronchodilators (to improve evacuation of mucus and airway patency). Food supplements may also be administered in eligible patients.
As a rule, the pulmonary rehabilitation starts at a specialized hospital, under the supervision of qualified healthcare professionals. After the completion of the first, "boost", stage of the medical program, the patient continues it at home. Breathing exercises and pharmacological support may become a part of everyday life for months, until the regaining of normal lung function.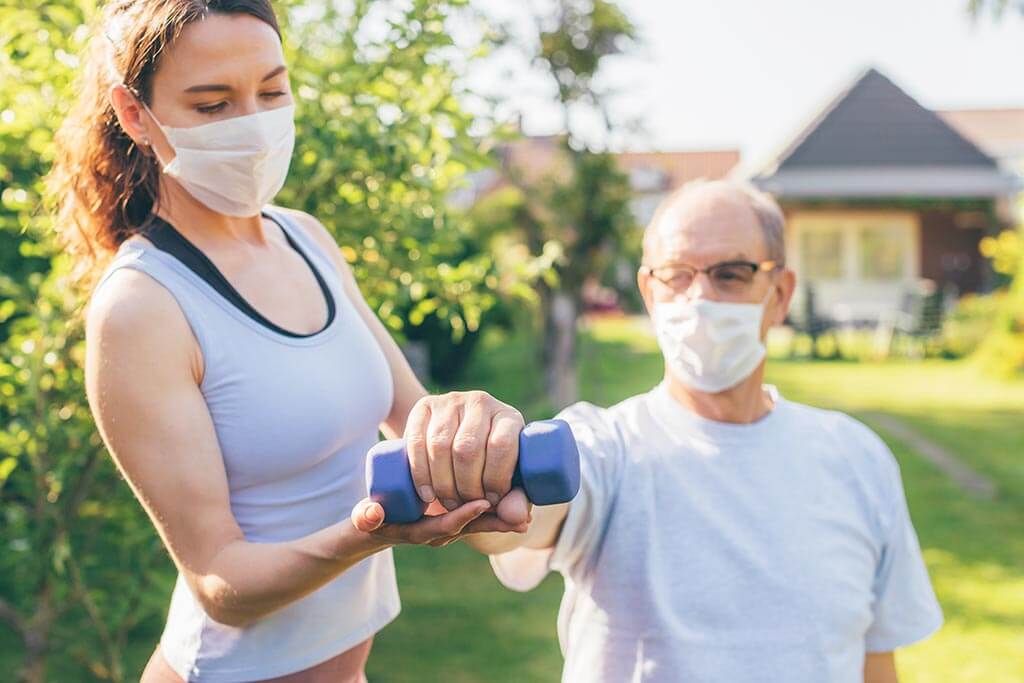 Cardiac rehabilitation after COVID-19
Heart structures are seriously affected by SARS-CoV-2, since they express angiotensin-converting enzyme 2 receptors on their surface, and the virus attacks these receptors actively. According to the data from different countries, about 12% of people without known cardiovascular pathologies develop them after contracting SARS-CoV-2. These include myocarditis, acute coronary syndrome, and arrhythmias. The other cardiovascular dangers are systemic inflammation, blood clotting and high risks of thrombosis during the acute disease stage and long after recovering from it.
Cardiac rehabilitation after coronavirus in Germany includes:
Physical exercises, including endurance training, interval training, and high-intensity interval training.
Nutritional counseling, selection of food supplements.
Pharmacological support, including anticoagulants, antihypertensive drugs, antiinflammatory drugs.
Lifestyle modifications, including help with maintaining healthy weight, getting rid of tobacco and alcohol addiction, sleep normalization, etc.
Psychosocial interventions, including individual and group psychotherapy, stress management, etc.
The appropriate physical exercises activate systemic anti-inflammatory and antioxidant defenses, improve the endothelial function, and lower blood pressure. Pharmacological support allows improving blood coagulation and reducing systemic inflammation. The combination of all techniques and their long-term usage regains normal function of the heart and blood vessels, as well as reduces future risks.
Endocrine rehabilitation after COVID-19
In addition to signs of affection of the nervous, respiratory and cardiovascular systems, patients often complain of non-specific symptoms and special rehabilitation in Germany after COVID-19 is offered in such cases. In particular, German doctors pay attention to the assessment of hormone levels and endocrine system functioning.
As it emerges from the practical experience, up to 15-30% of COVID-19 patients will suffer from thyroid dysfunction in the future. This includes both hypothyroidism (lack of thyroid hormones) and hyperthyroidism (excessive amount of thyroid hormones). This is connected with the direct action of virus and stimulation of the autoimmune processes. The good news is that the post-COVID thyroid dysfunction is potentially reversible, if the condition is detected timely and rehabilitation starts.
Endocrine rehabilitation after COVID-19 in people with thyroid dysfunction includes:
Timely correction of hormone levels with the help of levothyroxine or thiamazole.
Long-term correction of thyroid function with the help of antiinflammatory medications, immune correction, nutritional supplements, and physiotherapy.
Another widespread post-COVID endocrine condition is diabetes mellitus. In this case, the coronavirus infection can either exacerbate the existing diabetes mellitus or cause the disease onset in predisposed people. Glucocorticoids that are the essential part of many therapeutic protocols have the same effect. Thus, rehabilitation of people with diabetes mellitus includes:
Corrective therapy for COVID-19, with the exception of medicines that increase blood glucose levels.
Individual modification of diet (the products should stimulate and spare the function of the pancreatic islet cells), correction of the patient's nutritional status.
Replacing the deficiency of vitamins and minerals after the SARS-CoV-2 infection.
Physical activity and physiotherapy that stimulate clearance of lungs and maintain healthy weight.
Pharmacotherapy that lowers blood glucose levels.
Pharmacotherapy that restores pancreas function.
Endocrine rehabilitation after COVID-19 gives people a chance to avoid life-long hormonal therapy and live without health restrictions.
Rehabilitation centers and costs of medical programs
It is always reasonable to select the healthcare facility and team of physicians for each patient individually, as one hospital can't provide the best services in all spheres of medicine. Here is the list of rehabilitation clinics to start your search with.
In Germany, prices for medical services are regulated by law and are specified in the DRG pricing system. Please be aware that certain hospitals may have additional price coefficients for non-residents. Basic costs for rehabilitation are as follows.
You will receive more information about the most suitable rehabilitation center, duration of the inpatient program part and its cost once a physician sees the results of your preliminary examinations.
Arrangement of rehabilitation in Germany
German hospitals have demonstrated excellent indicators in the COVID-19 treatment (mortality in the country stays under 0.25% with an average global rate of 2.1%), and now they also include the rehabilitation after coronavirus in the list of the provided medical services. The healthcare facilities in Germany have enough resources to admit both residents and foreign patients. However, the last ones must prepare the necessary papers carefully and be familiar with the peculiarities of the German medical system.
The patients without experience of undergoing treatment or rehabilitation in Germany, or those who want to save their time and efforts, can use the services of Booking Health. Booking Health is the medical tourism operator with the international quality control certificate ISO 9001:2015 in the relevant field. The company successfully works with patients from 75 countries.
Booking Health offers help in such important aspects:
Choosing the right hospital for undergoing rehabilitation based on the annual qualification profile.
Establishing communication directly with your physician.
Preparing rehabilitation programs in advance, without repeating examinations.
Providing a favorable cost of rehabilitation, without overpricing and additional fees for non-residents (saving up to 50%).
Booking the appointment on the most suitable date.
Monitoring the rehabilitation program at all its stages.
Assistance in buying and forwarding medical products, medications, etc.
Communication with the hospital after the completion of treatment or rehabilitation.
Control of prices and return of unspent funds.
Organization of additional examinations, treatments, etc.
Top-class services: booking airline tickets, transfer, etc.
Services of interpreter and personal medical coordinator.
To start planning rehabilitation for yourself or your relative, please leave the request on the official Booking Health website. A patient case manager or a medical advisor will contact you the same day to discuss all the peculiarities and the most suitable options. The goal of our work is to help you in regaining your physical and cognitive abilities, and maintaining your health.
Choose treatment abroad and you will for sure get the best results!
---
Authors:
The article was edited by medical experts, board certified doctors Dr. Nadezhda Ivanisova and Dr. Sergey Pashchenko. For the treatment of the conditions referred to in the article, you must consult a doctor; the information in the article is not intended for self-medication!
Sources:
National Center for Biotechnology
WHO - World Health Organization
Read:
Why Booking Health - questions and answers
How to make right decision when choosing the clinic and specialist
7 reasons to trust to the rating of clinics on the Booking Health portal
Booking Health quality standards
Send a request for treatment