Due to the difficulties associated with the organization of treatment in Turkey, Switzerland, South Korea and India, we are not currently processing requests to these regions.
If you are interested in treatment in Germany, please leave a request and our specialists will contact you as soon as possible.
Dendritic cell breast cancer treatment is effective in almost all patients since a patient's anti-cancer immunity is activated after vaccination. Individually manufactured vaccines with dendritic cells improve treatment results in different clinical situations: after surgery to remove a tumor, in the lymph nodes affection, in the presence of distant metastases, with cancer resistance to hormone therapy and chemotherapy. Vaccination prevents the recurrence in the early stages of the disease or helps to control it for a long time in advanced cancer. In German hospitals, this method of treatment demonstrates excellent success rates.
Content
When breast tumors are treated with dendritic cells
In breast cancer, immunotherapy can start quite early, at clinical stages I-II:
When the size of the primary tumor is up to 5 cm, and when the woman will undergoes surgical treatment
If only the axillary lymph nodes are affected
In the absence of distant metastases
Breast tumors have long been considered non-immunogenic, so surgery, chemotherapy, radiation therapy, and hormonal therapy were preferred. However, a growing number of modern clinical studies demonstrate a significant antitumor response after the administration of dendritic cells.
«German doctors often supplement the standard treatment protocol for early-stage breast cancer with DC vaccination, thus achieving better results.»
The second area of administering such vaccines is advanced cancer, including stage 4 cancer, especially in the development of resistance to hormonal drugs and chemotherapy. In such a clinical situation, immunotherapy is aimed at better control of the disease: it prevents metastasizing and suppresses the growth of already existing distant metastases. An additional advantage is the absence of serious side effects typical for chemotherapy. Also, a woman does not need to take the drug daily: the vaccine is administered only a few times.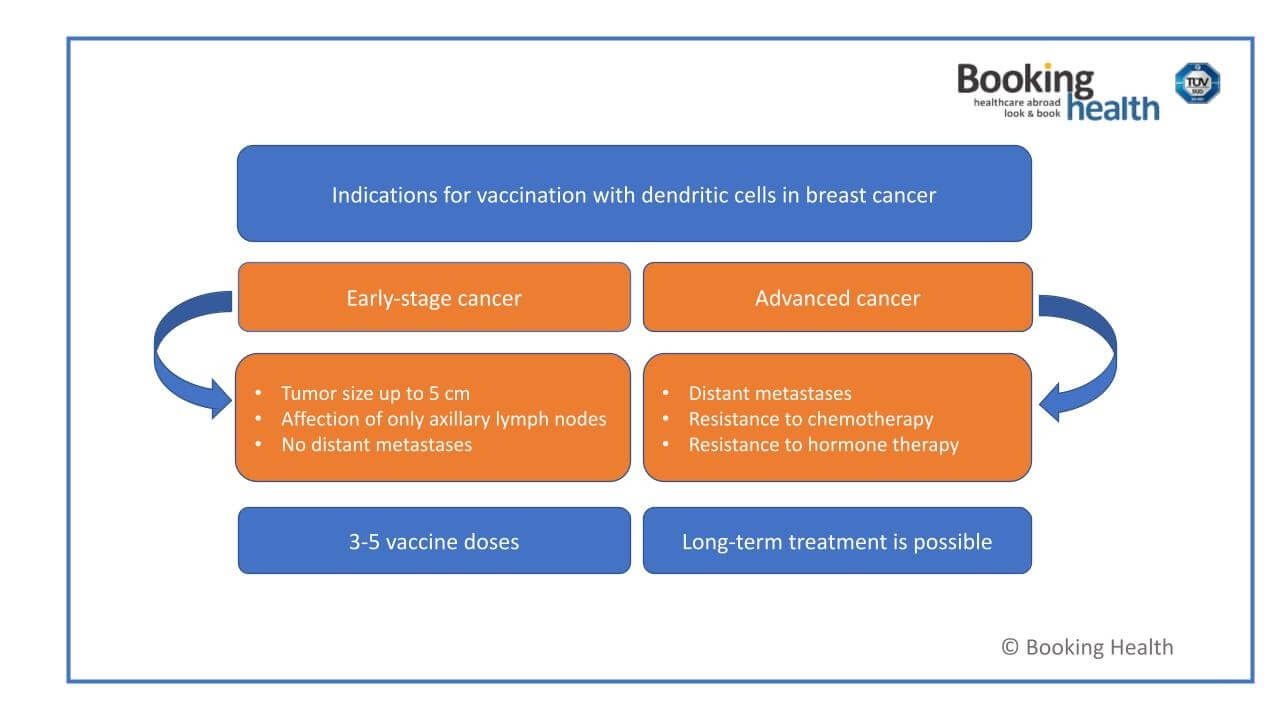 How the treatment is carried out

Treatment with dendritic cells is an outpatient procedure. Before it begins, the woman visits the hospital several times:
To make sure she has indications for this type of treatment. Immune therapy is most effective in women with tumors that express mutant p53 or Ki-67 and also have an HLA-A2 molecule on the surface. Immune therapy is also indicated for women with triple-negative cancer.

Before starting a vaccination course

, genetic analysis is performed to detect these changes.
To donate blood, from which doctors will manufacture an individual anti-cancer vaccine.

In German clinics,

leukapheresis is carried out instead of the usual donation of whole blood. Leukapheresis is the isolation of leukocytes from the blood. Dendritic cells originate from a type of leukocytes, namely monocytes.
The dendritic cells are cultivated in the laboratory for several days. They are processed with growth factors and differentiation factors and "get acquainted" with tumor cells. Due to this, the future vaccine will consist of a large number of specialized dendritic cells trained to find and destroy the tumor in a particular patient.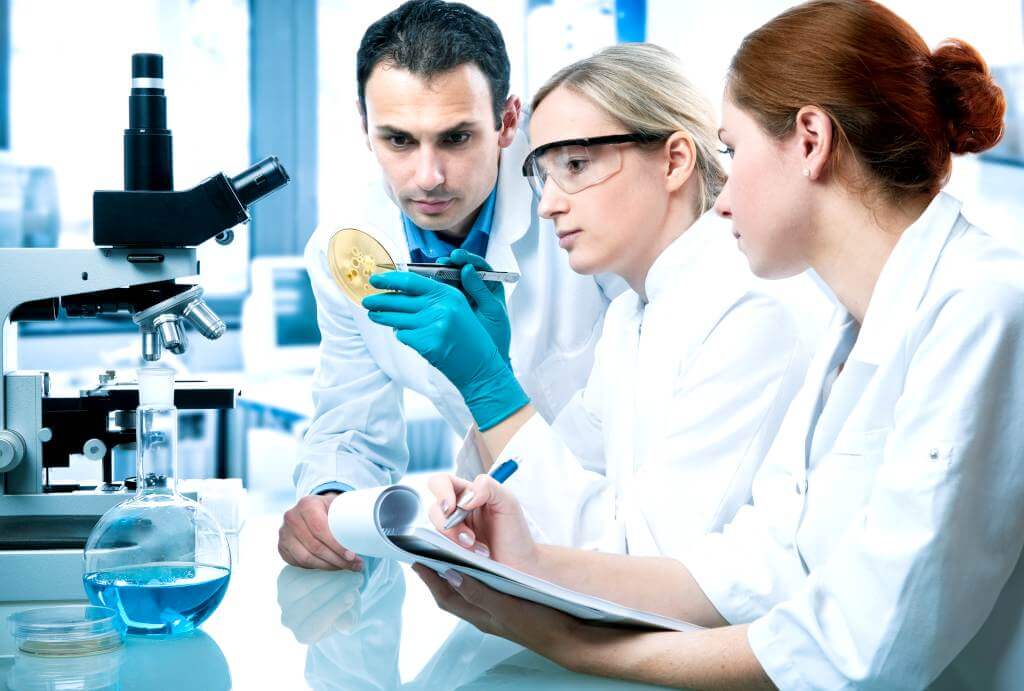 The breast cancer vaccine is administered 3 to 5 times, with an interval of several weeks. It is a subcutaneous injection that is well tolerated. The most severe side effects are local redness, soreness at the injection site, chills, muscle pain, and headache. As a rule, doctors prefer to inject the drug closer to the location of the primary tumor and regional lymph nodes. It speeds up the development of the immune response.

In addition, young women can receive the cervical cancer vaccine because a number of clinical studies have found a link between cervical cancer and breast cancer. Cervical cancer often develops against the background of infection with the human papillomavirus (HPV), and vaccination aims to protect a woman from this virus. The drug is administered from 1 to 3 times. After completion of the course, the risk of developing cervical cancer is reduced by 70-90%. Vaccination against cervical cancer has one obligatory condition: the woman must not be infected with HPV at the time of treatment start.

Find specialized hospital & treatment
Results of vaccination with dendritic cells in breast cancer
The use of dendritic cells in the treatment of breast cancer contributes to better control of the disease in the advanced stages or significantly reduces the risk of recurrence in the early stages. In cancer stages 1 and 2, the vaccine is administered 3 to 5 times after surgical removal of the tumor. This is enough to form a stable anti-cancer immunity. In the future, the body will independently renew the population of leukocytes responsible for the destruction of malignant cells. The woman will undergo regular follow-up examinations but will not need additional treatments.
«Regardless of the stage of breast cancer, up to 90% of women respond to the DC vaccine.»
In the advanced stages of breast cancer, the vaccine is injected less frequently, up to once every few months. At the same time, the course of treatment is longer: due to good tolerability and high efficiency, it can last for years. After vaccination, a significant increase in the level of antigen-specific T-lymphocytes against cancer cells is detected in the blood of patients. This means that the immune system has saved information about the tumor and immediately destroys existing and new metastases. T-lymphocytes will be constantly present in the blood, ready to destroy any number of malignant cells. At the same time, the chance of prolonging life and achieving cancer control increases by 15-20% since the antitumor response persists for a long time.
How to undergo breast cancer treatment with dendritic cells in Germany
In most countries, women cannot receive DC therapy for breast cancer, as they are treated according to the standard therapeutic protocol. This is only possible if a woman voluntarily participates in a clinical studie. Thus, undergoing modern treatment in Germany is a suitable alternative. German clinics actively use immunotherapy and administer individual anti-cancer vaccines at all stages of breast cancer.

You can find information about specialized healthcare facilities and the cost of treatment with dendritic cells on the Booking Health website. For more than 12 years, the company has been helping women with breast cancer from all over the world receive treatment in Germany.

In addition to providing information about clinics, the tasks of Booking Health include:
Consultation on modern methods of treatment, including vaccination with dendritic cells
Direct communication with the attending physician; if necessary, arranging a distant consultation
Making an appointment at the clinic without being on a long waiting list
Preliminary preparation of a treatment program without repeating previous examinations
Ensuring the favorable cost of clinic services, exclusion of additional taxes for foreign patients (saving up to 50%)
Assistance in purchasing and sending medicines in order to continue treatment in your country
Communication with clinic and doctor after the treatment completion
Control of prices for medical services and invoices from the clinic
Organization of additional examinations or treatments, if necessary
Top-level service: booking accommodation, tickets, transfer, etc.
Services of an interpreter and personal medical coordinator
Translation of medical reports and doctor's recommendations
You can make an appointment in the desired hospital on the Booking Health website. If you have any questions, feel free to fill out the "Send a request" form and wait for a call from the medical coordinator.
Choose treatment abroad and you will for sure get the best results!
---
Authors:

The article was edited by medical experts, board certified doctors Dr. Nadezhda Ivanisova and Dr. Vadim Zhiliuk. For the treatment of the conditions referred to in the article, you must consult a doctor; the information in the article is not intended for self-medication!

Sources:

Centers for Disease Control and Prevention, CDC

Read:

Why Booking Health - questions and answers

How to make right decision when choosing the clinic and specialist

7 reasons to trust to the rating of clinics on the Booking Health portal

Booking Health quality standards

Get a free quote