Dendritic cell-based immunotherapy is the administration of individually manufactured vaccines based on the genetic characteristics of a tumor in a particular person. Cancer treatment with dendritic cells is indicated even for those patients who have not responded to all other types of therapy. In Europe, vaccination is possible in any stage of cancer and has virtually no contraindications. Booking Health specialists elaborate comprehensive medical programs and help undergo dendritic cell-based immunotherapy in specialized foreign hospitals.
Content
Growing confidence in dendritic cell-based immunotherapy
Cancer treatment with dendritic cells is a new topical and demanded area of oncology in Europe, a part of immunotherapy. In 2011, American immunologist Ralph Steinman received the Nobel Prize for their discovery. Specialized oncology centers in Europe offer this type of treatment to an increasing number of patients. Patients most actively visit hospitals in Germany connected with the high level of medical care and the extensive experience of German healthcare professionals in treating cancer with this method.
Over the past decade, dendritic cells have been actively studied in clinical studies as a monotherapy and in combination with other treatments. The results of the clinical studies were encouraging: they demonstrated better control of the oncological process, a higher chance of achieving remission, and a lower risk of recurrence due to long-term antitumor immunity.
Thanks to this, the dendritic cell vaccines (DC vaccines) have been included in the updated protocols for the treatment of many types of cancer, such as melanoma, glioblastoma, osteosarcoma, pleural mesothelioma, colon cancer, breast cancer, kidney cancer, lung cancer, pancreatic cancer, prostate cancer, and so on.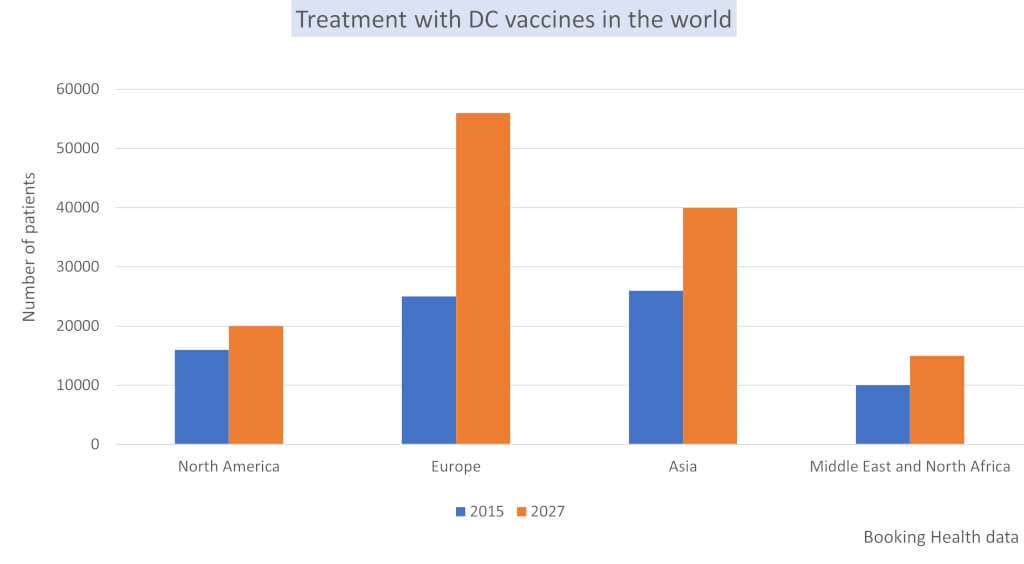 How cancer is treated with dendritic cells
Dendritic cell therapy is one of the most efficient cancer treatment options. The main obstacle in oncology treatment is the lack of immunological tumor suppression. Malignant cells manage to hide from the immune system, so they have enough time to develop into a tumor.
Individually manufactured DC vaccines take into account the genetic characteristics of a tumor in a particular person and allow the immune system to "see" a malignant formation. For this, the patient's own dendritic cells are used. Physicians collect about 200 ml of blood; simultaneously, they receive information about the tumor by performing a biopsy or analyzing parts of the tumor in the patient's blood. Monocytes are isolated from the blood; they are cultivated in the laboratory, transformed into dendritic cells, and taught to recognize a specific type of tumor. Dendritic cells also see targets that are common to all tumors, e.g., an inactive P2X7 receptor. An oncolytic virus is sometimes added to the vaccine components in order to enhance tumor damage. Depending on the type of cancer, vaccine production takes 7-20 days.
«Each patient receives a personalized vaccine that best suits his cancer type, genetics, symptoms, and general condition.»
Along with the vaccination, doctors administer anti-inflammatory agents. Studies by the Institute for Tumor Therapy in Duderstadt (Germany), the Clinic for Tumor Biology in Freiburg (Germany), and the Meridian Medical Group in New York (USA) have shown that malignant tumors suppress the work of dendritic cells, and one of the causes is local inflammation. By eliminating this factor, doctors further increase the effectiveness of cancer treatment.
Find specialized hospital & treatment
The optimal time for the immunotherapy to start is the period after complete surgical removal of the tumor. In this case, part of the removed material is used for manufacturing the individual antitumor vaccine. If this is not possible, the dendritic cells immunotherapy can complement any stage of complex oncology treatment.
For example, immunotherapy increases the effectiveness of chemotherapy without the associated increase in the toxicity of chemotherapeutic agents. This makes it possible to conduct a shorter course of chemotherapy and improve its tolerability. By itself, immunotherapy has mild side effects. The most significant is a flu-like syndrome in the first few days.
«Conducting cellular immunotherapy in the early stages of cancer can even lead to a complete recovery.»
After dendritic cell vaccinations in the advanced stages of cancer, the patient can expect relief of cancer symptoms and a longer life expectancy. The effect of vaccination remains for a long time, as the anti-cancer immunity stimulated by the first course of vaccination maintains independently without repeated procedures.
«Dendritic cell vaccine is an innovative method for the treatment of many cancers, including those for which there are currently no effective therapeutic methods. Unlike the conventional oncology treatments, vaccination is minimally invasive and is not associated with unwanted side effects from long-term medications intake.»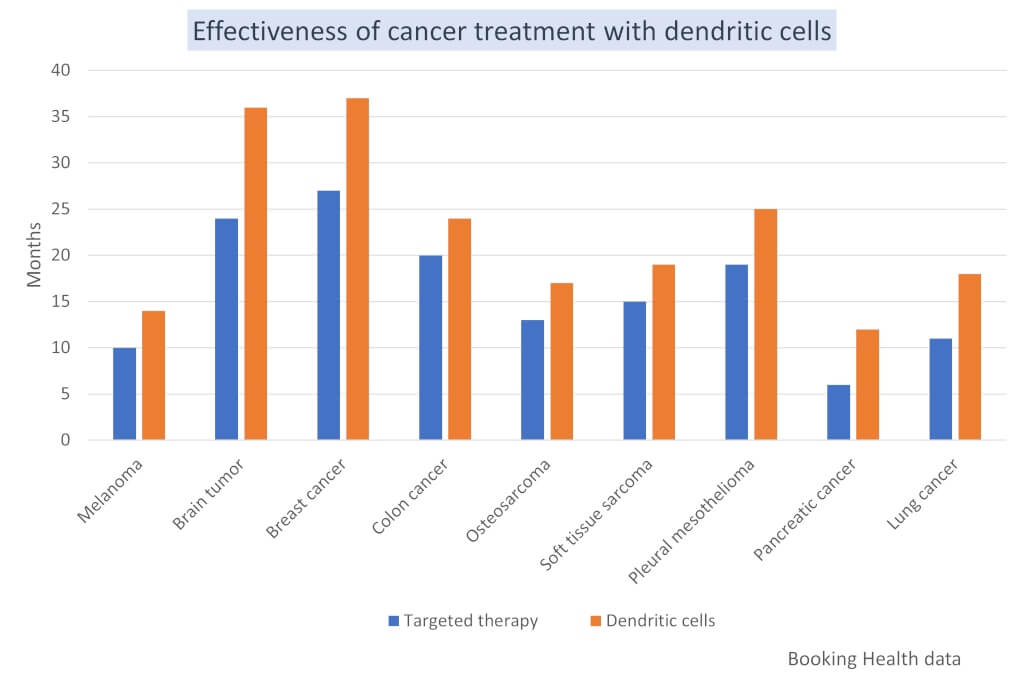 What types of cancer can be treated with dendritic cell therapy? This approach has demonstrated outstanding results in the treatment of the following cancers:
Treatment of brain tumors with dendritic cells
Treatment of bowel cancer with dendritic cells
Treatment of osteosarcoma with dendritic cells
Treatment of soft tissue sarcoma with dendritic cells
Treatment of pleural mesothelioma with dendritic cells
Treatment of pancreatic cancer with dendritic cells
Find specialized hospital & treatment
Improving the effectiveness of dendritic cells by combining them with other treatments
To maximize the activation of antitumor immunity, oncologists in Europe combine vaccination with other advanced immunotherapy techniques:
Virotherapy. Tumors are infected with an oncolytic virus, such as the Newcastle disease virus (NDV). The immune system recognizes the cells affected by the virus and actively destroys them.
Hyperthermia. With local heating of the affected body region or general heating of the whole body, malignant cells produce substances that the immune system can find and destroy.
Therapy with immune checkpoint inhibitors. Tumors can affect the human immune system, blocking the already existing anticancer response. Drugs from the group of immune checkpoint inhibitors restore anticancer immunity.
Modulation of the tumor microenvironment. As the tumor grows, it forms a surrounding microenvironment with favorable conditions: active blood supply, nutrients, and growth factors. Oncologists explore these factors and deprive the tumor of the conditions necessary for its active growth.
Optimization of the level of trace elements and vitamins. Nutrients are required for the normal functioning of the immune system, e.g., vitamins A and E, zinc, and fiber. In patients with oncology, these substances are actively absorbed by the tumor. Oncologists adjust the patient's diet to make up for all deficiencies. Special nutritional formulas and dietary supplements are often prescribed.
European cancer centers have experienced teams of healthcare professionals who create individualized treatment plans for each person with cancer.
Stages of cancer immunotherapy with dendritic cells
The cancer immunotherapy with dendritic cells in Germany consists of the following steps:
Request for treatment on the Booking Health website. You specify your diagnosis and, if possible, attach the results of previous examinations.
Communication with a Booking Health medical advisor. After studying the available medical records, the doctor will ask you clarifying questions about your current complaints and the treatment already performed. This will help to choose the most effective medical program, including additional examinations and consultations with narrow specialists.
Visit the hospital, initial consultation with the attending physician, and laboratory examination. A doctor of a foreign clinic will conduct a full examination and prescribe tests to assess your general condition and monitor the effectiveness of therapy.
Minimally invasive immune cells collection: a small amount of blood (about 200 ml) will be harvested from your peripheral vein. The procedure is well tolerated and does not take long.
Cultivation of blood cells in a GMP-certified laboratory in accordance with high European standards. Strictly following protocols for dendritic cell processing, doctors obtain sufficient cellular material from just 200 ml of blood.
Vaccine infusion. Depending on the type of cancer, the ready individual vaccine is administered intradermally or subcutaneously. Doctors make an injection in the area of ​​localization of the tumor or large lymphatic nodes.
Medical follow-up after treatment and repeated vaccination (if necessary). The attending physician evaluates the dynamics of your condition improvement and the activity of tumor destruction.
The price of immunotherapy is specified based on the results of the initial physical and laboratory examination. The dendritic cell therapy cost depends on the type of tumor and the duration of the therapeutic course (1 to 3-4 vaccinations may be required). For example, the estimated cost of a course of melanoma treatment with dendritic cells is €25,500.
Dendritic cell treatment for cancer in Germany is easy with Booking Health
Cancer treatment with dendritic cells in a specialized hospital abroad can be arranged by Booking Health — the international medical tourism operator that has been organizing treatment of cancer patients from 75 countries for more than 12 years. Booking Health helps patients with the above-listed types of cancer and also those with malignant tumors of the kidney, stomach, liver, prostate, and other organs. Compliance of the quality of the company's work with high international standards is confirmed by reviews of numerous clients.
Booking Health specialists will fully organize the trip abroad for treatment and help you with such important issues:
Selection of a specialized hospital based on its annual qualification profile
Direct communication with the attending physician
Preliminary elaboration of a treatment program without repeating previous diagnostic procedures
Providing a favorable cost of hospital services without additional fees for foreign patients (saving up to 50% of the original cost)
Making an appointment on the desired date, skipping long waiting lists
Control of all stages of the medical program by independent experts
Assistance in purchasing and forwarding medicines for the subsequent treatment
Communication with the hospital after the treatment completion
Control of invoices from the hospital and return of unspent funds
Organization of additional examinations and therapeutic procedures, if necessary
Top-level service: booking accommodation, plane tickets, transfers; assistance in receiving a visa
Services of interpreter and personal medical coordinator
You can independently study the information about doctors and hospitals on the Booking Health website and submit a request for treatment. If necessary, doctors will elaborate a comprehensive medical program for you: from surgery to cancer vaccine therapy and subsequent rehabilitation.
Choose treatment abroad and you will for sure get the best results!
---
Authors:
The article was edited by medical experts, board certified doctors Dr. Nadezhda Ivanisova and Alexandra Solovey. For the treatment of the conditions referred to in the article, you must consult a doctor; the information in the article is not intended for self-medication!
Sources:
Cancer Treatment Centers of America
Infographic: © Dendritic cell therapy, Wikimedia Commons
Read:
Why Booking Health - questions and answers
How to make right decision when choosing the clinic and specialist
7 reasons to trust to the rating of clinics on the Booking Health portal
Booking Health quality standards
Get a free quote