Quality standards
Booking Health is the world's first medical tourism company to obtain an international quality control certificate ISO 9001: 2015
Bonn, December 19, 2017. Medical portal bookinghealth.com, a service provider for medical tourism services, became the world's first holder of an ISO certificate for the online selection of treatment programs abroad.
ISO 9001: 2015 is an international certificate that is awarded to organizations for the highest quality of services provided. This certification indicates that the first priority of Booking Health GmbH is to provide patients with quality medical services and select treatment programs of a European standard and quality, the main ones of which are provided at the best German clinics.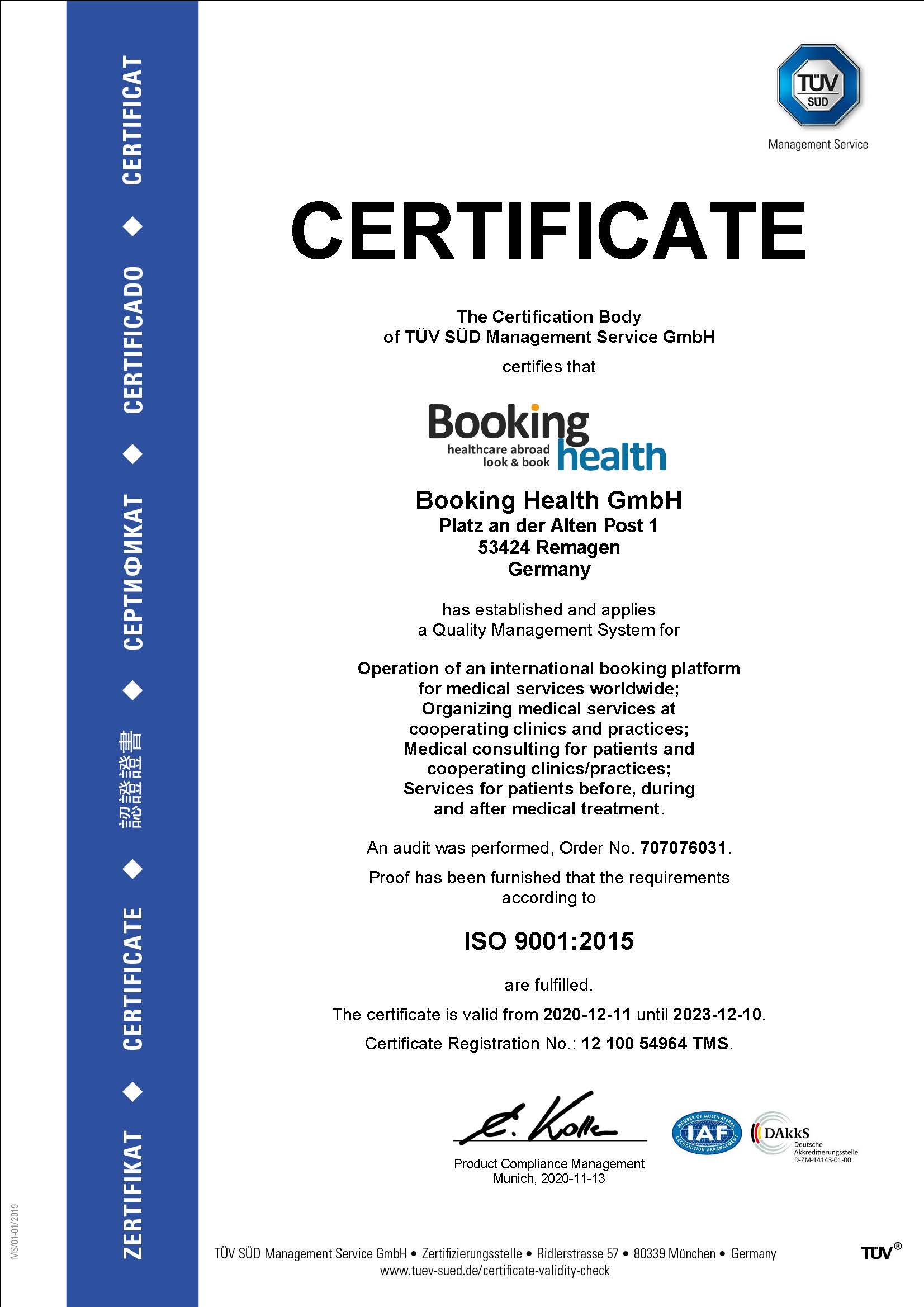 The auditors of TÜV SÜD Management Service GmbH noted the high level of interest, responsibility and participation of the company's management at ensuring a successful realization of the quality management system. In the audit process, the Evaluation Commission could not find any deviations from the standards, since the Booking Health team had initially introduced high standards and adhered to them from the start.
"We have much to be proud of! It is important for us to be the first and to improve the quality standards. That is why we invited TÜV SÜD Management Service specialists for accreditation. The auditors are focused on the patient's needs and safety: the company's readiness to provide the highest level of quality of medical care, to work with the most qualified specialists, to prevent risks and quickly find solutions in the most difficult situations. A mandatory requirement for accreditation is the formation of a culture of continuous improvement and innovation in the company, so we are engaged in the continuous development of our specialists. Our goal is to provide an opportunity for patients from anywhere in the world to independently select the clinic that offers the optimal medical program, to view the cost of this program and to order it at the best price." - according to Elena Sergeeva (Founder and CEO of Booking Health GmbH).
For the patient this means that they use a completely transparent service, which is clearly focused on their needs. The service bookinghealth.com provides a full program of treatment abroad ranging from the selection of the clinic and the first consultation to returning home and at the same time guaranteeing the best prices.
Booking Health activities are based on the following values:
Person
Our main value is the patient's health. We use an individual and comprehensive approach in order to solve the person's problem as quickly as possible by providing exceptional service. We take good care of the needs of our patients.
Innovations
We follow and implement all the latest achievements in the field of medicine. Our company provides access to the best clinics and doctors located in Germany, Turkey, Switzerland, Thailand, Poland, Hungary, Israel, UAE, South Korea and other countries around the world.
Team
Our team consists of professionals from various fields of medicine. We employ medical advisers who are completely aware of the very latest treatment methods.
Leadership
Our team is among the leaders in the field of medical tourism. We adhere to the highest service standards, which is confirmed by the ISO 9001:2015 quality certificate
---
Feedback of our customers from other resources