The birth of a child is one of the most important moments in the life of each woman. However, an act of delivery involves many risks for both baby and the mother. In addition, the process of childbirth is very painful.
One of the best ways to make the act of delivery as safe and comfortable as possible is to seek medical help in the hospitals of Germany.
The main advantages of maternity hospitals in this country are listed below and contribute to high demand among the people from all over the world:
State of the art equipment. The vast majority of hospitals are equipped with the latest technology that allows carrying out even the most sophisticated diagnostic and treatment procedures with a minimal risk for both mother and child.
Experienced doctors. The specialists receive a good education in Germany.They undergo training in the best hospitals of the world and gain a wealth of experience.The obstetricians and gynecologists always know what to do in certain situations, therefore, the delivery will be as safe as possible for the patient.
Comfortable conditions for patients during their hospital stay. Here,you are sure to receive a high level of domestic comfort and a friendly attitude of the medical staff. This is important in view of the fact that a hospital stay is usually delayed for several days. All patient rooms have a button to call an obstetrician and a patient can use it at any time.
Comfortable childbirth. Each maternity hospital is equipped with a number of specialized devices for the natural childbirth.You can be come mother on a chair, on a couch, on a special chair, on a ball or even in the pool. Every woman can choose what she likes.
Anesthesia during childbirth. In Germany, physicians always try to make their best to relieve unpleasant sensations as much as possible.Therefore, a woman can get anesthesia during childbirth, including an epidural one, either per request or for medical reasons.
Comfortable postpartum. With in two or three days after the natural childbirth, woman stays in the maternity hospital. The woman has ather command rooms for feeding, changing and bathing. A young mother is taught how to treat a newborn baby.
Germany has not only large multidisciplinary centers, but also comfortable small maternity hospitals, where women can have the natural safe childbirth in comfortable conditions. In case of low-risk deliveries the presence of the physician is not necessary, since the midwife can cope with all tasks.
Sometimes a woman can have certain risk factors that can cause a dangerous childbirth:
Twins
Breech position
Caes arean section in history
Complications during pregnancy
Somatic diseases etc
In this case natural childbirth requires participation of the physician. If some thing goes wrong, he will take all necessary measures.
The majority of women have only positive emotions after giving birth to a child in Germany. They recall cozy patient rooms, comfortable delivery, attention of physicians and medical staff, as well as care of the child after the birth.
Some women consider childbirth as a terrible event that they have to experience and forget as soon as possible. Nevertheless, childbirth in Germany leaves only a pleasant experience after the stay in this country and a long-awaited meeting with the baby.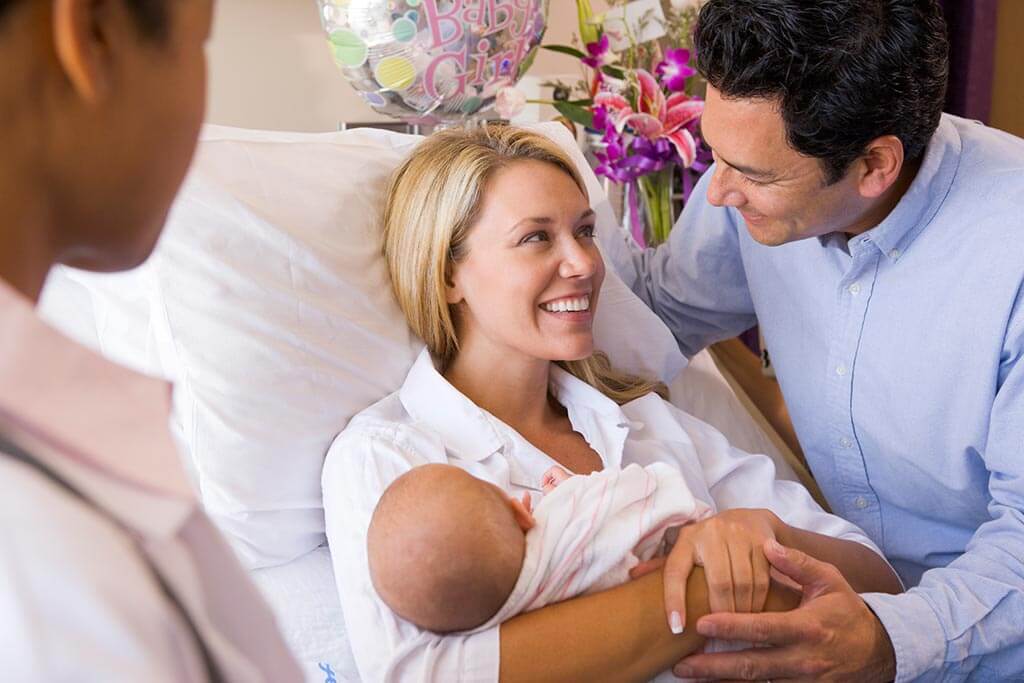 Childbirth costs in German hospitals:
---
Authors: Dr. Vadim Zhiliuk, Dr. Nadezhda Ivanisova
Read:
Why Booking Health - questions and answers
How to make right decision when choosing the clinic and specialist
7 reasons to trust to the rating of clinics on the Booking Health portal
Booking Health quality standards
Send a request for treatment