Due to the difficulties associated with the organization of treatment in Turkey, Switzerland and South Korea, we have currently suspended the processing of requests to these regions.
If you are interested in treatment in Germany, please leave a request and our specialists will contact you as soon as possible.
Female infertility is a condition when conceiving a baby is impossible. Doctor can make appropriate diagnosis based on a number of indicators like:
A woman had a regular sexual intercourse during last 12 months but didn't get pregnant
Contraceptives were not used
A male partner is healthy (fertile)
Female infertility is cured in the majority of cases. Treatment can be aimed at the restoring of the natural birth ability as well as at the achieving pregnancy using assistive reproductive technologies.
Content
Causes of female infertility
Female infertility is not a separate illness, but just a temporary state of health when pregnancy is impossible. It can have many causes with the following as the most often met:
Endocrine factor means thyroid gland diseases, polycystic ovarian syndrome and other hormonal disorders. Pregnancy cannot occur as the egg doesn't mature.
Tubal factor means infectious diseases, endometriosis, surgeries and traumas in the past.Pregnancy doesn't occur because of tubal obstruction. The egg is maturing, but it cannot meet the sperm.
Genetic factor means congenital abnormalities of reproductive organs development, defect of gametal cells genetic material. Infertility can develop due to various mechanisms depending on features of the certain hereditary illness.
Immune factor means that the woman's body produces antibodies to the spouse's sperm. Conceiving doesn't happen as a woman's immune system blocks, immobilizes or destroys male germ cells.
Uterine factor means that a woman has fibroids, adhesions, and changed shape of the uterus. The egg is matured, fertilized, but it cannot be implanted into the endometrium (the inner layer of the uterus).
Female infertility – Diagnostics
Plenty of various illnesses can lead to female infertility. Besides, the causes include not only the reproductive organs pathologies. Therefore, infertility treatment is impossible without the diagnostics. Clinical examination by the gynecologist and the whole number of laboratory tests and assessments help to evaluate the condition of the reproductive system. Among the main techniques are:
Blood tests for hormones
Swabs from the genital tract for infections
Hysterosalpingography to check the tubal patency
Hysteroscopy to detect uterine factor of infertility
MAR-test for determination of immune infertility factor
Genetic tests, if indicated
In case of endometriosis laparoscopy is used to identify and eliminate the foci of endometrial tissue proliferation
A doctor can also prescribe a lot of different tests. If hospital equipment allows the exact cause of female infertility can be identified among the majority of patients.
Treatment of female infertility
Therapy for female infertility abroad is prescribed depending on its cause determined during the diagnostics. Treatment can be:
Conservative with the use of hormonal therapy
Surgical (removal of adhesions in the uterus, tubal patency restoration, removal of endometriosis)
If the natural birth ability cannot be restored or if a patient refuses a surgical way of treatment, doctors can use ART (assisted reproductive treatment) to get woman pregnant.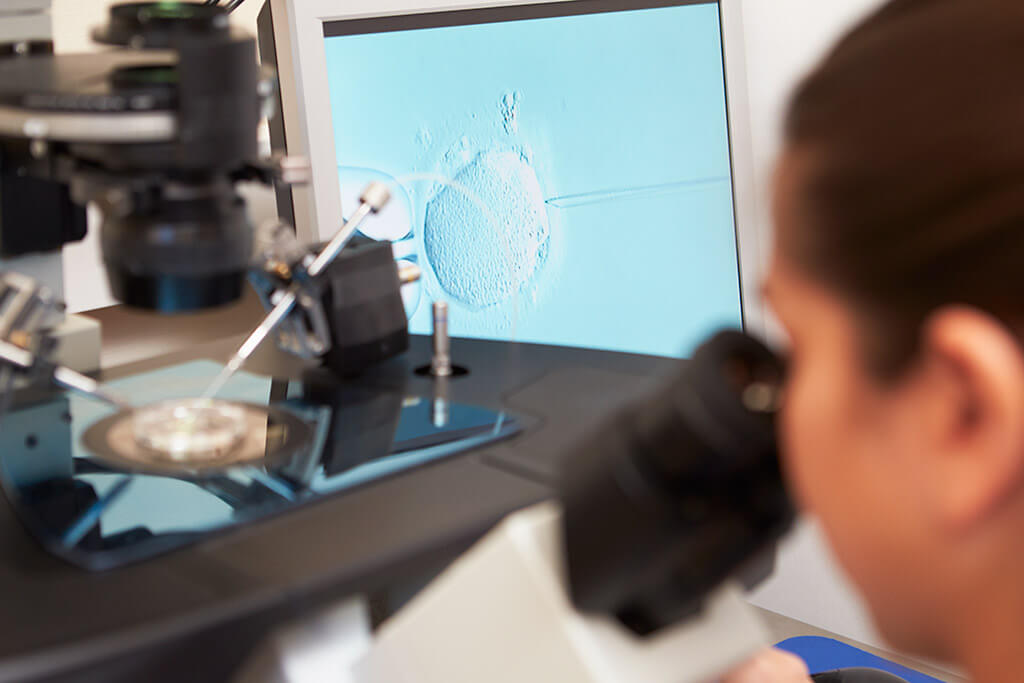 Female infertility – ART (assisted reproductive technology)
Assisted reproductive technology is a group of methods used to overcome infertility which is aimed at achieving pregnancy. Following techniques are used most often:
Artificial insemination is intrauterine administration of seminal fluid
IVF (in vitro fertilization) means removing of the egg from the woman's follicle, fertilizing it with sperm and placing it in the uterus for pregnancy
ICSI is the same as IVF, but the egg is fertilized by sperm, placed inside the oocyte "manually"
A number of other ARTs exist. Some of them presuppose the use of donor material. Some techniques allow the mother to carry the genetically own child in the other woman's womb (surrogate motherhood). Doctor decides which way exactly is suitable for an individual patient on the basis of the diagnostics results.
Female infertility treatment in Germany
Any country has specialists who are ready to deal with female infertility. But having ambitions is not enough in its high-tech medicinal branch.
It is vital to have quality medical equipment in the hospital to:
Provide precise diagnostics excluding any mistakes or errors
Monitor egg maturation cycle or take it under control
If necessary, apply artificial insemination using the most advanced technologies
Besides, great doctors' qualification and experience are needed. German hospitals correspond to every single requirement. Thousands of patients are monitored and treated for infertility in this country. The majority of them achieve pregnancy one way or another.
German hospitals offer foreign patients a comprehensive examination in order to clarify the infertility causes. All invasive procedures are performed with anesthesia, and laboratory and imaging examinations are highly accurate. After receiving diagnostic results and their clinical evaluation, the woman receives recommendations for choosing a long or short IVF protocol. At the request of the patient, she can undergo part of the protocol at home, under the remote control of German specialists.
Prices for the female infertility treatment
As a rule, comprehensive medical programs for infertility treatment include preliminary examination of both partners, using the most suitable assisted reproductive technologies, monitoring of pregnancy, delivery and primary postnatal care for the mother and child. It is better when the same doctor monitors the woman throughout the pregnancy.
The cost of infertility treatment varies depending on the country, the level of the hospital, the type of ART, the doctor's qualifications and other factors:
Count

ry

I

VF prices

Germany

from 11,500 EUR

Schwitzerland

from 12,500 EUR

Israel

from 12,300 EUR
Due to the large number of patients, the high frequency of pregnancy in the first cycle and avoiding additional fees for foreign patients, German hospitals offer the most affordable prices for IVF programs.
IVF in Germany for foreign patients
If you want to undergo IVF in Germany or another country, contact the international medical tourism operator Booking Health. Booking Health has been helping infertile couples from different countries to give birth to healthy babies for over 15 years.
Booking Health specialists will help you with such important issues:
Choosing a hospital and a reproductologist
Direct communication with the chosen reproductologist
Preliminary elaboration of the IVF protocol without repeating previous examinations, assistance with choosing between long and short IVF protocols
Providing favorable costs of hospital services, excluding additional fees for foreign patients (saving up to 50%)
Making the appointment for the required date
Control of the IVF protocol at all stages
Assistance in purchasing and shipping medicines
Communication with the hospital after returning to your native country
Control of the final calculation and return of unspent funds
Organization of additional examinations or childbirth
Service of the highest level: booking accommodation, plane tickets, transfer
Fill out the "Send a request" form, and within 24 hours you will receive a call from a medical consultant who will coordinate your treatment abroad.
---
Authors: Dr. Vadim Zhiliuk, Dr. Sergey Pashchenko
Read:
Why Booking Health - questions and answers
How to make right decision when choosing the clinic and specialist
7 reasons to trust to the rating of clinics on the Booking Health portal
Booking Health quality standards
Send a request for treatment