Due to the difficulties associated with the organization of treatment in Turkey, Switzerland, South Korea and India, we are not currently processing requests to these regions.
If you are interested in treatment in Germany, please leave a request and our specialists will contact you as soon as possible.
Every parent wants his/her baby is born in a comfortable and safe environment, together with a team of highly qualification medical professionals on duty at the maternity ward, who are adequately equipped to deal with all the unforeseen complications that can arise during childbirth. This is a normal feeling among all expectant parents, as they deal with both the fear, excitement in expectation of their newborn offspring.
Child delivery in a country with advanced medical care attracts foreigners from countries with poorly developed healthcare. Germany is one of those states with the highest standard of living. Here the healthcare system is well developed, with incredibly special attention given to the realm of childbirth. Many foreign mothers who have had the privilege of giving birth in Germany, appreciate the efficiency.
Content
10 reasons to have a child in Germany
The mother to be can choose her choice of delivery method. The maternity wards are comfortable enough and well equipped for a calm and tranquil birth experience. A woman can choose what position it is more convenient for her to give birth: lying, standing or even a water birth.
Laboring mums can request an epidural anesthesia during labour. It's no secret that childbirth is a very painful process, for some more painful than others. In Germany different types of anesthesia are used, preserving labor activity and reducing the severity of the pain.
If desired, close relatives of the mother may be present during the birth process. They are able to provide psychological and emotional support. It is especially important for young women who give birth for the first time. Cohabitation in special wards of a family is also possible here. A husband or parents can be accommodated next to a pregnant woman.
Germany has one of the highest survival rates of premature babies. Modern equipment, which is available in almost every hospitals, that enable the careful recovery of babies born on the 21st week of development with a weight of about 500 grams.
Reducing health risks for both mother and child. Management of pregnancy and childbirth is well organized in Germany for women with general-somatic pathology, such as hypertension, diabetes, and patients suffering from ophthalmic diseases.
German clinics basically adhere to the principles of creating conditions that are as close to natural as possible. Contact of "skin to skin" is a very important time for bonding and developing an attachment between the newborn baby and the mom. In addition, the skin of a newborn is covered with a useful flora that is on the mother's skin and protects it from harmful microorganisms. The practice of close mother to child skin contact is widespread and promotes lactation in women.
In German clinics, preference is always given to the birth of a child through the vaginal canal. Here it is possible for a natural delivery, even if patients have previously delivered by cesarean section. Preference for natural childbirth is given even in cases when the location of the fetus does not correspond to the norm or when it is wound with the umbilical cord, unless it endangers the mother and child.
German doctors and midwives have extensive experience in both monitoring and child delivery even for women with multiple pregnancies. Such a pregnancy often results due to IVF, and a woman carries twins. This is a complex test for the future mother's body, as well as for her gynecologist, who has to carefully monitor the condition of the woman and provide timely assistance.
Qualified assistance to women in the postpartum period. A few hours after the birth, the new mum is visited by neonatologists, breastfeeding consultants, family workers and post-natal midwives. A new mum is also helped with initiating breastfeeding, and taught how to care of her baby, and learn about its early development.
There are special psychological care for women regarding childbirth in Germany. Women can undergo prenatal training courses that teach proper breathing techniques during childbirth, ways of alleviating pain sensations physiologically. Preparations for partner births is done as well.
Postpartum psychological care is mainly aimed at combating postpartum depression. There are also courses for family counselling, thanks to which the family becomes more amicable and cohesive upon the arrival of their little baby, because when a baby arrives the whole family has to adjust to a 'new sense of normal.'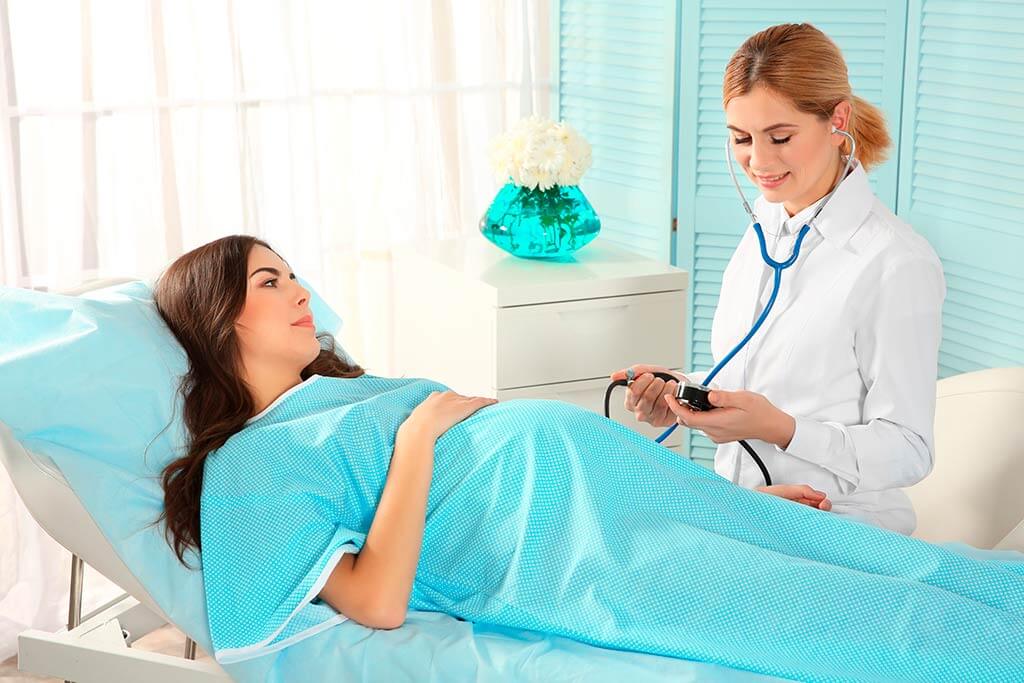 Process of child delivery
Childbirth in Germany usually means:
Examination of the mother before delivery including general clinical tests, determination of Rh factor, blood coagulation parameters. There are instrumental studies: vaginal ultrasound, a swab from the genital tract, colposcopy.
Examination of the fetus includes 4D ultrasound, cardiotocography. The position of the fetus in the uterus is determined.
Childbirth. A woman is supervised by an obstetrician-gynecologist. He/she helps the baby to come into this world. After delivery, a woman's gynecological examination is performed and the first pediatric examination of the newborn.
Postpartum period. Gynecologist monitor the health condition of the new mom, and the baby for about 3 weeks after birth.
However, if you use Booking Health services, you are going to receive free doctor's consultations within 3 months after being released from the hospital.
How to choose a hospital?
There are a huge number of clinics, where doctors are ready to deliver the birth for foreign patients in Germany. Here are some medical institutions where you can give birth to a child:
Eichsfeld Academic Hospital. Childbirth is held in the Department of Obstetrics, Gynecology and Mammology. The doctors of this clinic pay special attention to the health of the woman and her child. If something goes wrong during delivery, they are ready to provide timely and adequate medical care.
Hildesheim Academic Hospital. This medical centre has an Obstetric Centre and an Obstetric Clinic. Doctors focus on high-risk labors. In case of early birth of the baby, it will be transferred to the Department of Premature babies, where he/she will receive the necessary care and medical assistance.
Marbug University Hospital. Here is one of the largest Obstetric Departments in the region. More than 1,300 births is given in the clinic annually. An antenatal care service is provided for at the hospital. The obstetric department closely cooperates with the Department of Anesthesiology and Intensive Medicine, which makes it possible to ensure the safety and painlessness of labor.
How to arrange a trip to Germany?
You can choose a clinic for natural childbirth with the help of our international online platform called Booking Health. Here you can see the current prices of medical services. All programs are detailed. You can get information about all the diagnostic and treatment procedures which you pay for.
Booking Health office deals with arranging childbirth in Germany. You can receive the following options with our help:
Substantial savings on medical services
Use the full package of services (translation of documentation, assistance in obtaining a visa, organization of the patient's stay and accompanying person in the clinic)
Obtain insurance covering unforeseen medical expenses in case of complications
Receive a doctor's consultation within 3 months at no extra charge
Leave a request on our website to pick a hospital at the best price to arrange a tranquil and comfortable child delivery in Germany! Our service-manager will get back to you at the earliest convenience.
Choose treatment abroad and you will for sure get the best results!
---
Authors: Dr. Vadim Zhiliuk, Dr. Nadezhda Ivanisova
Read:
Why Booking Health - questions and answers
How to make right decision when choosing the clinic and specialist
7 reasons to trust to the rating of clinics on the Booking Health portal
Booking Health quality standards
Send a request for treatment