Due to the difficulties associated with the organization of treatment in Turkey, Switzerland, South Korea and India, we are not currently processing requests to these regions.
If you are interested in treatment in Germany, please leave a request and our specialists will contact you as soon as possible.
Infantile cerebral paralysis (ICP, cerebral palsy) – is a neurological disease, mainly manifested by the motor (movements) disorders. This pathology has a common occurrence of about 2 cases per 1000 of kids. Boys suffer from the disease by 1.5-2 times more often than girls.
ICP can also be manifested by epilepsy, strabismus, mental retardation, visual impairment and other symptoms.
Content
ICP diagnostics
ICP is diagnosed on the basis of the clinical examination, functional research and anamnesis. Doctors also take into account the reasons leading to cerebral paralysis including those below:
Prematurity (the most significant risk factor present in 50% of cases)
Toxic brain damage
Intrauterine infections (e.g. herpes virus)
Ischemic (due to insufficient blood supply) damage to the brain
Intrauterine hypoxia of the fetus
Rhesus-conflict
Traumatic brain injury
ICP has a very peculiar feature – unlike many other illnesses its symptoms do not progress. Thus, a child doesn't get worse as well as better.
MRI is one of the most informative techniques that help a doctor to diagnose the illness. It helps differentiate ICP from some other pathologies that have similar manifestations as well as to also find out the cause of the condition.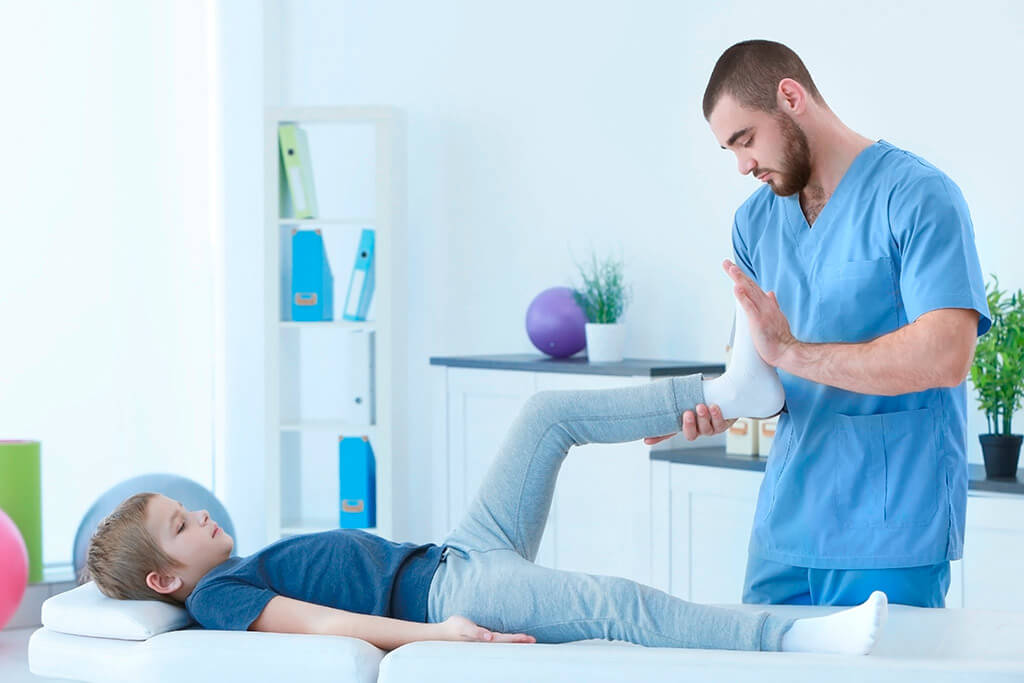 Treatment of ICP
ICP cannot be completely cured. Nevertheless, qualitative treatment helps to somehow compensate the congenital disorders. The earlier therapy is started, the better the results. In addition, novel stem cell therapy for cerebral palsy in Germany gives new hope.
The complex of medical measures is selected individually, proceeding from the patient's condition, his age, the clinical form of cerebral palsy.
A spastic form is the most common (40% of all clinical cases), but there are also others types such as:
Hemiparetic
Atonic-astatic
Hyperkinetic
Double hemiplegia
Surgical interventions can be applied in certain cases. For example, if due to the hip muscles are hypertonic and the child's legs are crossed, some of the fibres of these muscles are intersected. This allows the patient to walk. Operations are used in limited cases, not earlier than when a kid is 5-7 years old, if other methods have not given any result.
Conservative methods of treatment are:
Training sessions. There are a number of training techniques developed by specialists from different countries. These are methods of Frohlich, Vojt, Cabot, Blum's gymnastics. Exercises on the special simulators, exoskeleton, in the pool are used as well. All methods are aimed at partial compensation of motor disorders.
External influence on the body such as balneotherapy, massage, electro muscular stimulation and other methods of physiotherapy are used. In some cases, medicines are also applied.
Pedagogical training includes classes with a speech therapist, teaching the patient an independent life in conditions of limited ability to work, occupational therapy, psychotherapy, various exercises for the development of intelligence.
Stem cell treatment in Germany for cerebral palsy includes using stem cells from cord blood, as well as the mesenchymal stem cells directly from the bone marrow (which is somewhat similar to bone marrow transplantation).
How can cerebral palsy be treated with stem cells?
Cerebral palsy stem cell therapy in Germany has been started as early as a decade ago. Numerous international clinical trials have demonstrated that processed stem cells contribute to myelination of the nerve endings lesion, restoration of damaged oligodendrocytes and neural cells, as well as the enhancement of neuroprotection and neuroregeneration.
Mesenchymal stem cells are the most suitable for the procedure ones. Unlike other types of stem cells, mesenchymal stem cells can be extracted from the small amount of patient's own bone marrow and cultivated in the laboratory then. In addition, mesenchymal cells have high proliferative and neuroregenerative potential.
What is the cost of stem cell treatment for cerebral palsy? This depends on the peculiarities of the procedure in the particular patient. These include age of the patient, form of the disease and severity of functional disorders, type and source of stem cells, number of the required procedures, etc.
It should be mentioned that the stem cell treatment for CP in Germany is never performed on its own. In order to receive the best possible functional result, introduction of the cell preparation is followed by rehabilitation. Proper rehabilitation measures stimulate nerve endings and muscles, and restore ability to move normally.
Rehabilitation in Germany
Rehabilitation of patients living with ICP is a long and complicated process. Its goal is to adapt a child to interact with the outside world, restore mobility to the maximum extent possible, the correction of speech and other skills.
The child in the process of qualitatively carried out rehabilitation should learn the following things:
Walk on a level surface
Walk on the stairs
Take a shower
Eat
Move items or otherwise interact with them
Use the toilet
Dress himself, including dressing the lower body parts
To make decisions
To perceive and remember new information
Speak
Interact with other people
Rehabilitation in Germany is qualitative and comfortable for the patient. You can get very good results of ICP treatment in Germany.
Here are some benefits of the rehabilitation in Germany:
High efficiency of rehabilitation measures
Good technological equipment of the hospitals (recovery methods are available here, which you will not find in medical institutions of countries with a low level of healthcare)
Experienced personnel (highly qualified doctors work in Germany, which accept patients from all over the world)
Living conditions in medical centres that are comfortable for both child and parents
German hospitals
Germany has a lot of special centres where you can have rehabilitation with ICP. These are some of them:
Bavaria Cszkewitz Rehabilitation clinic. There is a department of neuropediatrics and neurology. Here, specialists are engaged in the treatment and rehabilitation of children with various diseases of central nervous system, including cerebral palsy.
HELIOS Klinik Geesthacht successfully conducts neurological child rehabilitation of any age and young people before the age of 35. All patients are accepted, regardless of when the brain pathology was diagnosed and for how long the course of the disease is. Thirty two family wards are equipped for a comfortable stay.
St. Mauritius Therapieklinik has a department of neuropediatrics within its functioning borders. Here the rehabilitation of children of all ages with congenital or acquired neurological diseases are provided. The clinic uses the most modern rehabilitation technologies.
How to apply for stem cell therapy for cerebral palsy and rehabilitation in Germany?
In order not to worry about the organizational issues of the rehabilitation in German hospitals, you can use the online platform Booking Health. For many years we have been involved in booking treatment abroad.
Here's how it works:
You leave the request on our web site or choose a hospital independently.
Our service-manager chooses a hospital and a suitable rehabilitation programme for you.
If you have chosen a programme on your own, our specialist will check if it's suitable for your diagnosis.
We will get back to you so you can arrange all the details of the treatment in the chosen hospital.
Cooperation with BookingHealth company has many advantages. Here are the main ones:
You save up to 70% on the treatment abroad.
You get good insurance that covers all unexpected medical expenses during treatment (for example, in case of complications) and within 48 months after it.
You get an opportunity to consult with a doctor who treated you, for free for 3 months after the treatment course was completed.
Besides, we will take care of all the organizational issues as translation of medical documentation, organization of admission to the hospital, visa processing, airline tickets and hotels, transfer from the airport to the hospital. Using Booking Health you do not have to think about the little things, you can fully concentrate on rehabilitation.
Choose treatment abroad and you will for sure get the best results!
---
Authors: Dr. Nadezhda Ivanisova, Dr. Sergey Pashchenko
Read:
Why Booking Health - questions and answers
How to make right decision when choosing the clinic and specialist
7 reasons to trust to the rating of clinics on the Booking Health portal
Booking Health quality standards
Send a request for treatment