Due to the difficulties associated with the organization of treatment in Turkey, Switzerland, South Korea and India, we are not currently processing requests to these regions.
If you are interested in treatment in Germany, please leave a request and our specialists will contact you as soon as possible.
Lung cancer is a dangerous disease with an unfavorable prognosis. The disease is almost incurable. Symptoms are manifested late and at the time of detection most patients are not even subject to surgical treatment. Let's talk about whether it is possible to beat lung cancer in the best hospitals in the world, and what methods of treating lung cancer have emerged over the past few years.
Content
Is lung cancer curable?
There are few of those who survived lung cancer. Lung cancer is a serious disease with an unfavorable prognosis almost always leading to death. There are several reasons why lung cancer cannot be cured. The first is its late detection. There are no nerve endings in the lung tissue, so the person does not feel pain and does not seek help. When this finally happens, the oncologic process would have gone too far. The second reason is the rich vascularization of the lungs. The organ has many blood vessels through which metastases spread throughout the body.
Therefore, if you ask your doctor is it possible to cure lung cancer, most likely, his answer will be negative. Nevertheless, there are people who have beaten lung cancer. Basically, those are who had the disease detected at early stages. With a successful location of the tumor and a favorable histological form it is possible to achieve good results in the therapy of the disease.
Unfortunately, many patients are not even a subject to surgical treatment. It is very important to get check -up for lung cancer. Because if the disease is diagnosed late, surgical treatment will become impractical due to the widely spread oncologic process and the presence of distant metastases.
Lung cancer – what to do?
Although it's tough to find those in the world who have cured of lung cancer, the actual incurability of the disease is not a reason to give up. 90% of known diseases cannot be cured once and for all. But this does not mean that after the diagnosis is established, a person must go to bed and die. People must fight for their life, and modern medicine helps them in this.
Don't take it as a false hope either, meaning that lung cancer is curable. Nonetheless, therapeutic measures help to increase patient's life expectancy. This is what should become a main goal of treatment. It doesn't matter, that's it's impossible to completely beat lung cancer. It still can be fought for many years having decent life quality meanwhile.
The treatment scheme depends on the stage at which the tumor is found. The tumor can be resectable. In this case the surgery is performed. It is established that surgical treatment on average raises the five-year survival rate by 2 times.
A question what to do when lung cancer is detected at a late stage? Then the surgery is not carried out. But, although it is impossible to beat stage 4 lung cancer , even at this stage there are effective methods of treatment that allow slowing the growth of the tumor and increase life expectancy. These methods include radiation therapy and chemotherapy. In the developed countries they also use target therapy and immune therapy.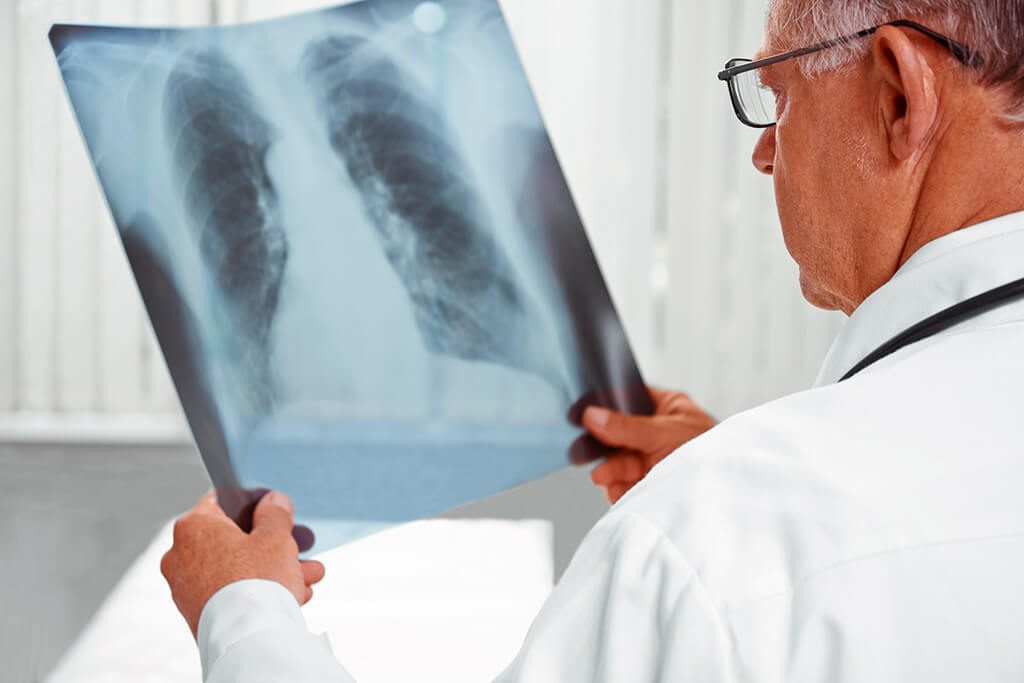 Where to cure lung cancer?
There is no place in the world where they cure stage 4 lung cancer. This is due to the fact that medicine has not evolved to the level where it's possible to cure severe illnesses at such advanced stage. But for other people, the question of where to treat lung cancer is of great importance. To make a choice, you need to understand where the lung cancer is treated better. Most people tend to undergo a course of therapy abroad, because there is a better survival rate.
There are many hospitals where lung cancer is treated well. But we must understand that the main goal of therapy is not so much a complete cure of the disease, as the achievement of remission and the maximum of its prolongation. In most cases, a person cannot be cured completely. Relapse will occur sooner or later. However, in hospitals where lung cancer is best treated, doctors manage to prolong the life of the patient for several years.
When a person is looking for someone who can cure lung cancer, he/she usually chooses between medical institutions in his home country and foreign hospitals. If the most important question for the person is how much it costs to treat lung cancer, he/she usually chooses treatment at the place of residence. It may not be of high quality and will not allow to significantly prolong the life. But a person saves material means. But if life is more important than money, then the answer to the question, where is better to treat lung cancer, is unambiguous. It is desirable to receive therapy in the best hospitals of the world. Basically, these are medical institutions in developed countries, such as Germany.
In developing countries, survival statistics are significantly worse. For example, in the CIS countries, up to 80% of patients die within the first year after diagnosis. The overall five-year survival rate is 10%. This is the percentage of people who have lived 5 years or more after the tumor was diagnosed.
In developed countries, where lung cancer is treated not only for local residents, but also for visiting medical tourists, statistics is more optimistic.
Thus, for non-small cell lung cancer, the five-year survival rate is:
Stage 1 - from 68 to 92% (depending on the sub-stage)
Stage 2 - 53-60%
Stage 3 - 13-36%
Stage 4 - 1-10%
As you can see, the results are far from ideal even in the best clinics. Nevertheless, the treatment of lung cancer abroad looks more promising. In the best German hospitals, there are many doctors who have been treating lung cancer for many years and have made great progress in the therapy of this disease. Even in the later stages, a person has a good chance to live a few more years.
Supposedly, a patient has been diagnosed with non-small cell lung carcinoma in stage 3A. The average five-year survival rate for this group of patients is 36%. It would seem that the chances of surviving during this time are only one to three. However, one must understand that not all of them receive qualitative treatment. Many are elderly or have severe concomitant diseases. Accordingly, if the patient is not 70 years old, if there are no decompensated somatic pathologies and is treated in one of the best hospitals in the world, it is highly likely that he will be among the 36% of people who will live no less than five years after establishing the diagnosis. Besides, that does not mean that he will live exactly 5 years. 36% of patients are those who have overcome the five-year boundary, but they can live much longer - 10 years or more.
It should also be taken into account that this is statistics for the past years. We do not know how many years people will live after starting treatment today. Given the emergence of new promising approaches to the therapy of lung cancer, life expectancy in developed countries is likely to increase in the coming years.
New methods in lung cancer treatment
New methods of lung cancer treatment have been constantly developed in the countries with high-level healthcare. They are what helps to increase the average life expectancy of the patients.
Here are ways to treat lung cancer have emerged within the last few years:
Video-controlled surgeries for the removal of small lung tumors (VATS) - allow the doctor to perform surgical intervention without large incisions. This reduces the rehabilitation period, improves the tolerability of treatment and reduces the risk of complications. Currently, the development of VATS surgeries, which could be used for large tumors, continues. This technology is used in certain large oncology centers in developed countries. The technique refers to robot-assisted surgery.
Four-dimensional real-time computed tomography (4DCT) - used for more accurate guidance during remote irradiation. The CT scan is taken within 30 seconds. As a result, the machine "remembers" the location of the tumor not at a particular moment in time, but in different phases of breathing process. 4DCT also allows you to assess the resectability of the tumor, its relationship with other structures of the chest.
Image guided radiation therapy (IGRT) - the doctor receives images directly during the irradiation process, which facilitates more accurate targeting. This technology reduces the number of side effects, as it reduces the radiation dose for healthy tissues.
New approaches to drug treatment. In developed countries, genetic analyzes are used to determine the ERCC1 and RRM1 proteins. They allow to predict the response to chemotherapy and plan an optimal treatment regimen. New drugs for targeted therapy are introduced. Genetic analysis is used (determination of changes in the EGFR gene) to predict its effects.
Immune therapy. It has been established that PD-L1 proteins on the surface of cancer cells block the immune response, preventing the body from fully defeating the tumor. Special drugs that suppress these proteins have already been developed and are being used in clinical practice. In addition, vaccines that react to the MUC1 protein are being introduced. The result is a more active response of the immune system to a malignant tumor. So far only preliminary data have been received. It is not yet known whether the vaccine will help to increase the life expectancy of patients.
Which country is it better to undergo treatment in?
People often prefer to be treated either in their own country or in one of the nearby states. Preference is given to countries not only on the basis of geographical location, but also taking into account the language and community of culture. For example, patients from CIS countries who suffer from lung cancer are often treated in Russia. But among the Russians themselves, there are many of those who treated lung cancer in Israel or Germany. Residents of the Far East often go to South Korea or Japan. Many people visit China, especially after learning how much it costs to treat lung cancer in Harbin. After all, it is usually cheaper than in many countries with a high level of well-being of the population.
There are many hospitals where they treat lung cancer in Moscow. However, the quality of medical services is lower there than in Germany. Many methods have not yet been applied, although they are already available in economically developed countries.
One of the criteria by which patients are guided is the price of treatment. How much does the treatment of lung cancer in Moscow costs depend on the therapy scheme used. Usually the price of medical services is lower than in Germany. But it can be compared with the cost of lung cancer treatment in Israel.
Sometimes price is the main criterion for choosing a hospital. Not all people have money for quality medical services. Therefore, having learned, how much costs treatment of lung cancer in Ukraine or in other financially unfavorable countries, medical tourists quite often make a choice in favor of these states.
Hospitals and costs of treatment
Among the numerous hospitals that offer lung cancer treatment, the following the following ones demonstrate the best success rates:
The cost of the main methods of lung cancer treatment is as follows:
How to visit the hospital abroad?
You cannot choose a hospital where lung cancer is treated most effectively. The reason is that you do not have special knowledge and cannot adequately assess the quality of the provided medical services. Therefore, we suggest using Booking Health service.
On our site you can find out:
In which clinics of the developed countries do they treat cancer.
How much does it cost to treat lung cancer in Germany, depending on the methods used.
How long the treatment of lung cancer lasts (the duration of each treatment-diagnostic program is indicated).
What are the level of the clinic's equipment, the level of comfort, and the results of treatment?
You don't have to necessarily search on your own. You can use our services. Just leave a request on the website. The specialist of Booking Health will contact you in the near future and offer several options. In addition, we can fully arrange your treatment in Germany, reduce the waiting time for the initiation of therapy and reduce your expenses for medical services 1.5-2 times.
Choose treatment abroad and you will for sure get the best results!
---
Authors: Dr. Nadezhda Ivanisova, Dr. Sergey Pashchenko
Read:
Why Booking Health - questions and answers
How to make right decision when choosing the clinic and specialist
7 reasons to trust to the rating of clinics on the Booking Health portal
Booking Health quality standards
Send a request for treatment