Due to the difficulties associated with the organization of treatment in Turkey, Israel, Russia, Switzerland, South Korea and India, we are not currently processing requests to these regions.
If you are interested in treatment in Germany, please leave a request and our specialists will contact you as soon as possible.
According to the WHO statistics, brain cancer counts only for 3% of all cancer cases. Nevertheless, this life threatening condition requires maximal efforts, great competence and coordinated work of healthcare professionals. Fortunately, modern medicine offers great variety of treatment options for patients with brain cancer. Development of the medical sphere is not the same in different countries all over the world. Thus, a number of effective procedures and drugs are available only in limited number of countries.
Correct choice of the clinic, healthcare professional and treatment scheme contributes much to the final result of therapy. It is better to take a close look at the world`s statistics and make your decision consciously.
Content
What is important to consider during the decision-making?
Being diagnosed with brain cancer means that you begin the long way of treatment in order to fight the disease and live full life with your beloved people. Healthcare practitioners will give you a helping hand and accompany you along this way. Brain cancer is a complex pathology, so you will be treated by the multidisciplinary team: oncologist, neurosurgeon, neurologist, general practitioner, dietitian, psychologist, social worker and others.
Selecting this team is extremely important, as the qualification of doctors significantly affects the final result of therapy. Thus, first important point in choosing right place for brain cancer treatment is assessing experience and practical skills of a healthcare team.
The other significant aspect is availability of all the necessary treatment options. Modern oncology offers wide range of approaches and techniques for patients with brain cancer, including the following:
Surgical treatment, including interventions for metastases removing
Radiation therapy, including radiosurgery – CyberKnife and Gamma Knife
Chemotherapy and individual targeted therapy
Comprehensive approach, including non-traditional methods
Symptomatic treatment and alleviating side effects
Well-grounded elaboration of the treatment scheme is closely connected with the presence of corresponding equipment and approval of certain technique of drug in the country.
Comprehensive oncological and neurological rehabilitation after the completion of treatment should be considered, as well. Rehabilitation facilitates restoration of speech, walking, neurological functions and ability to fulfill activities of daily living. Clinics with special attention to this aspect demonstrate better results regarding quality of life and life expectancy. Rehabilitation also helps in acquiring valuable for the future life habits and getting used to living with consequences of treatment (if there are any).
Possibility to take part in a clinical trial. Certain healthcare institutions combine active clinical practice with the scientific research. Participating in a clinical trial is essential for people with advanced or resistant to other kinds of treatment brain cancer. It gives possibility to try innovative medication or intervention before it becomes approved for general use. In addition, taking part in a clinical trial is usually free of charge for a patient.
Receiving treatment in the native country
Patients with brain cancer often start treatment in their native country, right after the diagnosis is established. This seems logical, as a diagnostic program should always be followed by corresponding treatment. Patients and their relatives are frustrated with the diagnosis, so they willingly follow doctor`s recommendations regarding the immediate start of treatment.
Beyond all doubt, receiving medical help in the native country has obvious advantages, like:
Diagnostic and treatment programs are performed in the same healthcare institution, often – under general control of one treating physician
Immediate start of the treatment program – there is no need to plan a long trip, solve organizational problems and get visa for travelling abroad, seek for specialized transport in case of bad state of the patient, etc.
Proximity of the hospital to the patient`s house and relatives – it is always possible to count on the help of close people
Low price of the treatment – treatment can be free of charge or be covered by the insurance, which is extremely important for people in restricted financial circumstances
Nevertheless, coping with the first emotions from the diagnosis and assessing the situation more consciously are always useful. Medical potential of different countries worldwide is not the same. In addition, there are certain countries, which are famous for brain cancer treatment.
If you are not the citizen of such country, you should take a close look at the following possible disadvantages of treatment in the native country:
Questionable quality of the diagnosis – sometimes repeated preoperative examination in the specialized clinic leads to serious changes in the diagnosis and treatment plan
Absence of surgeons with narrow specialization in treatment of exactly this kind of tumor
Unavailability of the equipment for certain treatment options, particularly, good quality CyberKnife and Gamma Knife, proton therapy, 3D conformal radiation therapy
Absence of the most effective medications – drugs of the latest generations can be not approved for the practical use in the country
Absence or insufficient quality of rehabilitation programs that can result in bad general state even after the total removing of the tumor
Nowadays it is totally possible to apply for the treatment in the most specialized hospitals worldwide, so there is no need to restrict treatment options to limited possibilities of the native country. Opportunity to receive better help and thus improve quality of life and life expectancy force many patients to seek for the qualified medical help abroad.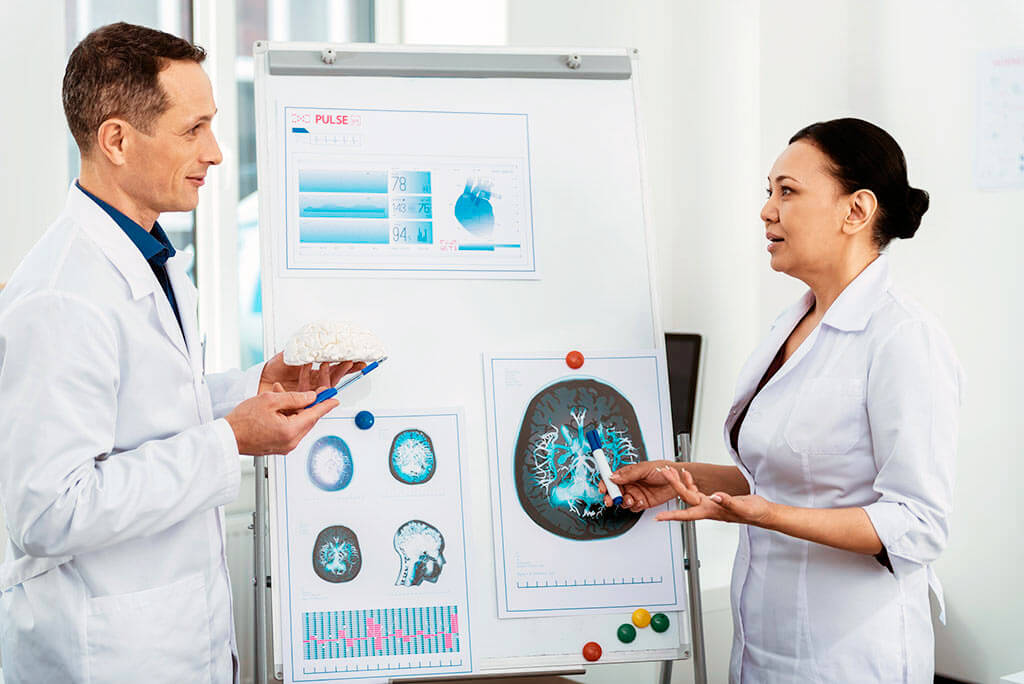 Choosing surgical treatment
Surgery is the most widespread treatment option in patients with brain cancer. Actually, in case of low-grade brain tumor this can be the only necessary intervention.
When we talk about world`s leading countries in the scope of brain surgery, we should pay particular attention to Germany and Switzerland.
Neurosurgery in these countries has several significant for a patient peculiarities:
Using cortical mapping at the stage of planning the surgery. Before the intervention is started, surgeons identify specific areas of the brain cortex that are responsible for motor functions, speech, senses, memory and emotions, etc. This is extremely helpful in preserving abovementioned functions. For example, when a tumor is located near the speech center a patients stays awake during a part of the intervention, so a surgeon can control his ability to talk. Cortical mapping and precise performing of the surgery provide better quality of life and shorter rehabilitation period after the intervention.
Using Image Guided Surgery techniques. This computer-based approach implies using enhanced imaging devices (like high-resolution CT, MS-CT, FP-CT, MRI, etc.) for determining a tumor location very accurately. In combination with cortical mapping it provides maximal preserving of brain`s healthy tissue and minimal risk of neurological complications.
Using drugs on the basis of the 5-aminolevulinic acid. This substance serves as a specific dye for tumor cells. With the help of microscope and special light a surgeon sees difference between oncological cells and normal brain tissue during the surgery. Thus, he is able to remove the whole tumor safely. As a result, patient receives better outcome and minimal chance of the disease relapse.
Germany and Switzerland are also famous for treating brain metastases. Excellent diagnostic possibilities and precise surgical techniques give chance to prevent the disease from spreading and come to a stable and long-term remission. Metastases can also be detected in the remote tissues and organs – in such cases neurosurgeons work in close cooperation with abdominal surgeons and other professionals.
One more important focus of attention is treatment of inoperable brain tumors. Such neoplasms are located near vital structures of the brain (e.g. respiratory center) or can`t be reached without extensive damage to healthy brain tissues. In such cases neurosurgeons in Germany and Switzerland perform partial removing of the tumor that alleviates neurological symptoms and provides sufficient material for the histological examination of the tumor. Other options include switching to additional treatment options in order to make a tumor shrink before further surgical intervention.
Choosing radiation therapy
Radiation therapy methods include a number of techniques that imply using high-energy radiation for the destruction of tumor cells. During the last decades this approach has evolved from non-specific whole brain irradiation to the targeted delivery of high-energy particles directly to the tumor tissue.
Availability of the equipment is one of the main conditions for performing this kind of treatment. That is why Turkey and Germany are absolute leaders in providing such interventions. Comparing between these two countries, Turkey is more affordable for the international patients, while Germany offers higher quality of equipment.
In different clinical situations radiation oncologists choose between the following treatment options:
Conventional radiation therapy uses high-energy X-rays and is mainly applied for the whole brain radiation therapy in presence of brain metastases. Amount of radiation correlates with tumor`s grade, but is always minimal in order to prevent healthy brain tissue from damage.
3-dimensional conformal radiation therapy implies using high-resolution CT and MRI scans to create precise 3D model of the tumor in the context of surrounding unaffected tissues. Such approach makes head irradiation more targeted, directing higher doses of radiation to the neoplasm.
Intensity modulated radiation therapy is a particular type of 3D conformal radiation therapy with regulated intensity of beams. Thus, beams with higher energetic potential reach tumor, while poor with energy beams go through healthy tissues.
Proton therapy uses proton beams for the destruction of superficially located tumors – tumors on the base of skull or near the optic nerve. Proton beams are typically applied for external radiation therapy, when less energy is required for extermination of the neoplasm. This kind of treatment causes fewer side effects, but needs exquisite adjustment of radiation dose.
Stereotactic radiosurgery implies delivering single, but extremely high, dose of radiation precisely to the tumor without any damage to healthy tissues. The most up-to-date equipment in this sphere includes CyberKnife and Gamma Knife, diverse models of which are available in clinics of Turkey and Germany. Gamma Knife is now considered to be the golden standard in the treatment of brain cancer.
Fractionated stereotactic radiation therapy combines stereotactic precision with small daily doses of radiation. This is an extremely delicate technique that reduces the already low risk of damaging sensitive brain structures.
Radiation therapy is rarely a sole component in brain cancer treatment scheme; usually it starts after the surgery or accompanies chemotherapy. In certain cases radiation oncologists in Turkey and Germany administer internal radiation therapy or brachytherapy, which is using implants for the delivery of radiation.
Choosing chemotherapy and targeted therapy
Generally speaking, chemotherapy itself is not an innovative approach. Administering certain drugs for destroying tumor cells or inhibiting their ability to grow and divide has come to the clinical practice many years ago. The problem is that blood-brain barrier physiologically protects the brain from all harmful substances. Unfortunately, medications for the chemotherapy are also recognized by the barrier as the undesirable compounds. That is why scientists make all the efforts to create new molecules that successfully reach brain tissue, destroy tumor cells and leave healthy tissues undamaged. During last decades the most prominent achievements in this sphere have been demonstrated by doctors from Israel and Germany. What is extremely important, the theoretical results of clinical trials are transformed to practical experience and new treatment options without any delay in these countries.
Medical oncologists and neuro-oncologists in Israel and Germany widely administer chemotherapy in patients with brain cancer, as it allows slowing down tumor growth, destroying cancer cells remaining after the surgical intervention or reducing oncologic symptoms.
Innovative drugs, available only in these countries, can be taken in few ways:
By mouth. In this case treatment can be outpatient, a patient visits hospital only for control examinations.
By intravenous injections. Such treatment scheme requires regular visits to the healthcare institution. This is even better, as a patient stays under close medical supervision and can easily contact his doctor, if necessary. To facilitate drug intake, catheter or port can be placed into the vein.
Through the shunt. This option is possible for the patients with shunts that are left after the surgery in order to remove excess fluid from the brain. Such technique is a more invasive one, but it provides direct delivery of the drug to the brain tissue.
In special wafers that are put into the brain after the completion of main surgery. Small dissolvable wafers with specific drugs release their content in several weeks after the intervention and significantly lower risk of the disease relapse. Only the most talented neurosurgeons and neuro-oncologists in Israel and Germany are authorized to perform such intervention.
Targeted therapy is the most up-to-date addition to the standard chemotherapy. The term "targeted" means that the drug is highly individual and specific for the certain type of the tumor. Targeted therapy`s action can be pointed at tumor`s specific genes or proteins, tumor's growth factors and the tissue environment.
Anti-angiogenesis targeted therapy, which has shown the best effect in brain cancer treatment, is already available in Israel and Germany. This kind of therapy stops formation of new blood vessels, so the tumor is gradually deprived from blood supply and essential nutrients. In such circumstances tumor shrinks, stops spreading and can be effectively treated by surgical or radiological techniques.
Choosing comprehensive approach
Integrative medicine is a relatively new approach in the treatment of brain cancer. Integrative complementary and alternative medicine (CAM) methods include healthy nutrition and dietary supplements, homeopathic remedies, herbal supplements and beta-glucans administration, massage, yoga, acupuncture and chiropractic care, hypnosis and work with a psychologist, etc. Healthcare institutions that provide such treatment should be expert in all traditional treatment options, as CAM methods are only an addition to them, not the substitution. Due to these obvious benefits, more and more patients give preference to the comprehensive approach to brain cancer treatment.
Germany traditionally takes the leading position in the list of countries, which provide CAM methods. German doctors highly appreciate integrative medicine, as it enhances action of the conventional treatment methods, restores patient`s immune system, alleviates unpleasant side effects of main treatment and improves patient`s quality of life and sense of wellbeing in general. In addition, German specialists are qualified enough to apply integrative medicine principles individually in each clinical situation and have extensive knowledge in this sphere.
CAM methods are aimed not only to fight against the brain cancer, but also to ensure better life expectancy with improved quality of life. Good quality rehabilitation program after the treatment completion also fits into the overall framework of such approach. That is why CAM methods are worth considering for sure.
How can I receive treatment abroad?
When we talk about brain cancer it is crucial to start correct treatment in the shortest period of time, because this disease gives second try rarely. Fortunately, world`s medical borders are not strict these days, so patients and their relatives have opportunity to choose country, clinic and treating doctor without any limitations.
Sometimes it may be difficult to make a right step in this great variety of options and, afterwards, arrange a journey abroad for the patient with such diagnosis. Understanding this, the global medical provider, Booking Health company was founded to assist international patients in all tricky aspects of receiving treatment abroad.
Booking Health company helps patients in such important aspects as:
Choosing the most appropriate clinic and doctor exactly for your case
Getting an invitation for treatment from the clinic for faster medical visa receiving
Getting an appointment on the convenient date and time
Preliminary organization of comprehensive examination and further treatment
Providing transfer from the airport to clinic and back to the airport
Assistance of interpreter and personal medical coordinator
Providing medical insurance in case of complications (up to 200 000 euros)
Preparation and translation of medical documents and recommendations from clinic
Help in further communication with your treating physician, if necessary
To start planning your medical trip you should leave the request on the web-site of Booking Health company. After this you will be contacted by our patient case manager to discuss all the details of your clinical situation and elaborate future steps. Our aim is to help you in receiving the best possible treatment for the most affordable price.
Choose treatment abroad and you will for sure get the best results!
---
Authors: Dr. Vadim Zhiliuk, Dr. Nadezhda Ivanisova
Read:
Why Booking Health - questions and answers
How to make right decision when choosing the clinic and specialist
7 reasons to trust to the rating of clinics on the Booking Health portal
Booking Health quality standards
Send a request for treatment