In Germany, prostate cancer is treated in large multidisciplinary University Hospitals, which have the Departments of Urology and Oncology, as well as in specialized Competence Centers for treatment of prostate cancer and radiation therapy. The availability of robotic surgical systems, HIFU equipment, devices for 3D conformal radiation therapy, drugs for androgen blockade and symptomatic therapy, and other innovative resources allows specialists to choose exactly that therapeutic regimen which will be most effective in a particular patient. The latest technique that is successfully applied in treatment of prostate cancer with metastases is the Lutetium-177 therapy. Lu-177 PSMA is unique among other cancer treatments, as it targets prostate cancer loci regardless of their localization in the body (including bone metastases).
Content
Therapy goals
A treatment program in Germany is elaborated for each man individually, taking into account his age, disease stage, concomitant disorders and general health state. As a rule, therapeutic interventions with involvement of the diverse medical resources pursue the following goals:
Total tumor removal or restricting its growth
Prevention of tumor invasion into the neighboring organs (urethra, bladder, intestines) and lymph nodes
Prevention of metastasizing throughout the body
Distant metastases removal or their growth restriction
Preservation of physiological urination, sexual function, etc.
To assess the effectiveness of therapy in patients with this diagnosis, the German doctors use such criteria as life expectancy, duration of the remission and quality of life. The quality of life is assessed according to questionnaires developed on the basis of recommendations of the European Organization for the Research and Treatment of Cancer.
It should be understood that not all the patients are eligible for the radical surgery or innovative Lutetium-177 therapy. The aims and treatment tactics are chosen individually, as beneficial for one man Lu-177 treatment may be ineffective for the other one, and this man will benefit from conventional radiation therapy.
Treatment of localized forms of prostate cancer
According to the international classification of oncological diseases TNM, localized prostate tumors correspond to stages T1 and T2. This means that the neoplasm is located within the prostate and does not invade its capsule. At this stage, a patient can be cured completely. To this end, the doctors mostly use radical prostatectomy for prostate cancer therapy.
Radical prostatectomy is the total removal of the prostate gland with its capsule and the surrounding connective tissue. The prostate can be removed transurethrally, via laparoscopic access or using the da Vinci surgical system. In some cases, an open removal can be performed. Open surgery is more traumatic than the endoscopic one, but it provides the surgeon with better access to the tumor. To date, prostatectomy using the da Vinci surgical system is considered as the gold standard. It allows to save the nerves and blood vessels of the penis, as well as minimizes the risk of postoperative erectile dysfunction and urinary incontinence. Prostatectomy with the help of the da Vinci surgical system is the good option for men with localized prostate cancer with good expected long-term survival. Possible limitations for prostate cancer treatment using da Vinci surgical system are previous surgeries on the small pelvis organs and morbid obesity.
High-intensity focused ultrasound (HIFU) ablation is another technique for prostate removal. The gland is destroyed by a local increase in temperature using focused ultrasound. The prostate tissue is coagulated and destroyed, while the surrounding healthy tissue remains unaffected. The HIFU technique can also be used in therapy of local relapses of prostate carcinomas after radical treatment. If the relapse arises after the initial HIFU ablation, the repeated procedure may be performed, as well as surgery for prostate cancer or radiation therapy.
Radiation therapy is mainly conducted in men with contraindications to surgery for prostate cancer. This includes local radiation therapy – brachytherapy (e.g. implantation of radioactive gold "seeds") and remote radiation therapy. Brachytherapy for prostate cancer includes high dose rate (HDR) brachytherapy and low dose rate (LDR) brachytherapy. HDR for prostate cancer involves the temporary radioactive sources placement inside the prostate. These sources deliver a high radiation dose during a few minutes and are removed afterwards. LDR for prostate cancer involves placement of radioactive "seeds" inside the prostate. Such "seeds" release radiation slowly, over a few months, and there is no need to remove them once treatment of prostate cancer with radiation therapy is completed.
In addition, in elderly patients with serious concomitant diseases and a short life expectancy, active therapy may be substituted by active surveillance. Such tactics for prostate cancer is possible due to the slow progression of the localized tumors, without clinical manifestations and a threat to life. In this case, possible risks of surgery or radiation therapy for prostate cancer are excluded.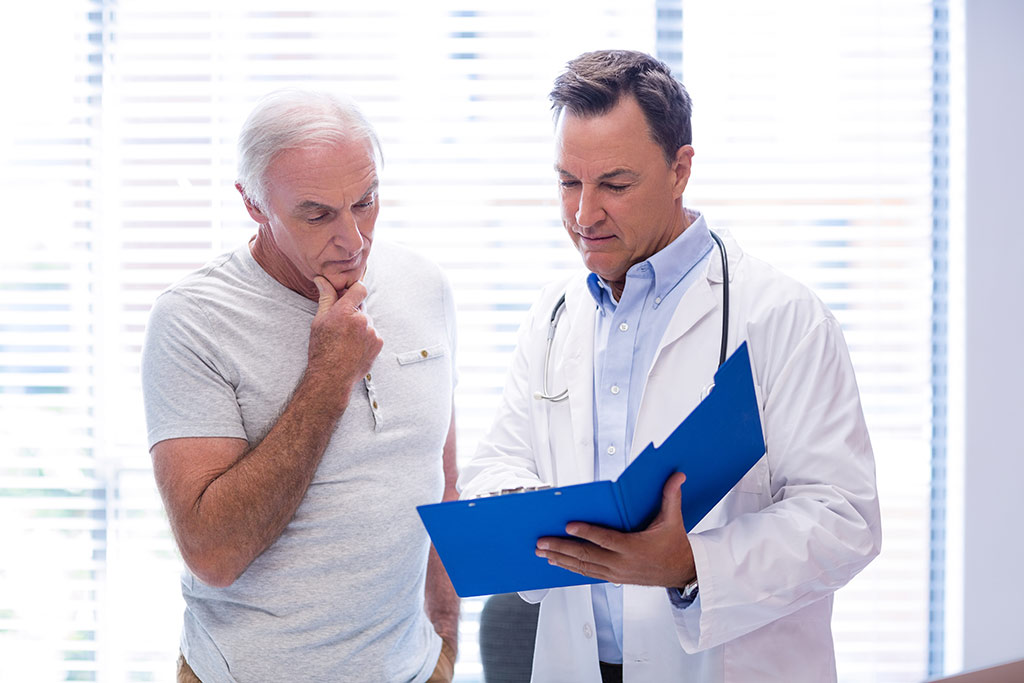 Treatment of locally advanced prostate cancer
Locally advanced prostate cancer invades a capsule of the gland (stage T3), affects neighboring organs (stage T4) or metastasizes to regional lymphatic nodes. At this stage, radiation therapy is preferred over the other treatment options.
Radiation therapy for prostate cancer at this stage includes 3D conformal radiation therapy. This is a type of external radiation therapy, in which the dose of ionizing radiation is determined individually, depending on the localization of the tumor and its positional relationship with the neighbouring organs. The specialized German clinics also offer intensity-modulated radiation therapy (IMRT). It is a type of radiation therapy that additionally takes into account the shape and volume of the tumor. Choice of the radiation therapy type depends primarily on the technical possibilities of the healthcare facility, as not all hospitals have the equipment for the intensity-modulated or 3D conformal radiation therapy.
The combination of radiation therapy with the prescription of hormonal drugs increases the effectiveness of therapeutic measures. As hormone therapy, the doctors use drugs that block the growth and spread of carcinoma under the influence of testosterone. Such drugs include analogues of the luteinizing hormone-releasing hormone, steroid and "pure" antiandrogens, estrogens.
In men with castration-resistant (i.e. resistant to antiandrogen drugs) forms of prostate carcinoma, chemotherapy for prostate cancer can be used. The most effective chemotherapeutic drugs are docetaxel, cabazitaxel and abiraterone. As a rule, chemotherapeutic drugs are administered once every 3 weeks and combined with daily intake of prednisolone.
Prostatectomy is of low efficiency at this stage of the disease, since it is most often impossible to perform a radical surgical procedure in order to remove the entire mass of the tumor and metastases. However, a number of studies have demonstrated benefits of prostatectomy when combined with total androgen blockade using modern hormonal drugs.
Treatment of metastatic prostate cancer
Metastatic prostate cancer can correspond to any stage T in the presence of metastases in the lymph nodes of the pelvis or distant organs. The prostate tumors mostly metastasize to the skeleton bones, lungs and liver. In case of metastatic tumors, high-tech radionuclide therapy and androgen blockade are the most effective treatments.
Bilateral orchiectomy and chemical castration are used to block the stimulating effect of androgens (testosterone) on the cells of the primary tumor and its metastases. The clinical practice involves various mechanisms of androgen blockade, from the testicles (the main source of androgens) removal to the blockade of tissue androgen receptors and increasing levels of antiandrogenic substances (estrogens).
Radionuclide therapy, i.e. Lutetium-177 therapy and Actinium-225 PSMA therapy, is currently the most modern and effective way to help men with metastases in the bones, liver and lungs. The therapeutic radionuclides (Lu-177 PSMA and Actinium-225 PSMA) recognize cancer cells and accumulate in them selectively, thereby destroying cancer with the help of radioactive irradiation. In this case, normal cells and tissues that do not have characteristic receptors are not exposed to radiation. Lutetium-177 therapy and Actinium-225 therapy can be carried out only in several medical facilities in Europe, since they require complex technological manufacturing of radionuclide preparations (e.g. Lu-177 PSMA containing drug) and strict measures of radiation protection.
Despite being recommended specifically for patients with metastatic cancer, the Lu-177 treatment has a rather wide range of indications. Lu-177 PSMA introduction demonstrates good results in tumors that are resistant to hormonal drugs and chemotherapy. Lu-177 treatment may be performed even in cases when the primary tumor cannot be removed surgically. Sometimes Lu-177 PSMA is considered salvage therapy when no other treatment options are efficient.
Symptomatic therapy aims at improving the quality of life. This includes painkillers, drugs for anemia correction, restoring the reduced due to the disease body mass, and so on. The men who are diagnosed with a metastatic tumor receive bisphosphonates, namely zoledronic acid, additionally. Zoledronic acid stops the destruction of bone tissue, reduces pain and, to some extent, has an antitumor effect (reduces blood supply of metastases). The German clinics offer modern drugs that are administered once every 4 weeks and have an extremely low risk of side effects.
Cost of the prostate cancer treatment abroad
In most cases, therapy for prostate cancer includes few treatment options. These may be surgery in combination with radiation therapy, Lu-177 treatment with symptomatic therapy, etc. Elaboration of the most efficient medical regimen is the indisputable advantage of undergoing therapy for prostate cancer if the German hospitals. Prices for the most asked-for advanced treatment options and different modalities of the radiation therapy are as follows:
| | |
| --- | --- |
| Procedures for prostate cancer treatment options | Prices |
| Treatment of prostate cancer with da Vinci prostatectomy | from 6,583 EUR |
| Treatment of prostate cancer with high-intensity focused ultrasound (HIFU) | from 6,463 EUR |
| Transurethral prostate electroresection for prostate cancer | from 3,110 EUR |
| Lu-177 PSMA for prostate cancer treatment | from 14,708 EUR |
| Treatment of prostate cancer with conventional radiation therapy | from 13,800 EUR |
| Interstitial radiation therapy (brachytherapy) for prostate cancer treatment | from 4,989 EUR |
| Intensity-modulated radiation therapy (IMRT) for prostate cancer treatment | from 15,500 EUR |
In addition to the method of therapy for prostate cancer, the cost of a medical program for prostate cancer treatment depends on the level of the hospital (it should offer all the required technical and medical resources) and position of the attending physician (e.g. treatment by the head of the department is paid separately).
The list of the leading specialized hospitals includes:
University Hospital of Ludwig Maximilian University of Munich, Department of Adult and Pediatric Urology headed by Prof. Dr. med. Christian G. Stief.
Helios Hospital Berlin-Buch, Department of Urology headed by Prof. Dr. med. Mark Schrader.
HELIOS Clinic Krefeld, Department of Adult and Pediatric Urology headed by Prof. Dr. med. Martin Friedrich.
University Hospital Ulm, Department of Adult and Pediatric Urology headed by Prof. Dr. med. Christian Bolenz.
Urology Hospital Munich-Planegg Munich, Department of Adult and Pediatric Urology headed by Prof. Dr. med. Martin Kriegmair and Dr. med. Ralph Oberneder.
University Hospital Frankfurt am Main, Department of Urology headed by Prof. Dr. med. Felix Kyoung-Hwan Chun.
The approximate costs of the advanced medical and related services in the leading specialized hospitals are as follows:
| | | | |
| --- | --- | --- | --- |
| German hospital | Treatment of prostate cancer with da Vinci prostatectomy | Interstitial radiation therapy (brachytherapy) for prostate cancer treatment | Lu-177 treatment |
| University Hospital of Ludwig Maximilian University of Munich | 20,117 EUR | 16,872 EUR | 17,905 EUR |
| Helios Hospital Berlin-Buch | 17,731 EUR | 14,983 EUR | 16,381 EUR |
| University Hospital Ulm | 19,126 EUR | 15,926 EUR | 17,240 EUR |
| Urology Hospital Munich-Planegg Munich | 17,830 EUR | 15,404 EUR | — |
| University Hospital Frankfurt am Main | 18,007 EUR | 15,366 EUR | 19,900 EUR |
Prostate cancer treatment in Germany with the Booking Health
The foreign patients who plan to undergo the diagnosis making and treatment of prostate cancer in Germany should take into account the specifics of receiving medical services abroad. It is also important to choose a specialized clinic from several dozens of leading medical institutions specializing in urologic oncology. If the patient is going to receive the Lutetium-177 therapy, it is also necessary to clarify terms of Lu-177 PSMA medication manufacturing and cost of Lutetium treatment. For such patients it will be much easier to entrust the responsibility for both medical and organizational issues to the Booking Health company.
The Booking Health company is the only medical tourism operator that has the international certification in this field (ISO 9001: 2015 certificate). The employees of the company can help patients and their relatives with the following issues:
Selection of the right clinic based on the annual qualification profile
Direct communication with your attending physician
Preliminary preparation of a medical program without repeating previous examinations, answering questions about the program
Provision of the favorable treatment costs in Germany, including the favorable cost of Lutetium treatment, without overpricing and additional coefficients for foreign patients (saving up to 50%)
Booking an appointment with a doctor for the desired date
Monitoring the medical program at all its stages
Assistance in buying and forwarding medicines, including Lu-177 PSMA drug for Lutetium-177 therapy
Communication with the clinic after the program completion
Control of invoices and return of unspent funds
Organization of additional examinations
TOP-class service: booking hotels, airline tickets, transfer
Please, leave a request on the Booking Health website and a medical advisor or a patient case manager will contact you the same day and answer all your questions. On the Booking Health website you will find comprehensive information about prostate cancer treatments.
Choose treatment abroad and you will for sure get the best results!
---
Author: Dr. Nadezhda Ivanisova
Read:
Why Booking Health - questions and answers
How to make right decision when choosing the clinic and specialist
7 reasons to trust to the rating of clinics on the Booking Health portal