It is now possible to go abroad for treatment!
We issue urgent medical visas to go abroad!
Please contact us! We know everything about the available flights around the world!
Herniated disc or hernia of the intervertebral disk aggravates a nerve and triggers lower back pain or affects the neck area. Both sensitive and motor spinal nerve roots are compressed and result in impaired movement. Sometimes, the pathology might provoke internal organs, which can result in the malfunction of either a bladder or an intestine.
A person is forced to visit a specialist because of the chronic pain and a decrease in one's quality of the life. Drug therapy reduces the symptoms in the majority of cases. Otherwise, they perform a surgery or surgery-substitute decompression therapy that is vital to eliminate mechanical impact of the spinal structures on spinal nerve rootlets.
Microdiscectomy serves as a standard surgery aimed to remedy herniated disc. Disc fragment is removed with the help of less invasive techniques and this reduces the pain. Laminectomy is used for severe cases to decompress the spinal cord and it involves removing the arches of the vertebrae.
Microdiscectomy and laminectomy have been used for a little while however it has proved to be highly efficient. Nevertheless, new treatment approaches are constantly being developed. These groundbreaking ways of cure are fast becoming more effective, safer and more comfortable for the patient.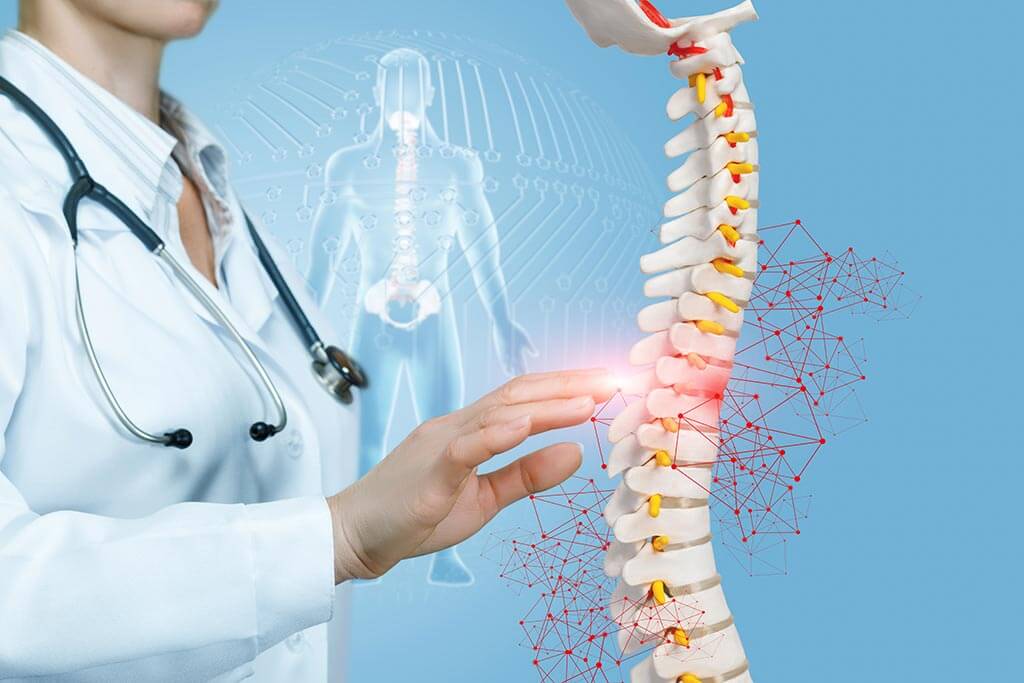 Prosthetic disc repair is an improved version of microdiscectomy. The vertebrae are not fixed to each other as usual, but prosthesis is implanted instead. This means that a person will save his or her spinal mobility and the hernia will 100% not reoccur in the future. Though, it can appear in a different spot.
Ultrasonic disc destruction has been used for several years already and its effectiveness is being upgraded. This is possible due to the recent invention of modern lithotripters (devices that produce ultrasonic waves). Lithotripter monitors the precise area and intensity of the shock-wave action. Thus, a disc is destroyed through minimally invasive means.
EPS 8000 Pain Relief device is a conservative treatment technique. The device stretches the two vertebrae around the hernia. Unlike conventional traction, just two troubled discs are traced and not all of the spinal zones. A series of sessions results in a stable remission due to the decompression of the nerve rootlets. Certain patients may have a reduced herniated protrusion.
Subcutaneous implantation of morphine pumps. Sometimes conservative treatment does not work. A number of patients suffer from acute pain even after surgery. Morphine pumps and some other opiates can be used as analgesics in such a case. A device is injected into the subarachnoid space with the help of surgical intervention and administers pain killer drugs to the cerebrospinal fluid. The programmes of the introduction are determined and regulated by the patient, based on his needs. Every few weeks, it is necessary to see a doctor to fill the pump. In 7-10 years it may be necessary to replace it.
Most patients who suffer from herniated disc are pain free thanks to the innovative treatment methods.
Leading specialized hospitals in Germany
Treatment in German hospitals begins with functional tests and detailed visualization of all structures of the spine. This allows doctors to determine the cause of the pain syndrome and choose the most suitable for the patient type of treatment.
Specialized German hospitals offer their patients precise examination, minimally invasive surgical techniques and post-treatment rehabilitation:
Hospital Neuwerk Moenchengladbach, Department of Spinal Surgery
Vivantes Auguste-Victoria Hospital Berlin, Department of Spinal Surgery
Charite University Hospital Berlin, Department of Adult and Pediatric Neurosurgery
Beta Klinik Bonn, Department of Neurosurgery and Interventional Neuroradiology
University Hospital Freiburg, Department of Adult and Pediatric Neurosurgery
Hospitals can specialize in treating adults or perform surgical interventions in patients of all age groups.
Organization of herniated disc treatment in Germany
Only a highly qualified, experienced surgeon can perform the operation of the spine. Such specialists work in leading hospitals in Germany. You can choose a suitable hospital on the Booking Health website. After choosing a hospital, fill out the "Send request" form. A company manager will contact you shortly to discuss medical and organizational issues.
Booking Health specialists will arrange the trip for you. In particular, Booking Health provides the following services:
Assistance in choosing the most suitable clinic that specializes in spinal surgery
Communication with the administration of the selected clinic
Making the appointment
Translation of medical reports
Assistance in visa issuing
Providing patients with health insurance in case of unplanned medical expenses
Accompaniment of an interpreter and assistance of a personal coordinator
Solving organizational issues: booking airline tickets and accommodation, transfer from the airport, etc.
Booking Health will make sure that your trip for treatment abroad is as comfortable as possible.
Choose treatment abroad and you will for sure get the best results!
---
Authors: Dr. Nadezhda Ivanisova, Dr. Farrukh Ahmed
Read:
Why Booking Health - questions and answers
How to make right decision when choosing the clinic and specialist
7 reasons to trust to the rating of clinics on the Booking Health portal
Booking Health quality standards
Send a request for treatment