Due to the difficulties associated with the organization of treatment in Turkey, Switzerland, South Korea and India, we are not currently processing requests to these regions.
If you are interested in treatment in Germany, please leave a request and our specialists will contact you as soon as possible.
Content
What is rehabilitation and when is it needed?
Rehabilitation is a complex of procedures aimed at restoring the patient's health after receiving the main therapy or as the only method of treatment. Rehabilitation is necessary if any of the body's functions have been impaired as a result of illness or injury.
Types of Rehabilitation in Germany
Rehabilitation medicine in Germany deals with the rehabilitation of children and adults. All methods are aimed at restoring various body functions, since each of them is necessary; depending on its damage.
Rehabilitation centers in Germany are equipped in such a way as to recreate the "home" atmosphere as much as possible. This allows patients of all ages to feel comfortable. Most of the clinics are located near parks. Patients can do outdoor exercise therapy or simply take a walk through the hospital's scenic grounds. There are two main directions in modern rehabilitation: neurorehabilitation and postoperative rehabilitation. Neurorehabilitation is used for disorders of the brain and / or spinal cord.
It is the most common type of rehabilitation that treats many diseases of the neurological spectrum:
Stroke
Cerebral palsy and developmental disorders (including autism, Down syndrome)
Multiple sclerosis, Parkinson's disease, Alzheimer's disease and other autoimmune diseases
Traumatic brain and spinal cord injuries
Postoperative rehabilitation is assigned to each patient who has undergone surgery or other type of treatment, after which the body needs to be restored.
Such rehabilitation can be:
Why are German Rehabilitation Centers the best in the world?
The main advantages of German rehabilitation centers are:
Well-developed rehabilitation schemes. The rehabilitation programs were developed by specialists after many years of practice. The list of necessary rehabilitation measures is selected individually for each patient, based on his diagnosis and physical capabilities. Recovery usually takes place in several stages. The load is gradually increased, which allows the patient to constantly develop and restore health, mobility, speech, ability to work and self-care.
Comfortable stay at the Rehabilitation Center. Patient motivation is paramount in the rehabilitation process. If he / she lives in poor conditions and is preoccupied with daily problems, rehabilitation cannot be carried out completely. In German clinics, patients can more fully focus on their recovery. Each patient receives the maximum level of home comfort. Rehabilitation clinics are equipped with assistive devices for people with disabilities. There are special elevators and stairs for convenient transportation of patients. Canteens and toilets are equipped with additional handrails, and the wards are equipped with bunks with lifting mechanisms.
Care of the severely ill patients. Rehabilitation centers in Germany often provide treatment for patients who cannot be self-catered for. The person accompanying the patient can live with him or separately at the hotel. The accompanying person does not need to worry about anything. The seriously ill are under the supervision and care of specially trained medical personnel.
Education of the patient's relatives. This is a very important point for patients suffering from incurable or partially curable diseases such as cerebral palsy. These patients require lifelong rehabilitation. In order to do the necessary exercises on their own at home, specialists from German rehabilitation centers train patients and their relatives in special methods of treatment, as well as how to lead and organize their daily life at home. These lessons make life much easier for patients and their families.
An integrated approach to rehabilitation. In German clinics, various types of rehabilitation measures are used to ensure the complete recovery of the patient. These include physical therapy, psychological training, speech therapist, self-care training, and lifestyle changes. The techniques are selected in such a way as to complement each other.
High-tech equipment. All leading centers in Germany are well equipped and use the most effective and high-tech patient recovery procedures. The most modern types of physiotherapy are used here. Robotic suits, transcranial magnetic stimulation, exercises on special simulators are used.
TOP-10 Rehabilitation Centers in Germany
There are many rehabilitation centers in Germany. Many of them are located in resort towns and use thermal springs, mud, salt caves and other natural resources to heal patients. Some rehabilitation centers are highly specialized. They are intended only for certain patient groups.
We have highlighted the TOP-10 best rehabilitation centers in Germany:
The Median Rehabilitation Clinic Schlangenbad is located in a picturesque location in the state of Hesse. Here, patients have access to natural healing resources - thermal springs. The clinic has four departments. The department of psychosomatics conducts a course of psychosomatic rehabilitation, including behavioral therapy, stress management, occupational therapy, physiotherapy and other activities. There are also departments of orthopedics, rheumatology and gynecology. Here, patients undergo rehabilitation after injuries, spinal surgeries, joint replacements and removal of tumors of the reproductive system.
The neurological rehabilitation clinic RehaNova in Cologne. This medical institution specializes in the neurological rehabilitation of patients. Even the most severely damaged patients can undergo restoration here. The clinic provides both urgent surgical care and rehabilitation. Patients undergo rehabilitation after strokes, traumatic brain injury and degenerative diseases of the brain. The clinic is considered the best in Germany for the recovery of patients with TBI. The clinic has its own diagnostic center.
One of the features of the ReaNova clinic is a direct connection with the city hospital. Such close communication gives the patients of the rehabilitation center additional advantages - they can get an appointment with a doctor in case of any complications.
The Dr. Franz Dengler clinic is located in the renowned spa resort of Baden-Baden. It mainly specializes in cardiological and orthopedic rehabilitation. Therefore, there is a spacious gym equipped with modern simulators for the restoration of motor functions of patients after injuries, replacement of joints and other conditions. In addition to exercise, patients can be treated with mud and mineral waters from the thermal springs.
The rehabilitation clinic Benedictus Krankenhaus Feldafing has one of the most reputable accreditations in the field of rehabilitation - the QMS-Reha certificate. It provides the highest quality patient care. Benedictus Krankenhaus Feldafing specializes in orthopedic and neurological rehabilitation. It offers cozy rooms with a terrace and a park area for outdoor activities and walks. One of the methods of neurological rehabilitation practiced in the clinic is neuropsychology. This method is not available in all clinics, and this is an important advantage for restoring the patient's psychological health.
Rehabilitation hospital Klinik im Alpenpark is recognized as one of the best in the field of orthopedic rehabilitation according to the Focus magazine. The clinic is located on the shore of a beautiful lake. The region is rich in healing springs and alpine air.
The Median Rehabilitation Clinic Bad Berka consists of three centers of different specialization. One of them is a digestive system rehabilitation center. The second one specializes in the rehabilitation of patients after oncological, cardiovascular, gynecological and urological diseases. The third rehabilitation center specializes in psychosomatics. Mediana Bad Berka conducts rehabilitation research in collaboration with many German hospitals.
Rehabilitation Clinic Bavaria Zschachwitz specializes in neurological and orthopedic rehabilitation for children and adults. It also sees patients after cancer, metabolic and heart diseases.
Helios Klinik Geesthacht is a neurological center for children and youth. The clinic combines treatment and rehabilitation centers. Helios Geesthacht helps patients after intensive care, including those in need of recovery after being connected to mechanical ventilation. The clinic is located in a park area with recreation areas and a swimming pool.
The neurological rehabilitation center Friedehorst offers social education programs in addition to rehabilitation for patients of all ages. The Friedehorst Foundation also has a nursing school.
The St. Mauritius Therapieklinik is an academic institution. It conducts scientific research; some of them have received prestigious awards. The clinic specializes in neurological rehabilitation of patients of all ages. Particular attention is paid to child and geriatric rehabilitation. The Department of Neuropediatrics employs children with congenital disorders of the central nervous system.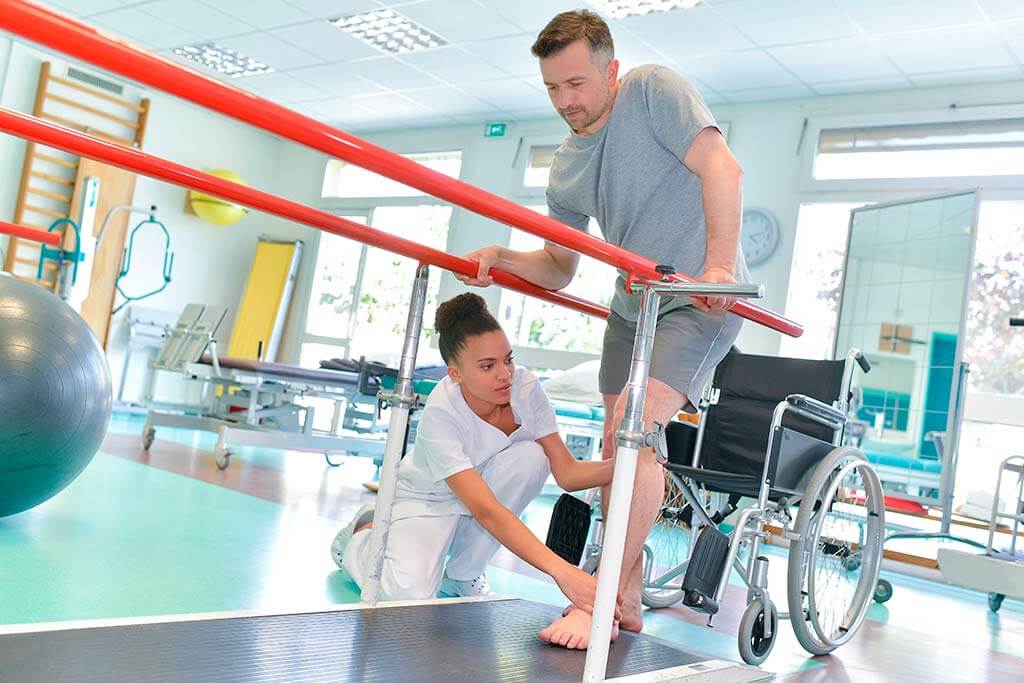 How is rehabilitation going in the best rehabilitation centers in Germany?
German rehabilitation therapists use a set of methods:
Physiotherapy. It includes a set of physical exercises aimed at developing joints and muscle tone. Many exercises are done in the pool to reduce stress, affect joints, and increase range of motion. Some exercises are performed in a suspended state on a special frame. It is used for orthopedic and neurological rehabilitation.
Ergotherapy (occupational therapy) is an important element of treatment as it allows the patient to learn how to perform tasks on their own. It is used when recovering from a stroke. The method is also relevant for patients after traumatic brain injury.
Mind exercises include video games, gadgets that help restore or develop mental abilities in people with CNS disorders.
Sensory and pet therapy (treatment with dolphins, horses, dogs) and art therapy (music, painting, etc.) help patients to restore their psycho-emotional well-being.
Proprioceptive rehabilitation in special suits stimulates the restoration of coordination of movements and a sense of one's own position in space.
Training of fine motor skills in German centers, including on robotic simulators.
Hardware physiotherapy (magnetic, ultrasound, electrotherapy, etc.) is another long-awaited addition to rehabilitation. It also uses the beneficial properties of minerals (halotherapy, mud therapy), as well as manual techniques.
Robotic walking systems and exoskeletons. These methods are used both for the restoration of the musculoskeletal system and for the treatment of neurological diseases and injuries. For example, rehabilitation of disabled people in Germany is possible thanks to such technologies. They even help wheelchair users to walk.
Rehabilitation centers in Germany also provide the services of a speech therapist, nutritionist and psychologist. Classes with a psychologist are especially relevant for the rehabilitation of children with cerebral palsy. The nutritionist creates an individual menu for patients with specific disorders (for example, a violation of the swallowing reflex).
All of these methods are used in various combinations. However, the effectiveness of rehabilitation measures is higher when using more methods.
When to start rehabilitation at a German clinic?
If a patient needs to recover from a stroke, spinal injury, or traumatic brain injury, the sooner rehabilitation treatment begins, the higher the likelihood of recovering as many functions as possible. Rehabilitation activities begin immediately after the operation. This ensures speedy recovery.
Select a rehabilitation program
How long does rehabilitation take in Germany?
The length of the rehabilitation period depends on the patient's diagnosis and on when the rehabilitation began. For example, rehabilitation after a stroke lasts from 1 month to 1 year. Rehabilitation from cerebral palsy lasts a lifetime. Postoperative rehabilitation usually takes from 21 days to several months. For example, after hernia repair or joint replacement, rehabilitation can take up to 3 months.
Choose treatment abroad and you will get the best results surely!
---
Authors: Dr. Nadezhda Ivanisova, Dr. Sergey Pashchenko
Read:
Why Booking Health - questions and answers
How to make right decision when choosing the clinic and specialist
7 reasons to trust to the rating of clinics on the Booking Health portal
Booking Health quality standards
Send a request for treatment