Due to the difficulties associated with the organization of treatment in Turkey, Switzerland, South Korea and India, we are not currently processing requests to these regions.
If you are interested in treatment in Germany, please leave a request and our specialists will contact you as soon as possible.
Neurosurgical rehabilitation is a complex medical process which involves therapeutic and pedagogical measures aimed at restoring the patient's work capacity or ability for self-care after neurosurgical procedures.
Content
The essence of neurosurgical rehabilitation
Operations on the spinal cord or brain performed to remove tumors or treat strokes, injuries and other conditions, can often result in a neurological deficit. It can manifest as a speech disorder, limb paralysis, gait abnormality, impaired coordination or even memory loss, impaired intellect, etc. The human body can draw on its own reserves for recovery. With a proper rehabilitation approach, the patient will eventually develop new synaptic connections and neuromuscular junctions. This allows the affected person to fully or partially recover the lost functions.
Germany's high quality neurosurgical rehabilitation focuses on returning the following abilities to a rehabilitative patient:
Walking
Talking
Drinking and eating
Coping with household problems and self-care without assistance
Working or even doing sports
The goal of rehabilitation as well as the possible outcome very much depends on the severity of the condition and the degree of damage to the structures of the patient's nervous system. In some cases, it is possible to achieve complete recovery, while in other situations a good result is when the patient regains the ability of self-care.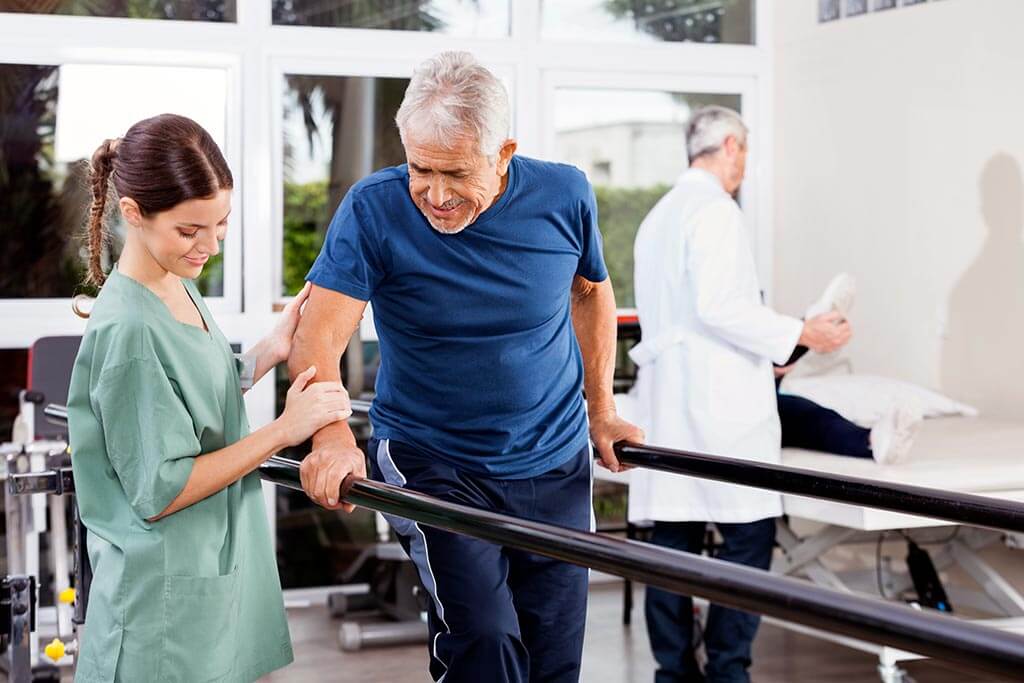 Goals of rehabilitation
Neurosurgical rehabilitation can be divided into several phases. Each of these stages pursues certain goals. In Germany, rehabilitation comprises 6 phases, which are classified by alphabetic letters: А, В, С, D, Е, F.
А and В are the earliest rehabilitation stages. The associated measures pursue the following objectives:
Maintenance of remission
Activation of the patient's self-healing mechanisms
Restoration or compensation of anatomical structures in the central nervous system
Preventing the formation of abnormal motor stereotypes
Prevention of secondary complications caused by neurosurgical disorders (infections, pressure ulcers, muscle contractures)
Phases A and B are considered the most important rehabilitation stages. In 70% of the cases an appropriate and early rehabilitation in Germany can prevent subsequent long-term nursing care.
Features of neurosurgical rehabilitation in Germany
At each rehabilitation stage, Germany uses the most advanced neurosurgical rehabilitation schemes, developed by leading German experts. The methods may vary depending on the primary neurological disorder, the patient's health status and the intended goal of the measures. In Germany, patients can start rehabilitation even if they are confined to bed. At this stage, doctors use mobile equipment including robotic technology.
In the course of neurosurgical rehabilitation, it is important to strengthen the capabilities of the body to heal itself. Some of the measures to realize that are massage treatments, acupuncture and physiotherapy.
In Germany, specialists particularly pay attention to both psychological and pedagogical components of neurosurgical rehabilitation. The patient attends classes aimed at increasing his/her motivation for recovery, as it requires a lot of effort from the patient. The patient also undergoes therapy to regain lost skills, as well as training to adapt to a life with limited possibilities.
A successful rehabilitation process requires the participation of a number of specialists:
Psychologists
Special teachers (defectologists)
Speech therapists
Physical therapy specialists
Physiotherapists
Manual therapists
Reflexotherapists
Neuropsychologists
Social workers
All large Neurorehabilitation Centers are staffed by intensive care specialists. They also fulfill the necessary requirements for providing emergency medical care to their patients in case of an abrupt deterioration of state of health.
Which centers are suitable for undergoing rehabilitation?
All German centers are well equipped and staffed by first-class specialists. That is the reason why patients from all over the world come to this country to undergo neurosurgical rehabilitation.
Leading German hospitals that admit international patients for neurological rehabilitation are:
The cost of the rehabilitation program depends on the need for hospitalization, the severity of the patient's condition, the presence of concomitant diseases and other individual factors. When assessing the cost of treatment, you can consider the following prices:
Arrangement of rehabilitation for foreign patients in Germany
A person who wants to undergo a course of neurosurgical rehabilitation in Germany can face a number of difficulties:
It can be difficult to select a hospital
It is necessary to prepare all documents to travel abroad
It is necessary to communicate and reach agreements with the hospital's administration
Arrangement of trips to Germany to receive treatment
The person needs interpreting services both in his/her home country (translation of medical documents into German) and in Germany (communication with the employees of the rehabilitation center)
All these problems can mount up to a serious obstacle for a person on his/her way to health and a decent quality of life. In that case you can contact Booking Health. We have long been engaged in the arrangement of diagnostics, treatment and rehabilitation for foreign patients in German hospitals.
These are the benefits that you will receive:
Saving time. A long waiting time can be the reason for a reduced effectiveness of the rehabilitation measures.The patient spends a lot of time communicating with the hospital administration, waiting to receive a response from the chief physician and finally they are entered into the list for an appointment. Like this, the waiting period can last for several weeks. Booking Health can arrange an appointment and the following rehabilitative measures much faster.
Saving money. We will select a hospital, offering high quality medical care at good prices.You will save on the insurance for foreign citizens, as you will be covered by German insurance via Booking Health. We will also provide an interpreter and a range of other services. Consequently, our customers save up to 70% compared to a self-arranged treatment in Germany.
Additional services. You won't have to worry about the organizational issues with neurosurgical rehabilitation in Germany. We will help you with your visa application and we will meet you at the airport and transfer you to the hospital by car. Once your treatment is completed, we will drive you back to the airport. You can get medical advice for 3 months after the completion of the rehabilitation course.
Leave a request on our site for a Booking Health specialist to contact you as soon as possible and assist you with the arrangement of treatment in Germany.
Choose treatment abroad and you will for sure get the best results!
---
Authors: Dr. Vadim Zhiliuk, Dr. Sergey Pashchenko
Read:
Why Booking Health - questions and answers
How to make right decision when choosing the clinic and specialist
7 reasons to trust to the rating of clinics on the Booking Health portal
Booking Health quality standards
Send a request for treatment