Due to the difficulties associated with the organization of treatment in Turkey, Switzerland and South Korea, we have currently suspended the processing of requests to these regions.
If you are interested in treatment in Germany, please leave a request and our specialists will contact you as soon as possible.
Medical tourism is a purpose driven travel outside your country to obtain foreign healthcare services. This is a popular trend especially in the developed countries. Medical tourism is rapidly developing. It is expected that by 2017 the turnover of medical tourism will be around €680 billion, which is safe to say that this trend is not going to die any time soon.
Medical tourism aims
The main purpose of the trip is to improve the quality of diagnosis and treatment. Medical tourism can also be used for other reasons, for example:
To receive healthcare services banned at home (eg,surrogate motherhood, abortion)
To reduce the cost of treatment
Combine treatment with recreation
To reduce the waiting time for surgical intervention
For the treatment of rare diseases
Basic healthcare services that are desired by medical tourists:
Any diagnostic, therapeutic and recreational services are popular. Nonetheless, some are more popular than others. Basically, these are high-tech medical fields that are inaccessible to the population of most countries, or the quality of therapeutic measures remains low.
The five most common areas for medical tourism destinations are:
Neurosurgery (surgery on the brain and spinal cord)
Ophthalmology (restoration of vision)
Transplantology (transplantation of organs and tissues)
Cardiology, hematology, orthopedics, reproductive medicine, dentistry remain some of the most sought after fields in medicine . Depending on the purpose of treatment, patients choose the country where to get treatment. For example, to carry out high-tech operations people often go to Swiss hospitals. Transplantology is popular in Iran and some other countries in Asia, because there it is legally possible without any problems. In some countries all areas of medical tourism are developed for instance in the US, Germany and other large states with well funded healthcare system.
Health tourism
According to one of the classifications, medical tourism is divided into three types:
Diagnostic with the aim to confirm the diagnosis, define the stage and prevalence of the pathology, peculiarities of the disease clinical course;
Medical puts an aim to receive healthcare services: conservative therapy, invasive manipulation, surgical operations, rehabilitation measures;
Health tourism includes aesthetic, rest and rehabilitation, healthcare services received by a healthy person (eg,plastic surgery, dental manipulation, health retreat).
Health tourism is the one that covers the largest flow of patients who travel outside their country. People go to SPA-resorts or SPA-hotels all over the world to improve their health. Most popular countries among the tourists are:
Germany has more than 300 health resorts on its territory
Austria, Switzerland - here come those who wish to spend time at the mountain and balneological resorts
Czech Republic. Karlovy Vary is one of the most popular resorts in the country among tourists from all over the world
Turkey, Egypt are climatic resorts that attract tourists
Spain, Greece, Portugal - are famous for their seaside resorts
Israel - is very popular among foreign tourists who want to improve their well-being at the Dead Sea
India, China - there are resorts where eastern methods or alternate remedies of recovery are used along with SPA-procedures
At the resorts a person relaxes spiritually and physically. In parallel, he has the opportunity to assess the state of health by consulting doctors and undergoing diagnostic procedures. He is offered standard recovery programmes that are aimed at rejuvenating and restoring the body, stimulating all biological functions.
If necessary, you can include additional procedures, which are selected individually, based on the patient's age, health status, and the purpose of arrival to the resort.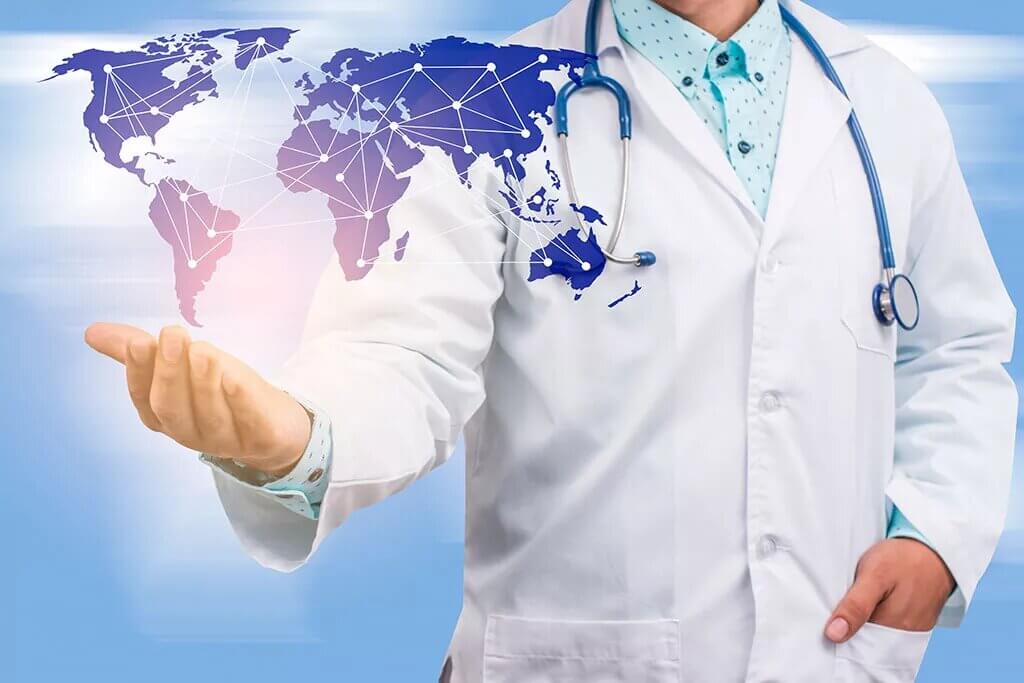 Countries with the best developed medical tourism
Medical tourism is best developed in countries that meet one or more of the following criteria:
High level of healthcare development
Low costs of surgical interventions, assisted reproductive technologies or other medical services
Good climate, the possibility of undergoing health procedures that are inaccessible in regions with other climate conditions
The main countries that receive the most medical tourists from all over the world are:
Germany
Israel
Turkey
India
Thailand
South Korea
the USA
Hungary
United Arab Emirates
Certain states are popular thanks to its high level of healthcare. Germany, Israel and the USA are among the top medical tourist destinations. At the same time, such countries as India and Thailand mainly admit patients who want to save money on the diagnostic and therapeutic procedures.
If you want to undergo diagnosis, treatment or rehabilitation in the one of the best hospitals in Germany or other developed European countries, we can help you. Our highly informed team can provide you the necessary information to help you choose a suitable hospital.
Here are some of the advantages of choosing treatment in a economically and medically advanced country:
Quality of medical services. We cooperate only with the best hospitals in Europe. Once your request is made, we will help you to choose a medical institution specialising in the treatment and diagnosis of a specific group of diseases, including rare conditions.
Financial benefit. We are committed to the principle of full financial transparency. You can request a report on all medical and other expenses at any time. We will help you to receive the best possible treatment that is cost efficient. Your benefit will be 20-30% of the total cost of the therapeutic and diagnostic procedures.
Reliability and guarantees. You will be insured against unforeseen medical expenses, that may occur during the period of your hospital stay or within 48 months after the course of therapy. The maximum total amount for insurance payments is € 200 000.00
We undertake to carry out the following obligations, the choice of the hospital, transfer, documents and practical issues. You can fully concentrate on your treatment and focus on the positive outcome of a potentially renewed stated of mind and health.
Choose treatment abroad and you will for sure get the best results!
---
Authors: Dr. Nadezhda Ivanisova, Dr. Farrukh Ahmed
Read:
Why Booking Health - questions and answers
How to make right decision when choosing the clinic and specialist
7 reasons to trust to the rating of clinics on the Booking Health portal
Booking Health quality standards
Send a request for treatment