Due to the difficulties associated with the organization of treatment in Turkey, Switzerland, South Korea and India, we are not currently processing requests to these regions.
If you are interested in treatment in Germany, please leave a request and our specialists will contact you as soon as possible.
ENT diseases include pathologies of the ear, throat and nose. Otolaryngologists are also engaged in the treatment of diseases of the salivary glands, trachea and other organs located in the head and neck.
To receive high quality medical services,many patients suffering from hearing and speech disorders, oncological diseases or chronic inflammatory processes seek medical help in German clinics.
Content
What diseases can be treated in Germany?
German clinics deal with the treatment of any ENT diseases, includingrare conditions.
Here are some of the main groups of pathologies with which medical tourists from all over the world seek help from German medical institutions:
Ear diseases. German clinics provide either microsurgical or conservative treatment of middle ear pathology. Patients can undergo quality diagnostics and receive conservative treatment for inflammatory diseases. If necessary, doctors can implant hearing aids.
Nose disorders. In Germany one can undergo the most advanced endoscopic surgical procedures to drain and sanitize sinuses. Those are guided by the state-of-the-art surgical navigation systems. There are also offered surgical interventions to reshape the nose or nasal septum. Reconstructive surgery used in the treatment of nose injuries is also well developed. When choosing the method of surgical access, preference is always given to minimally invasive endoscopic interventions. They provide the best aesthetic effect (less scars on the face) and a short recovery period.
Salivary gland diseases. German clinics perform surgical treatment of salivary gland tumors. If the patient develops stones in the ducts of the salivary glands, doctors will perform lithotripsy (breaking of stones). The treatment of parotid gland disorder involves the use of microscopically controlled surgery.
Laryngeal disorders. German clinics have ample opportunity for high quality diagnostics of conditions affecting larynx. The diagnostic methods include stroboscopy, myography, endoscopy, MRI and CT. To treat laryngeal diseases, doctors use surgical, microsurgical and conservative methods, as well as laser surgery.
Tracheal disorders. In Germany, doctors treat inflammatory conditions, tumors and eliminate the consequences of injuries. Tracheal stenosis is treated by means of surgical interventions. These may be either traverse resections or stenting.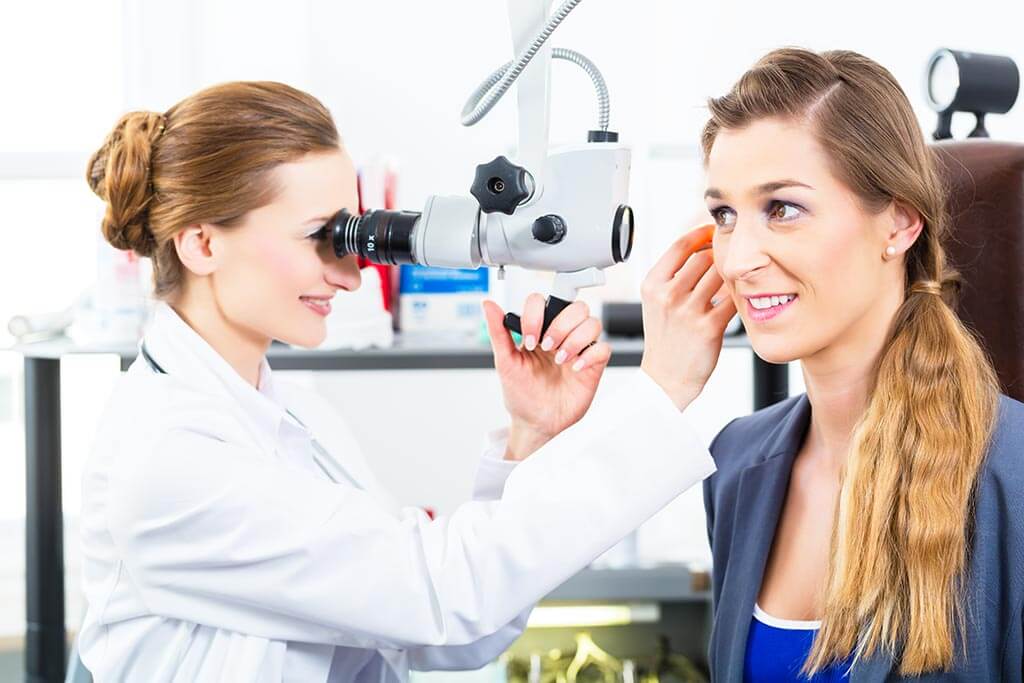 Benefits of treating ENT diseases in Germany
Below are the main benefits of treating ENT diseases in German clinics:
Cutting-edge diagnostic methods that are not used in most clinics in developing countries
Clinics are fitted with good equipment, and therefore can offer the very latest medical manipulations and surgical procedures
Surgical interventions are mostly minimally invasive and that is why they are safe. Another advantage is faster rehabilitation of patients
Microscopic, laser and endoscopic surgeries
Germany employs some of the best otolaryngologists in the world
All these benefits contribute to the large flow of medical tourists from all over the world who are receiving treatment of ENT diseases in Germany.
What clinics can offer their services?
Most of multispecialty clinics have the Departments of Otolaryngology. Here are some German health facilities where you can undergo treatment:
University Hospital Halle. The clinic offers its patients modern diagnosis, both conservative and surgical treatment of ENT diseases, phoniatrics and pedaudiology. Here,one can receive a wide range of services. Such medical focuses as rhinology, somnology, electrophysiology and neurotology are well developed in the hospital.
University Hospital Aachen. The Hospital Aachen has the Department of Otolaryngology, Plastic Head and Neck Surgery where medical care is provided to the patients with hearing, voice and speech disorders. There are offered microsurgical interventions and cochlear implantations. Inaddition, thereisthe Center for Children's Rehabilitation.
University Hospital Tubingen. The Department of Otolaryngology at the University Hospital Tubingen annually treats 40,000 patients and performs 5,500 surgical procedures. Here one can find one of the best Head and Neck Cancer Centers in the country. It is part of the Comprehensive Cancer Center Tubingen. The department also integrates the Hearing Implant Center that provides treatment of all ear, throat and nose disorders.
Arrangement of treatment of ENT diseases in Germany
To arrange treatment in Germany, you can use Booking Health services. We have been engaged in medical tourism for many years and we are experts in this field. We work in 75 countries around the world.
With the help of our specialists, you will be able to:
Fully focuson your treatment, while we will take care of all organizational issues, such as arrangements with the clinic administration, timing of treatment, visa application, booking airline tickets, transfer from and to the airport
Save up to 70% of the funds from the amount you wouldspend on the treatment and its organization, if you arrangeda trip to Germany on your own
Get good insurance, which will cover any unforeseen medical expenses. It will be valid for the next 4 years and will cover costs of up to 200,000 euros
To take advantage of the services rendered by the Booking Health specialists, please leave a request on the website. We will consider it as soon as possible and one of our service managers will contact youto consult on the arrangement of treatment in Germany.
Choose treatment abroad and you will for sure get the best results!
---
Authors: Dr. Nadezhda Ivanisova, Dr. Sergey Pashchenko
Read:
Why Booking Health - questions and answers
How to make right decision when choosing the clinic and specialist
7 reasons to trust to the rating of clinics on the Booking Health portal
Booking Health quality standards
Send a request for treatment