Due to the difficulties associated with the organization of treatment in Turkey, Switzerland and South Korea, we have currently suspended the processing of requests to these regions.
If you are interested in treatment in Germany, please leave a request and our specialists will contact you as soon as possible.
Medical tourism is one of the fastest growing industries that appeal to people who are serious about their health. Patients all over the world look for better treatment in other countries, sometimes combining a thorough healthcare service and a nice vacation. Germany, Switzerland, Austria, Israel, the USA and Canada are the leaders in top-quality healthcare services.
Content
Types of medical travel
There is a difference between the three basic categories of medical travel. It is based on determining the patient's main goal for seeking treatment abroad:
Wellness tourism includes health replenishment tours, detox and spa procedures aimed at restoring and reviving one's health, thus increasing immunity.
Diagnostic tourism includes examination of a patient using laboratory and instrumental methods in order to establish an accurate diagnosis and assessment of the clinical course of the disease.
Treatment tourism presupposes therapy and rehabilitation.
The world has become closer, globalisation has made it possible for people to move between countries in favour of a different kind of experience or service. Hence the number of people who travel to other countries to receive healthcare services is growing annually.
Medical tourism in figures:
85% of patients look for treatment abroad because they want to get better healthcare
27% of medical tourists have previously been treated abroad at least once
36% of patients use the services of companies that arrange treatment abroad
7-14 Thousand dollars on average is spent on a medical tourist per trip
45-65 years is the age when people most often go abroad for treatment
30 million people a year are treated or recover outside their home country
Goals of medical travel
Countries that receive the largest number of tourists from all over the world have one or more of the following benefits:
Availability of special climate conditions (therapeutic mud, thermal springs, etc.)
The possibility of conducting operations or medical manipulations at lower prices
The possibility of providing high-tech healthcare services that are inaccessible in other states
Use of the latest technologies, which are often inaccessible in domestic hospitals, is among the main reasons for medical tourism.
The latest technologies include:
The use of these techniques makes it possible to carry out qualitative treatment that will significantly increase life expectancy or completely cure a dreaded disease.
Other causes that motivate patients to go abroad for treatment are:
Saving funds
Need for the procedures abandoned at home (abortion, surrogate motherhood, sex change, etc.)
A wish to combine treatment with a vacation
A need to reduce waiting time of medical help
Treatment of rare diseases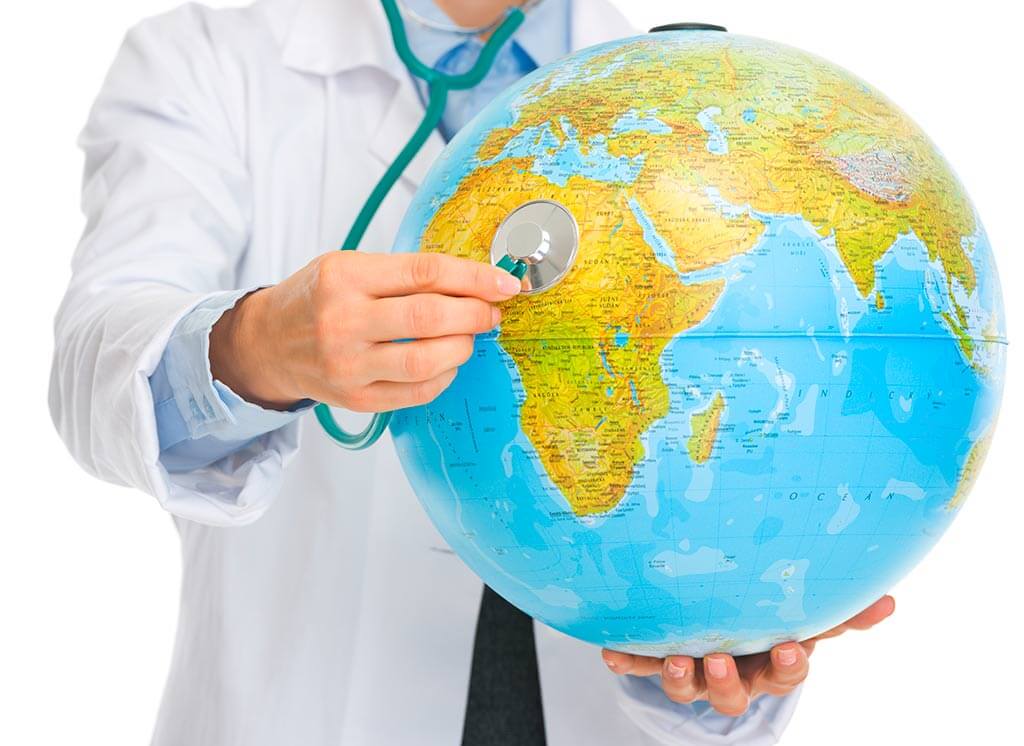 Benefits of the medical travel
Depending on the country that you travel to, treatment abroad can be a safer option, due to the high-quality and timely healthcare. Some countries offer the very best foreign experts, professionals in their field at your service. The medical staff will provide you with round-the-clock care, support and attention and all that is necessary for a quick recovery and rehabilitation.
The latest methods of treatment, as well as ideal medication, which often cannot be found in the domestic market, are some of the significant advantages of foreign healthcare systems.
You can easily combine business with pleasure upon embarking on a medical travel: in addition to pursuing health and wellness, you can also turn it into an unforgettable vacation abroad. Favourable climatic and social conditions, add to the comfort and excellent service of foreign hospitals, making it easier to recover!
These are the most popular directions of medical tourism:
Oncology (Israel, Germany)
Cardiology and cardiac surgery (Germany, Israel)
Plastic surgery (the USA, Thailand, South Korea)
Dentistry (Czech Republic, Poland)
Gynaecology (Israel)
Orthopaedics (Germany, Switzerland)
Spa- and detox tourism (Hungary, India, Thailand, France, Maldives)
Ophthalmology (Germany, South Korea, Poland).
Treatment abroad gives hope for recovery to thousands of patients from all over the world! Reliability and the quality of foreign hospitals and doctors' professionalism attracts many patients with life threatening diseases.
Medical tourism has given rise to a new concept of world healthcare. A tourist chooses a country, a doctor and a clinic where he can be offered the best treatment and diagnostics if he/she is unable to solve such health problems at home.
Choice of the hospital for treatment
Lots of patients wish to undergo treatment programmes abroad, however they are often afraid of many organisational issues. How do I choose a hospital? How do I talk to the management of a medical institution about the course of therapy? How to get an invitation from the head physician and apply for a visa? How not to overpay for treatment? How to communicate with medical specialists without knowing the language?
All these and many other problems are easily solved with the help of a medical reservations services abroad called Booking Health.
The site contains:
More than 250 hospitals
More than 700 thousand therapeutic programmes
Using our assistance or on your own, you can find the best suitable hospital. All the prices you see on the web site are up-to-date and actual. You can choose the treatment programme at the cost suitable especially for you.
BookingHealth company will help you to arrange treatment abroad as we offer:
Help in obtaining a visa
Help in selection of the hospital and optimising the medical programme
Insurance against unforeseen medical expenses for up to 200 Thousand Euros
The possibility of booking hotels in Germany as well as the flight tickets
Transfer from the airport to the clinic
Interpreter for oral and written translation
Choose treatment abroad and you will most likely be satisfied with the result, investing wisely in your health for the years to come! Booking Health company will help you save up to 70% of the total cost of the therapeutic course.
Choose treatment abroad and you will for sure get the best results!
---
Authors: Dr. Nadezhda Ivanisova, Dr. Sergey Pashchenko
Sources:
IMTJ – International Medical Travel Journal
Centers for Disease Control and Prevention
Read:
Why Booking Health - questions and answers
How to make right decision when choosing the clinic and specialist
7 reasons to trust to the rating of clinics on the Booking Health portal
Booking Health quality standards
Send a request for treatment