Due to the difficulties associated with the organization of treatment in Turkey, Switzerland, South Korea and India, we are not currently processing requests to these regions.
If you are interested in treatment in Germany, please leave a request and our specialists will contact you as soon as possible.
The reasons why children might need an orthopaedic doctor are numerous. It can be minor developmental issues or congenital defects of joints development, traumas, posture disorders, scoliosis, autoimmune or infectious inflammatory processes that can lead to the deterioration of the joints. Since many of these pathologies have a more severe course in children than in adults, it is important to find competent specialists who know all the features of the diseases that affect children.
Content
Features of orthopaedic pathologies in children
The formation of the skeleton of the human body comes of age between 21-25 years. It is at this age that bones and joints finally stop growing, and the cartilaginous "growth zones" in the diaphysis region to form bone structure
Features of orthopaedic pathologies in children are due to the fact that they still grow. Wherein:
Children are more prone to inadequate immune responses, such as allergies or autoimmune diseases, due to the high activity of metabolism and the undeveloped immune system.
Congenital syndromes and anomalies in the development of the osteochondral cartilage, the development and growth of adjacent organs, bones and joints with the affected area is delayed in their development.
Congenital developmental anomalies usually affect the entire group of joints and lead to pronounced changes in their structure, which makes the conditions of endoprosthetics more complex. There is often a need for reconstructive interventions.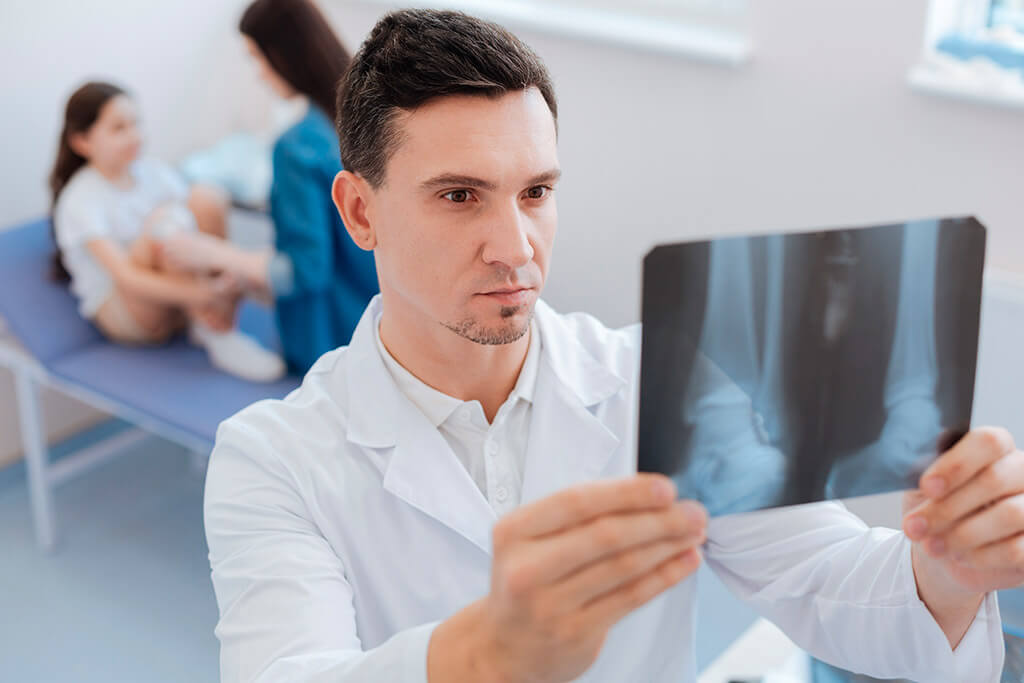 Benefits of treatment in Germany
Most parents treat their children in the hospitals of their home country, since they do not have means to obtain high-quality medical services abroad. However, people with means prefer Germany. Here, the greatest possible results are obtained from treatment.
Pediatric orthopedics in Germany has many brag worthy advantages such as:
Experienced medical personnel. Doctors engaged in the treatment of children's musculoskeletal system are competent, have extensive experience and select methods of treatment, taking into account both the age and individual characteristics of the patient.
Application of multidimensional endoprosthetics. Multidimensional endoprosthetics are used for dysplasia of the hip joint treatment. Since the child's body is actively growing, the usual methods that are used in adults are not always effective.
Use of the most gentle and minimally invasive methods of treatment. Therapy in Germany is aimed at maximum organ conservation. Preference is always given to minimally invasive surgery techniques to shorten the period of postoperative recovery and reduce the risk of complications.
Availability of all modern operations. Innovative schemes of reconstructive intervention for restoring soft tissues (lengthening of the tendon) are used in Germany. Complex manipulations with the use of distraction-compression apparatuses and osteotomy are carried out if limb correction is necessary.
Microsurgical interventions. Microsurgical operations are widely used here. When the deep structures of the joints are damaged, such interventions are carried out under visual control of CT or MRI. For scans, the latest state-of-the-art devices with high resolution and 3D digital models are used.
Extensive rehabilitation programs for patients. Patients can receive a number of physiotherapy sessions that help with neuro-orthopedic diseases: acupuncture, massage, electromyostimulation and others. Rehabilitation programs are developed in a comprehensive way and help to achieve significant progress in various diseases, including their post surgical treatment.
Comfortable conditions and service. German hospitals are equipped so that the living conditions are cozy for small patients and their parents. Here, wishes are taken into account regarding the menu and the conditions of stay in the wards. Care of the children is carried out by medical personnel who have previously passed specialized courses relevant to children's needs.
Cooperation with related specialists. German orthopadeics cooperate with specialists from other specialized centres. This helps to significantly improve the quality of treatment, for example, treatment of neuro-orthopaedic diseases.
Carrying out complex surgical interventions. Scoliosis of the lll-lV degree is treated in Germany by fixing the correct position of the spinal column with the help of special, implantable implants. The implant structures are made of bioinert materials and alloys.
German hospitals to undergo treatment
Many German hospitals have departments of pediatric orthopaedics and traumatology. There are also specialized medical institutions here, whose activities are related to the treatment of musculoskeletal system diseases. Here are some of them:
Arrangement of treatment in Germany
You can use the service of Booking Health to select a hospital. It is an international reservation system for treatment in the best European hospitals.
You can use our services for treatment in Germany. Here are some of the advantages:
The ability to save up to 70% of the total treatment and rehabilitation cost
All programs are insured, so the cost of treatment is guaranteed not to increase, even if complications develop
Full package of services, including interpretation and translation, transfer to the hospital and airport, assistance in obtaining a visa
Free consultations with the doctor within 3 months after completion of the treatment and rehabilitation program
You no longer need to choose a hospital on your own, negotiate everything with the administration of the medical institution, and look for an interpreter, because all the organizational issues are taken up by Booking Health specialists. You will need to focus on your child's health, his/her treatment and ensuring his/her moral support.
Choose treatment abroad and you will for sure get the best results!
---
Authors: Dr. Vadim Zhiliuk, Dr. Sergey Pashchenko
Read:
Why Booking Health - questions and answers
How to make right decision when choosing the clinic and specialist
7 reasons to trust to the rating of clinics on the Booking Health portal
Booking Health quality standards
Send a request for treatment