Due to the difficulties associated with the organization of treatment in Turkey, Switzerland, South Korea and India, we are not currently processing requests to these regions.
If you are interested in treatment in Germany, please leave a request and our specialists will contact you as soon as possible.
Glaucoma is considered to be a disease that generally affects the elderly, because with age the risk of developing this pathology increases. However, this does not necessarily mean that children and young adults can not suffer from glaucoma. Both congenital and acquired glaucoma are sometimes found in children. Without timely treatment, it can lead to irreversible blindness which occurs as a result of optic nerve atrophy.
Content
Congenital glaucoma
Congenital glaucoma is a pathology that originates either during prenatal development or shortly after the birth of a child. The pathology can develop sporadically or it can be genetically inherited. Symptoms of glaucoma can be detected both immediately after the birth of the baby or few years later. Sometimes vision begins to deteriorate only during the teenage or adolescence years.
The most common age intervals when congenital glaucoma tends to manifest itself are:
Within 1-2 months after birth - the most unfavorable case which requires urgent treatment
At the age of 3-4 months - symptoms appear when the anterior part of the eye starts to stretch
1 or 2 years of age - benign case of congenital glaucoma, characterized by slow development
3-10 years of age - this type of congenital glaucoma is known as the "delayed" one
Little children are unable to tell when their vision starts to deteriorate. Therefore, diagnosis of their cases is based on objective examination. The doctor primarily notices if there is corneal opacity. There could also be complaints about photophobia, lacrimation and spasms of the eyelids. The final diagnosis is established with the help of instrumental methods.
Juvenile congenital glaucoma has a different nature of development. It can start to manifest itself from the age of 11 up to 35 years of age. The cause of this condition has not been determined yet. However, the link between genetic predisposition and its development has been established.
Acquired Glaucoma in Children and Young Adults
Acquired glaucoma is relatively rare among young people. Nevertheless, its prevalence increases dramatically with age. Glaucoma is diagnosed in 15% of people over the age of 80. Between the ages of 60-70 years the prevalence of acquired glaucoma reaches 2.8%. At the same time, acquired glaucoma develops with a frequency of only 0.1% among 40-50 year olds.
Although the risk of acquired glaucoma is lower in young people than it is in the elderly, the risk still exists. At its initial stage glaucoma is not manifested by any symptoms. Therefore, the check-up of intraocular pressure at least once a year would be a highly beneficial procedure. If glaucoma is detected early, irreversible damage can be avoided by applying conservative or surgical treatment.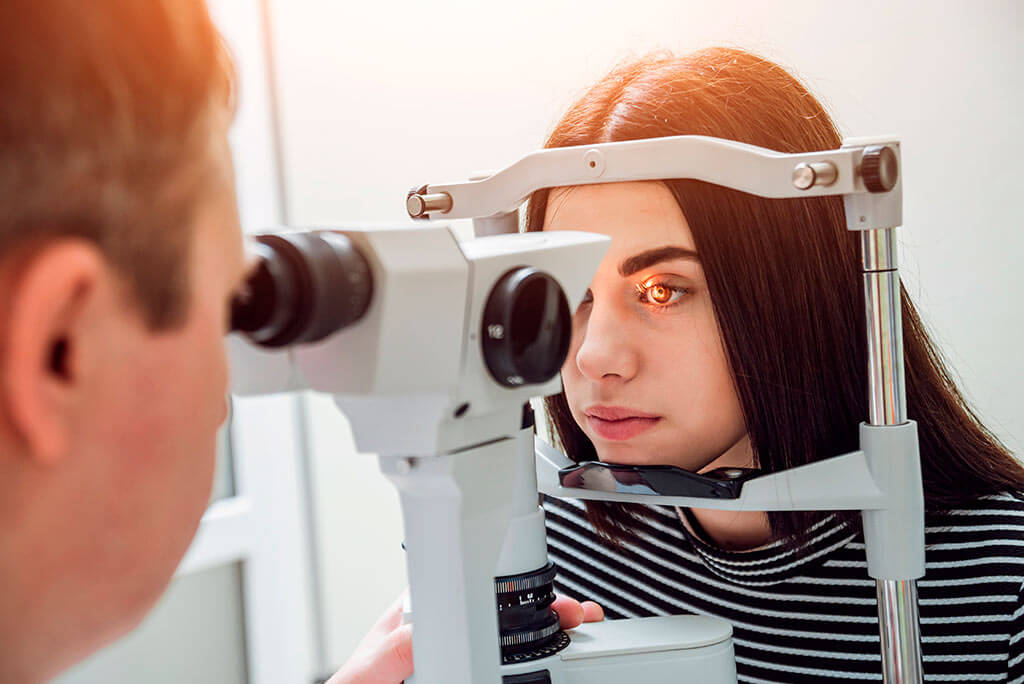 Treatment of Glaucoma in Germany
Some patients undergo chronic treatment of glaucoma. They use eye drops to reduce intraocular pressure. In most cases, this measure helps to prevent negative effects on the optic nerve and helps preserves the vision.
However, regular and the lifelong use of drops has its obvious drawbacks:
Constant dependence on medications
Drops can stop being effective, and without a diagnosis a person may not find out about it on time
Glaucoma can still be developing even if there is no increased intraocular pressure
Conservative therapy is not effective enough in 20% of patients
Constant financial burden - good eye drops are expensive, and their life-long usage can cost a fortune
Considering the above mentioned, radical treatment of glaucoma is a more preferable choice. Most cases of glaucoma are successfully cured once and for all by radical treatment. The surgery which restores normal circulation of aqueous humor is enough.
Such surgeries are successfully held in Germany. Advantages of undergoing surgery in Germany include:
Opportunity to quickly and permanently cure glaucoma - intraocular pressure will never rise again
The newest surgery techniques which provide short recovery period
Extremely low incidence of complications, which makes the risks of recurrent surgical intervention purely theoretical
Quality diagnosis - different forms of glaucoma require different treatment options, so you need to accurately determine the type of glaucoma before having surgery
Minimal risk of recurrence due to the best choice of surgical approaches and the use of modern surgical techniques
Ophthalmology in Germany is considered to be one of the strongest in the world. You can eliminate disease forever on at out-patient basis and retain high visual acuity up to the oldest age.
Clinics where you can get treatment
Any major clinic in Germany has an ophthalmology department, where glaucoma surgeries are successfully and effectively performed. Here are a few examples:
University Clinic of Tübingen. Ophthalmology department has been functioning since 1904. There are four divisions that deal with different eye pathologies and four well-equipped operating rooms. About 6,000 in-patient people are treated here annually.
University Hospital Erlangen has one of the largest ophthalmological departments in the country. Pathologies of any severity are successfully treated here. There are 7 operating rooms where patients from all over the world undergo treatment. The department is considered to be a supra-regional center as it provides treatment for the most severe ophthalmic diseases due to high level of its doctors` expertise.
University Hospital Halle has one of the oldest ophthalmologic departments. Its history dates back more than 100 years. New methods of treating eye diseases are constantly being developed here. Diagnosis and surgical treatment of glaucoma are one of the most sought-out services provided by this department.
Organizing treatment in Germany
Booking Health will create the opportunity for you to have treatment in Germany and to use the services of the world's best ophthalmologists.
Our advantages:
Short waiting time for the doctor
Opportunity to get treatment at any clinic of your choice
Saving on up to 70% on medical services
Full package of services is included (preparation of documents, visa processing, transfer from the airport to the clinic and back, support during the whole stay at the German clinic)
Insurance against unforeseen medical events
To book a treatment in Germany with Booking Health, leave a request on the site. We will get contact you within several hours.
Choose treatment abroad and you will for sure get the best results!
---
Authors: Dr. Nadezhda Ivanisova, Dr. Sergey Pashchenko
Read:
Why Booking Health - questions and answers
How to make right decision when choosing the clinic and specialist
7 reasons to trust to the rating of clinics on the Booking Health portal
Booking Health quality standards
Send a request for treatment