Due to the difficulties associated with the organization of treatment in Turkey, Switzerland, South Korea and India, we are not currently processing requests to these regions.
If you are interested in treatment in Germany, please leave a request and our specialists will contact you as soon as possible.
According to the World Health Organization, osteochondroma is an osseous projection covered by a cartilage layer that arises on the external bone surface. Such neoplasms generally arise in the immature skeleton, i.e. in children and young adolescents. Debate still continues as to the benign or potentially malignant (pseudotumoral) nature of osteochondroma. Howbeit, it causes a number of worrying symptoms and can mask more severe or even malignant conditions. Differential diagnosis of osteochondroma is carried out in specialized orthopedic departments that have vast clinical experience in treating rare bone pathologies.
Content
Clinical symptoms and instrumental examination
Osteochondroma causes bone deformity or destruction due to the growth of its superficial cartilaginous part. It can reach size of 5 cm or even more. Thus, it causes pressure on the adjacent muscles, blood vessels and nerves. These lead to the various clinical manifestations, like:
Different length of arms or legs (in affection of the knee or shoulder joint)
Lower height compared to the mean age-specific values (in hip affection)
Presence of the palpable neoplasm (typically it is immobile and painless)
Tenderness of the nearby soft tissues and muscles
Pain during the physical activity (when a neoplasm is located under a tendon)
Disturbances of the sensitivity or cramps (in nerves involvement)
Nevertheless, such complaints and manifestations are not pathognomonic signs of osteochondroma. Only an experienced orthopedic doctor can determine the final diagnosis correctly. In addition to the clinical examination, the following instrumental studies are carried out during the diagnostics:
X-ray examination provides clear pictures of bones and other dense structures, revealing the bony component of a tumor.
Imaging scans (CT, MRI) provide the details of soft tissues structure and cross-sectional images. MRI also allows investigating the cartilaginous component of an osteochondroma. Detecting medullary and cortical continuity of the neoplasm with the main bone is a pathognomonic osteochondroma feature.
Biopsy specifies the histological structure of a neoplasm and helps differentiating osteochondroma from any malignant formations. The procedure includes harvesting a tissue sample and requires local anesthesia.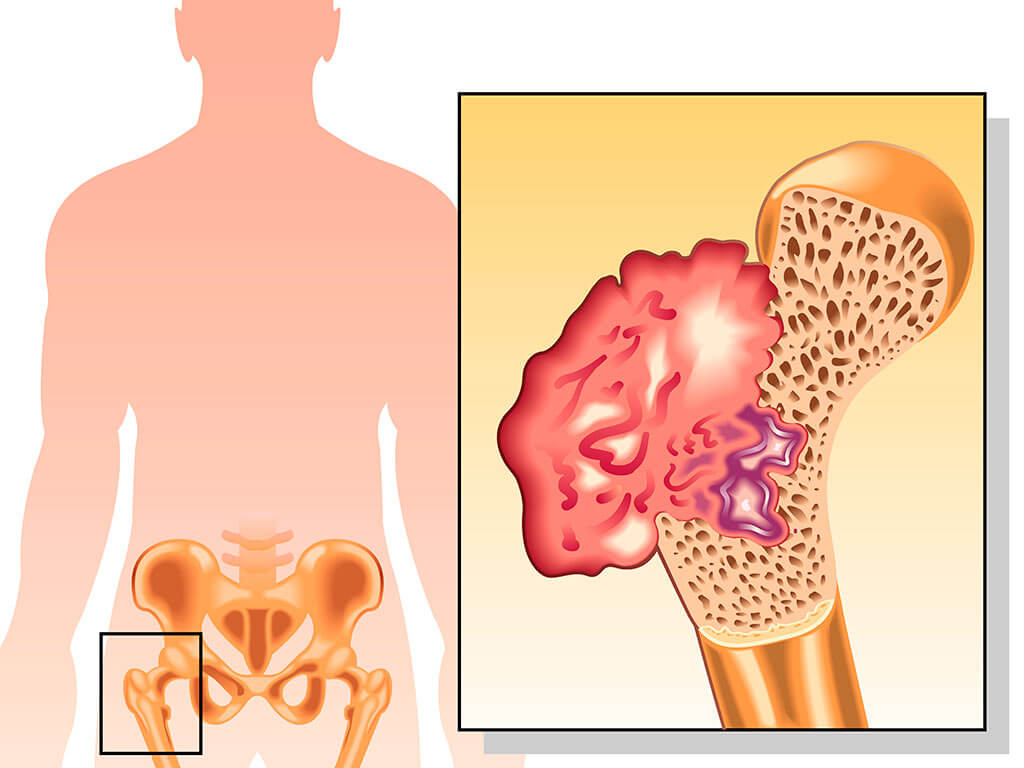 Differential diagnosis
Based on the results of clinical examination, laboratory tests and visualizing studies, a doctor makes a provisional diagnosis. The final diagnosis is made after excluding all the pathologies that can be similar to an osteochondroma in clinical manifestations and radiological picture. Determining the exact pathology is essential, as an osteochondroma may require no more than active surveillance, while an osteosarcoma requires urgent surgery.
Thus, the differential diagnosis for an osteochondroma includes both malignant and benign pathologies:
Subperiosteal hematoma. This is a surface lesion connected with a history of prior trauma. Subperiosteal hematoma mainly consists of organized thrombi, but may also have cystic or mineralization areas.
Subungual exostosis (Dupuytren exostosis). This is a superficial bone growth of unknown etiology. It is typically located near the nail bed and can be accompanied by skin ulceration or pain.
Turret exostosis is an extracortical bone growth in the middle or proximal finger phalanx. It is not characterized by the medullary continuity, as the exostosis takes start in the superficial cortical layers.
Dysplasia epiphysealis hemimelica (Trevor disease) is a rare condition characterized by the multiple osteochondromas development. In Trevor disease osteochondromas arise from the epiphysis of the of the lower extremities' bones. This is a hereditary condition without a malignant degeneration.
Bizarre parosteal osteochondromatous proliferation (Nora lesion) arise in the hands and feet, as the superficial lesion without medullary continuity. Despite the risk of malignant degeneration, cases that lead to functional disturbances are eligible for surgical treatment.
Juxtacortical chondroma is a superficial lesion that leads to the saucerization of the nearby cortex and periosteal reaction. This is a benign periosteal neoplasm with internal calcifications that requires surgery and may recur if excised incompletely.
Parosteal osteosarcoma is a malignant tumor arising on the surface of long bones (e.g. hip or humerus). In advance stages, it can invade the medullary space and, thus, resemble an osteochondroma radiologically.
Individual treatment options
When confirming the diagnosis of a benign tumor (e.g. osteochondroma, juxtacortical chondroma, subungual exostosis, etc.), doctor chooses between the non-surgical and surgical treatment. In malignant tumors (e.g. parosteal osteosarcoma) surgery is the first-line therapy.
Non-surgical treatment is mainly suitable for patients with solitary lesions that do not demonstrate significant growth. It includes watchful waiting with regular visualizing studies (X-ray) and medications to control pain (if necessary). Nevertheless, timely treatment of benign tumors allows preventing the cosmetic deformity, mechanical complications (e.g. blocking the adjacent joint) or malignant transformation. Thus, in case of osteochondroma growth or transformation doctors consider more invasive interventions.
Surgery resection of osteochondroma or another benign tumor includes removing the neoplasm at the level of normal bone. The intervention is quite invasive, thus it is performed under general anesthesia with combination of intravenous medications and inhaled gasses. Additional surgical procedures may be required in case of severe bone deformities (e.g. the bone is crooked), functional lesions (e.g. affection of tendon's structure) or significant difference between the length of legs.
Treatment all over the globe with Booking Health
Making the correct diagnosis of osteochondroma and choosing an optimal therapeutic regimen may be rather challenging and require teamwork of experienced orthopedic doctors and surgeons. Choosing the specialized healthcare facility and doctor is the first step towards the successful result. As the experienced international medical tourism operator, Booking Health offers the informational support, as well as assistance in medical and non-medical issues:
Choosing the right hospital in Germany or other foreign country based on the specialization and annual qualification profile
Establishing communication with the desired orthopedic doctor
Preparing a diagnostic or treatment program in advance, explaining all the procedures
Providing favorable cost for treatment, without overpricing and additional fees (saving up to 50%)
Booking the appointment in the hospital or surgery date
Monitoring medical program at all stages
Insurance against the cost of treatment increase in case of complications (а coverage of 200,000 EUR, valid for 4 years)
Help in buying and forwarding of medical products, if necessary
Communication with clinics after the treatment completion
Arrangement of follow-up tests, rehabilitation, distant consultations
Control of the final calculation and return of unspent funds
Booking hotels and plane tickets, transfer organization
Services of personal medical coordinator and interpreter while staying abroad
Should you leave the request with the help of "Send request" form on the website of Booking Health, a patient case manager or medical advisor will contact you the same day and discuss all the details of your condition.
Choose treatment abroad and you will for sure get the best results!
---
Authors: Dr. Nadezhda Ivanisova, Dr. Sergey Pashchenko
Read:
Why Booking Health - questions and answers
How to make right decision when choosing the clinic and specialist
7 reasons to trust to the rating of clinics on the Booking Health portal
Booking Health quality standards
Send a request for treatment