Due to the difficulties associated with the organization of treatment in Turkey, Switzerland, South Korea and India, we are not currently processing requests to these regions.
If you are interested in treatment in Germany, please leave a request and our specialists will contact you as soon as possible.
Hidradenitis suppurativa is a chronic recurrent disease associated with inflammation of the apocrine sweat glands. The inflammatory process primarily affects hair follicles and then spreads to the apocrine glands. The disease poorly responds to treatment. Hidradenitis suppurativa has a high prevalence affecting 1-4% of the population in various countries.
Content
Disease characteristics
Inflammation of sweat glands is caused by bacteria. However, all people have bacteria on their skin, but only some of them have hidradenitis. The disease develops when predisposing and triggering factors are present.
The major risk factors are:
Female gender
Heredity
Use of hormonal contraceptives
Smoking
Diabetes
Obesity
Overweight is a proven risk factor for hidradenitis suppurativa. The more obese a person is, the more severe form of the hidradenitis suppurativa he risks to have.
Microfissures of the skin seem to be the triggering factors of the process. This is confirmed by the fact that hidradenitis occurs predominantly in the areas of high mechanical load (that are exposed to constant friction). Disruption of the epithelial barrier allows bacteria to penetrate into the dermis.
The most commonly affected areas include:
In women, skin under the breasts or on the inner thighs also becomes involved. In men, the process can affect the perianal zone, perineum, thorax and the area behind the ears.
In the zone of inflammation, deep painful abscesses occur. Nearby lymph nodes become enlarged. Skin lesions leak pus, which can cause an unpleasant smell. Often, patients suffer from hyperhidrosis, or excessive sweating.
Although women are 4 times more likely to develop the disease, in men it is more severe. There are three clinical stages of hidradenitis suppurativa:
Formation of lumps or abscesses. They are solitary or multiple, without fistulas and do not cause scarring.
Relapses of hidradenitis result in formation of fistulas and scarring. As a rule, these hypertrophic scars protrude above the skin level.
Multiple abscesses, fistulas and scars develop. Large areas of skin are affected.
In Germany, the disease stage and severity are defined using the Sartorius staging system. It is based on the anatomical regions involved, distance between lesions, and presence of healthy skin in between lesions.
Hidradenitis suppurativa has high tendency to recur. It is not only unpleasant, but also dangerous due to its complications. The disease can lead to osteomyelitis, sepsis, squamous cell skin carcinoma. Moreover, such carcinomas have high degree of malignancy and metastasize quickly.
Medicamentous and local treatment
Treatment of hidradenitis suppurativa starts with topical and systemic medications. There are more than 30 treatment schemes, but none of them is generally accepted. For topical treatment, various drugs with antibacterial effect (silver-containing drugs, antibiotics, benzoyl peroxide, adapalene etc.) can be used.
Other types of local treatment:
Laser
Photodynamic therapy
Cryosurgery
Injection of botulinum toxin
Resorcinol peel
Irradiation
Newly diagnosed patients are usually treated with antibiotics. In order to alleviate pain and inflammation, oral nonsteroidal anti-inflammatory drugs can be prescribed. Triamcinolone injections into the focus of inflammation can also be recommended.
A person should not wear tight or too warm clothes and shave the area of inflammation. An antibacterial soap reduces the risk of relapse. For women estrogens can be recommended.
Clindamycin is the most commonly used as the topical antibiotic treatment. Systemic antibiotic therapy (rifampicin, tetracycline, clindamycin, minocycline) can also be prescribed.
Adjuvant treatment:
Glucocorticoids to suppress the inflammatory response
Immunostimulators to reduce the risk of relapse
Antiandrogens (for men) to reduce sebum excretion
Topical xylocaine to eliminate pain
Physiotherapeutic procedures are used as an addition to other methods of treatment. They increase effectiveness of conservative therapy or contribute to recovery of patients after surgery.
Surgery
Often patients need a surgical treatment. It is indicated in recurrent, severe or complicated hidradenitis. Formation of fistulas is also an indication for surgical treatment.
Long-existing hidradenitis increases risk of complications, which include:
Fistula formation
Phlegmon
Abscesses
Septic complications
Development of a malignant tumor, especially when hidradenitis affects buttocks and perineum
For most pustular skin lesions, surgery is performed to open the abscess and drain it. However, in case of hidradenitis suppurativa, this approach is ineffective. Here, incision of the abscess can first attenuate the inflammation, but after some time exacerbation follows. The problem is that at the opening of the abscess some apocrine sweat glands involved in the inflammatory process remain intact. Therefore, hidradenitis continues to progress despite the operation.
Radical surgery involves removal of all affected skin. It is carried out in two stages. At the first stage, a wide incision is made in order to remove pus and all affected subcutaneous adipose tissues. Then the wound is treated with the open method. Antibiotics are administered to prevent infection.
When the inflammatory process subsides and the first granulations appear, the second stage of treatment is performed. Skin and subcutaneous adipose tissues are removed within the whole area that is constantly affected by the inflammation. As a result, a significant skin defect is formed. Therefore, skin reconstruction is required. A skin graft with the patient's own skin flaps may be used to close the wound.
One-stage surgery of hidradenitis is not performed, while it can cause severe purulent processes with formation of disfiguring scars. If the plastic intervention is done immediately following the skin removal, the transplanted skin will also be involved in the inflammatory process. Therefore, the bacterial infection needs to be completely suppressed at first, and only then the skin defects can be closed.
Benefits of treatment in Germany
In Germany, hidradenitis suppurativa is treated according to the modern standards, in compliance with the principles of evidence-based medicine. This is an advantage of German medicine over health system of other countries. The most of the existing schemes of hidradenitis treatment are not supported by sufficient evidence. On the opposite, in Germany only those schemes are used that have proven their effectiveness in clinical trials.
German doctors do not limit treatment of hidradenitis to standard antibiotics administration in combination with anti-inflammatory agents. They also use other methods of conservative treatment that are highly effective in certain clinical situations.
In addition to antibiotics, monoclonal antibodies can be used. Biological preparations act by binding the tumor necrosis factor-alpha, which is released in excessive amounts in response to any bacterial skin lesion. Tumor necrosis factor-alpha blockers provide remissions of up to 3 months. Even in severe cases of hidradenitis, it is possible to achieve full recovery in 15% of patients and a significant improvement – in 50% of patients.
In different indications, the following treatment options can be applied:
Physiotherapy methods
Laser therapy
Irradiation of the chronic suppurative inflammation area
Photodynamic therapy
The most effective method of treatment is surgery. Many people seek treatment in Germany, as here surgery is maximally safe and effective.
Advantages of the operation in a German clinic:
Experienced, highly qualified doctors, rated among the best specialists in the world
Well-equipped operating rooms
High-precision diagnostics that allows to accurately delineate the affected skin area with inflamed sweat glands
Use of the modern surgical techniques
High quality postoperative care
Adequate care in all clinical situations
In Germany, postoperative complications are much rarer than in developing countries. Here the percentage of recovery is higher. The vast majority of patients don't have relapses of hidradenitis after the operation.
In German clinics, doctors aim not only to cure the disease, but also to ensure a good aesthetic result. All skin defects are replaced by skin flaps from donor sites. High level of plastic surgery prevents formation of large postoperative scars and other aesthetic defects.
Hospitals and cost of treatment
The highest success rates in the treatment of hidradenitis suppurativa in adults and children are demonstrated by the following hospitals:
The costs of examination and treatment for hidradenitis suppurativa are as follows:
If necessary, not only dermatologists and surgeons, but also specialists in other fields of medicine, are involved in the treatment of hidradenitis.
Organization of treatment in Germany
If you want to come for treatment to this country, the best option will be to use services of Booking Health. We cooperate with the best clinics in Germany. We have direct contracts with them. This allows you to enjoy all the benefits of our cooperation, among which the following should be mentioned:
Choosing the right clinic in Germany. We will select for you a clinic with the best statistics on the treatment of hidradenitis and other skin infections.
Establishing communication with your doctor.
Elaboration of treatment program based on the results of previously performed diagnostic examinations. All medical reports will be translated into German, thus avoiding repetition of the same diagnostic procedures.
The cost of treatment for you will be reduced, as we will negotiate on the exclusion of additional fees and coefficients for non-resident patients.
We will book appointment on the desired date.
Our experts will monitor the program at all stages.
If necessary, we will help you with the purchase of medicines and their shipment abroad.
Clear financial control and return of all unspent funds.
Organization of additional examinations.
Employees of Booking Health will provide you with the high-level services. We will help you to prepare documents for traveling abroad, select and book a hotel, air tickets. In Germany, we will meet you at the airport and take you to the clinic. You will be accompanied by a translator, who will help you find common language with the medical staff of the clinic.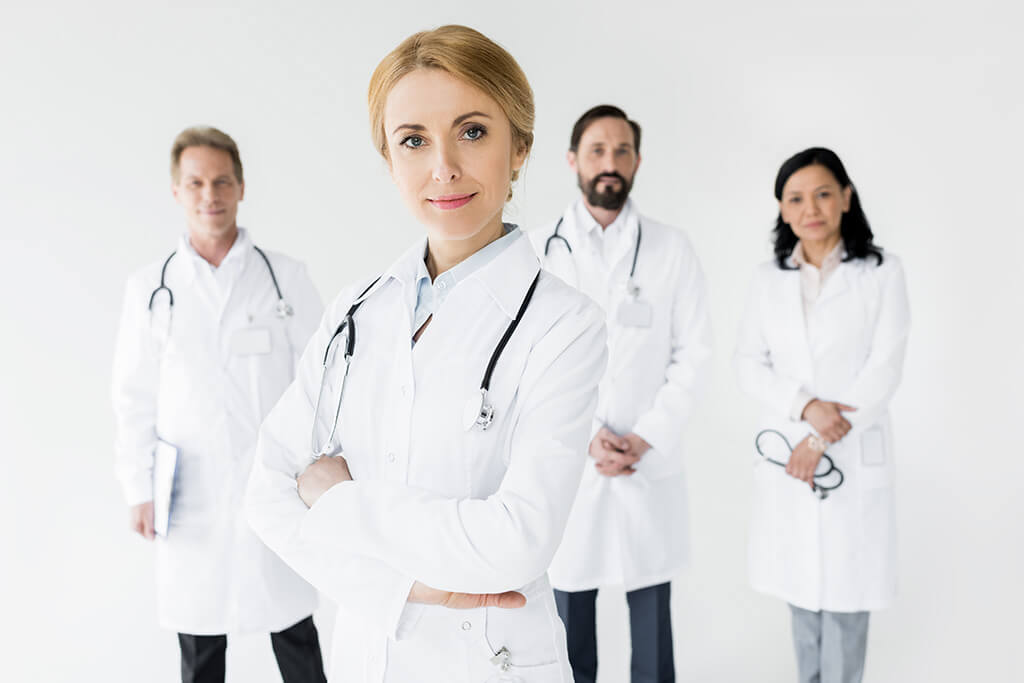 Choose treatment abroad and you will for sure get the best results!
The Booking Health portal presents 45 German clinics specializing in treatment of Hidradenitis Suppurativa
---
Authors: Dr. Vadim Zhiliuk, Dr. Nadezhda Ivanisova
Read:
Why Booking Health - questions and answers
How to make right decision when choosing the clinic and specialist
7 reasons to trust to the rating of clinics on the Booking Health portal
Booking Health quality standards
Treatment of autoimmune diseases in Germany
Send a request for treatment