Due to the difficulties associated with the organization of treatment in Turkey, Switzerland, South Korea and India, we are not currently processing requests to these regions.
If you are interested in treatment in Germany, please leave a request and our specialists will contact you as soon as possible.
Turkey is one of the five world leaders in health tourism. More and more foreign patients come here to treat diseases. The government is actively developing health tourism, planning to receive 2 million patients from other countries in 2023 and earn over $20 billion. Significant successes have already been achieved in this direction and more than 1 million foreign patients visited Turkish hospitals during the previous year.
Content
Why is Turkey better?
The medical tourism industry is developing worldwide. The total cost of it is more than $100 billion a year.
Most countries with advanced medicine are attractive to foreign patients, but the prices they charge are often too high. Turkey is an exception in this regard. The local hospitals offer competitive costs. The cost of diagnostic examination and treatment here is much lower than in the United States or Western Europe, but the quality of the services provided remains at the same high level. To attract medical tourists with affordable prices, the government abolished VAT for foreign patients who undergo treatment in the hospitals certified by the Ministry of Health of Turkey.
Here are some of the reasons why it is worth choosing Turkish hospitals:
JCI accreditation. More than fifty Turkish hospitals have the certificate of the most authoritative organization that assesses the activities of medical clinics. According to this indicator, the country leads in Europe and ranks second in the world. A JCI certificate means that the hospital uses both effective and safe treatment methods for the patient, offers well-organized work and provides comfortable conditions.
Prices. Turkish hospitals provide high-quality healthcare services, but their cost is 2-3 times lower than in Western Europe, the USA or developed Asian countries.
Medical facilities. Tens of billions of dollars have been invested in Turkish medicine over the past few years. Most large private clinics are aimed at foreign patients and keep the bar high. They use state-of-the-art medical technology.
Infrastructure. Turkey has been developing tourism for decades. Therefore, there are large airports, a huge number of comfortable hotels, good roads and convenient transport network.
Hospitality. In Turkey, foreigners never face a negative attitude from the locals. There is no racial, religious or other intolerance. Everyone understands that the country's economy largely depends on the number of tourists, and therefore you are always welcome in Turkey.
Rest. In most cases, foreign patients are not constantly at the hospital. They have plenty of free time to relax in Turkey, visit local tourist sites and see the sights. Upon treatment completion, many people stay in the country to strengthen their bodies and restore strength in one of the many resorts.
Saving. Turkey is not an expensive country, and therefore non-medical expenses will not be high here as well, which is especially important for patients who require long-term treatment or rehabilitation.
Thus, Turkey offers ideal conditions for health tourism. That is why the number of foreign tourists who visit this country doubles every 2 years.
Oncology in Turkey
About 4 out of 10 patients visiting Turkish hospitals come to this country for cancer treatment. The country has indeed achieved significant success in oncology treatment.
Turkish specialists undergo training and internships in the best hospitals in the world. The hospitals have at their disposal modern equipment, which is why the most advanced types of cancer treatment are used here. Here are some examples.
Early stage prostate cancer is cured with a probability close to 100%. Turkish medical centers perform laparoscopic and robot-assisted surgeries to remove the affected prostate gland alone with preserving control over urination and erection. At the advanced stages, prostate cancer with metastases to bones and distant organs is treated with pharmaceutical radionuclides – Actinium-225 and Lutetium-177. Being injected intravenously, Actinium-225 and Lutetium-177 accumulate in all foci of the prostate cancer with metastases and emit beta particles. Beta-radiation does not travel long distances in the tissues, thus it releases its action only in foci of the prostate cancer with metastases while sparing healthy neighbouring organs.
Colon cancer is removed through laparoscopic access. After such an operation, patients recover faster and are less likely to suffer from dangerous complications. Even at the last stage of cancer, treatment can be effective, since doctors perform cytoreductive surgery followed by intraperitoneal chemotherapy.
Breast cancer is not only cured by surgery. In Turkey, oncologists use the highest quality systemic medications, including approved by FDA in 2020 Trodelvy (sacituzumab govitecan-hziy) that is effective in metastatic triple-negative breast cancer. Turkish doctors restore the shape of the female breast using the patient's own tissues or breast implants. The reconstruction can be performed simultaneously or in the second stage of breast cancer treatment, after radiation therapy.
Blood cancer (acute leukemia) is treated with chemotherapy, and if it is ineffective, then a bone marrow transplant is performed. The country performs more than 3 thousand such procedures annually. The vast majority of them are effective – they cure cancer and do not give serious complications.
Stomach cancer. The conventional stomach cancer treatments include endoscopic mucosal resection, surgery, chemotherapy, radiation therapy, and the combined chemoradiation. More up-to-date that have demonstrated efficacy in patients with advanced stomach cancer are systemic immunotherapy and targeted therapy. Depending on the stomach cancer stage, Turkish oncologists choose between different types of surgery (e.g. subtotal or total gastrectomy, gastrojejunostomy, etc.) and decide whether it will be better to combine surgical intervention with radiation therapy or systemic treatments. Immunotherapy (immune checkpoint inhibitor therapy) and targeted therapy (monoclonal antibody therapy and multikinase inhibitors) can be administered as the independent therapeutic options.
Bowel cancer. In Turkish hospitals, bowel cancer treatment scheme is elaborated after the gene tests. Gene tests help in establishing speed of the tumor cells division, likelihood of tumor spreading and recurrence after the therapy completion. The conventional diagnostic methods, such as oncomarkers measurement, visualizing studies and biopsy, are complemented with innovative liquid biopsy. The liquid biopsy helps in both diagnosis making and assessing the response to certain medications. Depending on the stage of bowel cancer, surgery, hyperthermic intraperitoneal chemotherapy (HIPEC), adjuvant and neoadjuvant chemotherapy along with radiation therapy are used. In presence of liver metastases, hepatic arterial infusion chemotherapy (HAIC) is performed. More innovative treatments, such as targeted therapy, are applied in eligible patients. In order to select the appropriate targeted drug, genetic and molecular tests are performed, including gene mutations in the KRAS, NRAS, and BRAF genes; HER2 protein and HER2 gene; NTRK genes. Due to the development of the medical tourism industry, patients from all countries have a chance to undergo such tests and receive the necessary therapy.
Lung cancer. In Turkish hospitals, international patients can undergo all types of surgical interventions aimed at lung cancer treatment, as well as receive chemo- and radiation therapy. Certain patients with non-small cell lung cancer (NSCLC) can also receive treatment with targeted antibodies (bevacizumab, Nnecitumumab, ramucirumab) and checkpoint inhibitors (atezolizumab, durvalumab, ipilimumab).
Uterine cancer. As surgery remains the main option of uterine cancer treatment, the turkish medical associations have approved a number of minimally invasive and extensive operations. Removal of the uterus and cervix can be supplemented by the bilateral salpingo-oophorectomy in menopausal women. Turkish oncologists also use the systemic methods of uterine cancer treatment, such as chemotherapy, hormone therapy in sensitive patients, immunotherapy and targeted therapy. If necessary, the treatment scheme includes sparing radiation therapy, e.g. the MRI-guided radiation therapy.
Thymus cancer. The medical tourism industry offers international patients with rare pathologies a chance to undergo treatment in the specialized hospitals abroad. Thymus cancer has ambiguous clinical manifestations and requires specific diagnostics, such as MRI, Ct scan and PET scan, biopsy. Myasthenia gravis and autoimmune paraneoplastic diseases can develop against the background of thymoma, which requires additional treatment. Thymus cancer itself is treated by means of surgery, irradiation and chemotherapy, immunotherapy, hormonal and targeted drugs.
In Turkey, doctors use radionuclide methods, brachytherapy, Gamma Knife, photodynamic therapy and many other effective methods for cancer treatment.
The best hospitals for cancer treatment in Turkey are as follows: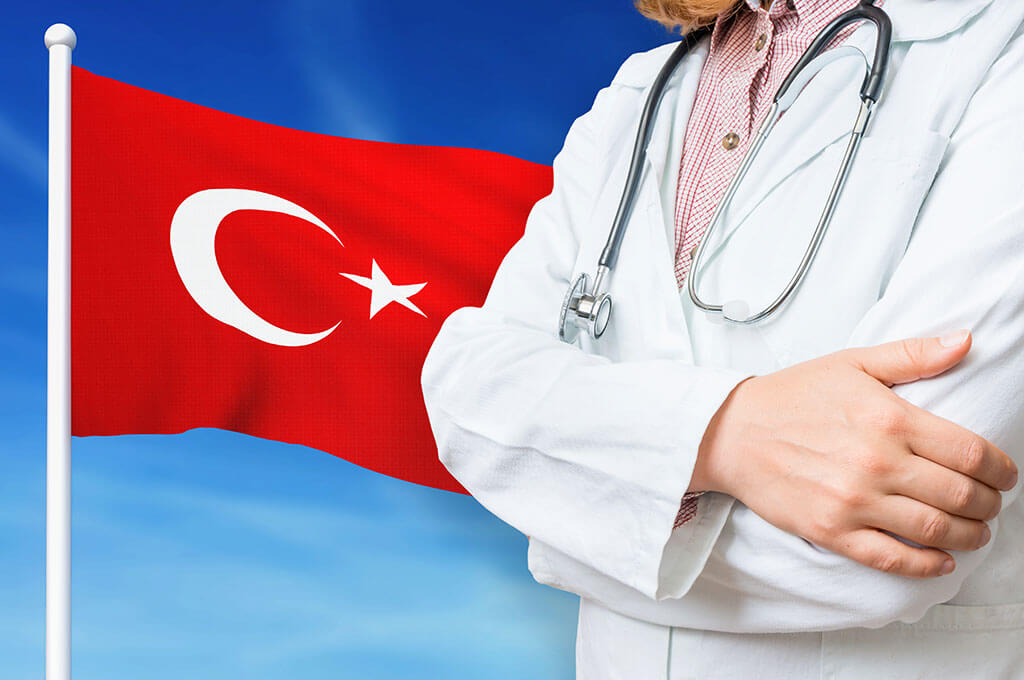 Plastic surgery in Turkey
Aesthetic plastic surgery remains extremely popular. In Turkey, the clinics offer breast augmentation, abdominoplasty, nose job (rhinoplasty) and other interventions. Some plastic surgery centers successfully perform even the most complex reconstructive operations after injuries, cancer, or in congenital malformations. Among patients after 40 years, anti-aging treatments are popular.
Facelift. Facelift is a surgery that is aimed at correcting the signs of aging on the neck and face (e.g. excessive skin folds, sagging, changes in the face shape). During the procedure, a surgeon pulls back a flap of skin on each face side and performs the necessary manipulations on muscles, fasciae and subcutaneous fat. Cosmetic surgery in Turkey includes filament facelift, SMAS-lifting, mini facelift, surface or circular lifting, and endoscopic or closed facelift.
Eyelid surgery. Eyelid surgery (blepharoplasty) is another anti-aging intervention that is aimed at correcting the droopy eyelids. Depending on the cause of sagging, a surgeon removes the excessive skin and fat, and corrects size and position of muscles. Blepharoplasty in Turkish hospitals has the stable result that may last a lifetime.
Rhinoplasty. Nose job (rhinoplasty) in Turkey may be performed for aesthetic reasons, as well as in case of hampered nasal breathing, birth defects or acquired injuries. Aesthetic nose job is carried out according to the wish of a patient, without obligatory medical indications. Specialized Turkish hospitals offer few types of nose job that will meet the needs of each patient: open and closed rhinoplasty, sparing ultrasound rhinoplasty and reshaping with fillers, septoplasty.
Otoplasty. Otoplasty is aimed at changing the size, shape or position of the ears. In Turkey, medical specialists perform otoplasty in both adults and children. In patients with small ear defects non-surgical techniques may be applied.
Breast augmentation. Breast augmentation can be performed with the help of breast implants or transferring a woman's own fat. Breast augmentation is indicated after breast cancer treatment with mastectomy, breast injuries or in congenital deformities. Breast implants can be made of silicone gel or be saline-filled. Both saline and silicone breast implants have pros and cons, so a surgeon discusses all of them with the woman before the procedure.
Liposuction. This is a type of cosmetic surgery in Turkey that is aimed at removing the excessive subcutaneous fatty tissue, reducing the volume and improving shape of the target body regions (e.g. arm liposuction, liposuction of the hips, neck liposuction, etc.). In many patients, combined liposuctions or plastic interventions are performed. For instance, abdomen liposuction may be combined with abdominoplasty, neck liposuction may be combined with facelift, arm liposuction may be combined with interventions on the breasts.
The best hospitals for undergoing plastic interventions in Turkey are as follows:
FUE hair transplant in Turkey
Many men have medical travels for a hair transplant in Turkey. Turkish hospitals offer lifelong hair restoration, including hair on the head, mustache and beard transplant. Women more often resort to hair restoration in alopecia areata and loss of eyebrows.
The most effective technique of transferring the donor follicles to the target region is FUE hair transplantation. FUE, follicular unit extraction, includes harvesting the donor follicles one by one, with minimal damage to the donor region and follicles themselves. Special microsurgical instrument allows making micro-punches in the skin of the donor region. Harvested follicles are stored in the nutrient solution that increases their viability. Once follicles are processed and ready for the transplantation, a surgeon implants them in the donor region one by one.
Turkish hair restoration surgeons can transplant up to 5,000 hair grafts during one procedure and guarantee achieving the desired result. In selected patients other hair transplant procedures are applied, such as FUT hair transplantation and DHI (direct hair implantation).
The best hospitals for the hair restoration with FUE hair transplantation in Turkey are as follows:
Dentistry in Turkey
The patients from Western Europe and the USA often visit Turkish clinics for dental treatments. Dentistry here is much cheaper, but not inferior in quality to the clinics of developed countries.
Turkish crowns. Turkish crowns can substitute missing teeth (when placed on the teeth implants), replace large fillings, enhance weakened or damaged teeth, align the bite, etc. In addition, Turkish crowns are used for the aesthetic purposes, as they level the shape and size of teeth. In Turkey, crowns have a long service life and warranty.
Dental implants. Teeth implants replace missing teeth roots and create basis for the subsequent placement of crowns or the removable replacement teeth. Depending on the number of missing teeth, Turkish hospitals offer few types of teeth implants, such as single dental implants, all-on-4 dental implants, all-on-6 dental implants. While single dental implants replace 1 or 2 missing teeth, all-on-6 and all-on-4 dental implants restore the whole dentition with the minimal number of implantations required. As it is obvious, all-on-4 dental implants require only 4 implantations that can be performed during 1 or 2 days.
Porcelain veneers. For the minor defects, in patients with preserved teeth, porcelain veneers can be used. Veneers are thin wafers that are permanently bonded to the visible teeth surface in order to change their shape, color, or position in the mouth. In Turkey, dentists select carefully veneers' tint and place them reliably and carefully.
The best hospitals for undergoing dental treatment in Turkey are as follows:
Other destinations of medical tourism in Turkey
More and more patients come to the Departments of Neurosurgery at Turkish hospitals. These departments perform operations on the brain and spinal cord in case of spinal and traumatic brain injuries, tumors, myelocele. Turkish neurosurgeons treat epilepsy, Parkinson's disease, strokes and other diseases.
In Istanbul one can find the largest Eye Clinic in the world, which is called Dunyagoz Hospital Istanbul. It performs more than 100 eye surgical procedures every day. Most of them are performed using laser technology. The clinic treats glaucoma, cataracts, refractive errors, retinal diseases.
A large number of couples visit Reproductive Centers in Turkey. They can undergo both diagnostics and treatment of infertility in these centers. The medical facilities successfully apply assisted reproductive technologies, such as IVF, ICSI, PICSI, preimplantation genetic diagnosis. If necessary, the germ cells are frozen and can be stored for an unlimited time. The centers use donor oocyte programs, surrogacy programs. The leading healthcare institution in this sphere is Jinepol Women's Health and IVF Clinic Istanbul, Department of Reproductive Medicine.
In Turkey, patients can also undergo cardiac surgery. The hospitals use both complex open-heart surgery and the methods of interventional cardiology. Many hospitals perform coronary dilatation procedures, atrial septal defect closure and artificial valve implantation using minimally invasive endovascular procedures.
Treatment in Turkey with Booking Health
If you are interested in the possibility of health tourism in Turkey, you can book a diagnostic or medical treatment program in this country through Booking Health. Our portal presents leading Turkish hospitals. We are organizing trips abroad for the purpose of treatment, we help to decide on a medical institution, we support medical tourists:
Choosing the right hospital, including the best hair transplant clinic in Turkey, based on the annual qualification profile
Establishing communication directly with your doctor
Preparing medical program in advance, without repeating previous examinations
Providing favorable costs, without overpricing and additional coefficients for foreign patients (saving up to 50%)
Booking the appointment on the necessary date
Monitoring medical program at all stages
Help in buying and forwarding of medicines
Communication with the clinic after treatment completion
Control of invoices and return of unspent funds
Organization of additional examinations
Offering service of the highest level: booking hotels and plane tickets, transfer organization
To start planning your treatment you should leave the request on the website of Booking Health. Our patient case manager or medical advisor will contact you the same day to discuss all the details. Aim of our work is to help you in improving and maintaining your health. Thanks to Booking Health, you can get treatment easier, faster and cheaper.
Choose treatment abroad and you will for sure get the best results!
---
Authors: Dr. Nadezhda Ivanisova, Dr. Farrukh Ahmed
Read:
Why Booking Health - questions and answers
How to make right decision when choosing the clinic and specialist
7 reasons to trust to the rating of clinics on the Booking Health portal
Booking Health quality standards
Send a request for treatment