1. University Hospital Carl Gustav Carus Dresden
2. Charite University Hospital Berlin
3. University Hospital Duesseldorf
4. University Hospital Muenster
6. University Hospital RWTH Aachen
7. Heidelberg University Hospital
8. University Hospital Tuebingen
9. University Hospital of Ludwig Maximilian University of Munich
10. University Hospital Rechts der Isar Munich
Prostate cancer is one of the most common cancers that affect men. This is a widespread cause of death among men in the Western countries. To be precise, prostate cancer makes up to 30% all of malignant neoplasms in men. The disease is frequently diagnosed too late as at the early stages it remains asymptomatic. Nonetheless, any stage of prostate cancer can be successfully treated in Germany. Hospitals below are the leaders in the prostate cancer treatment in Germany.
University Hospital Carl Gustav Carus Dresden
Department of Urology
University Hospital Carl Gustav Carus Dresden is one of those with the maximum provision. That's why all the possibilities of modern healthcare are available here for patients. 21 specialized departments work here at the clinic. The institution cooperates closely with the Karl Gustav KarusCancer Centre Dresden. Cancer Centre is also a Centre for Highly Specialized Care of Cancer Patients.
Prostate cancer is treated in the Department of Urology. This is one of the basic directions of its activity. They have their own Intensive Care Unit. Surgeries are performed with a great degree of precision. Post-operative recovery is also given great attention at the hospital.
Charite University Hospital Berlin
Department of Urology
Charite University Hospital Berlin is the best German hospital rated by Focus magazine. Quality treatment of all diseases are carried out here, especially Oncology. Charité University Hospitalincludes more than a 100 healthcare institutions which are incorporated into the 17 medical centres.This is one of the biggest European hospitals which treat over a million patients annually.
Surgeries of varying complication are performed in the Department of Urology. These are not only open surgeries but also the minimally invasive laparoscopic surgeries. Thanks to the thorough work of the urological department, Charité clinic is certified as an Interdisciplinary Centre for Prostate Diseases.
University Hospital Duesseldorf
Department of Urology
In University Hospital Duesseldorf patients can benefit from the the high-tech equipment and the use of the latest achievements of the medical science. Close cooperation is arranged between the hospital and other German and European healthcare institutions. This means new treatment is implemented in time which give patients a chance to heal and recover quickly.
The Department of Urology meets all the criteria of the German Cancer Society. Due to this, it was certified as the Centre for Prostate Cancer Treatment. Here the latest technologies are actively used such as: robotic operations, laparoscopic surgical interventions, laser therapy.
University Hospital Muenster
Department of Urology and Paediatric Urology
University Hospital Muenster is one of the most authoritative German multidisciplinary medical institutions. With highly advanced technological branches of medicine such as oncology, transplantology, neuromedicine, reproductology and others are offered here. Treatment of severe and rare diseases is under way.
Problems relating to prostate cancer are dealt with by doctors of the Department of Urology and Paediatric Urology. Here the latest methods of treatment are used. Systemic antitumor therapy is offered as well. Laparoscopic and robotic operations are performed. Reconstructive surgery is well developed.
Leverkusen Hospital
Urology and Pediatric Urology Department
Leverkusen Clinic is a huge hospital for the regional service. Its basic work directions are urology, gynaecology and surgery. Leverkusen Hospital is the first in Germany to bemarkedby the Centre of Excellence Centre of the Association of Centers for the Treatment of Prostate Cancer in Germany. The clinic is faster than most other medical institutions when it come to introducing innovations in the treatment of prostate oncopathology.
The doctors of the Department of Urology and Pediatric Urology are engaged in the treatment of cancer of the corresponding location. Not only are new surgical operations offered here, but also the most effective conservative methods of oncopathologies treatment. Brachytherapy is widely used as well. If possible, preference is given to minimally invasive operations that are performed without large incisions of tissues.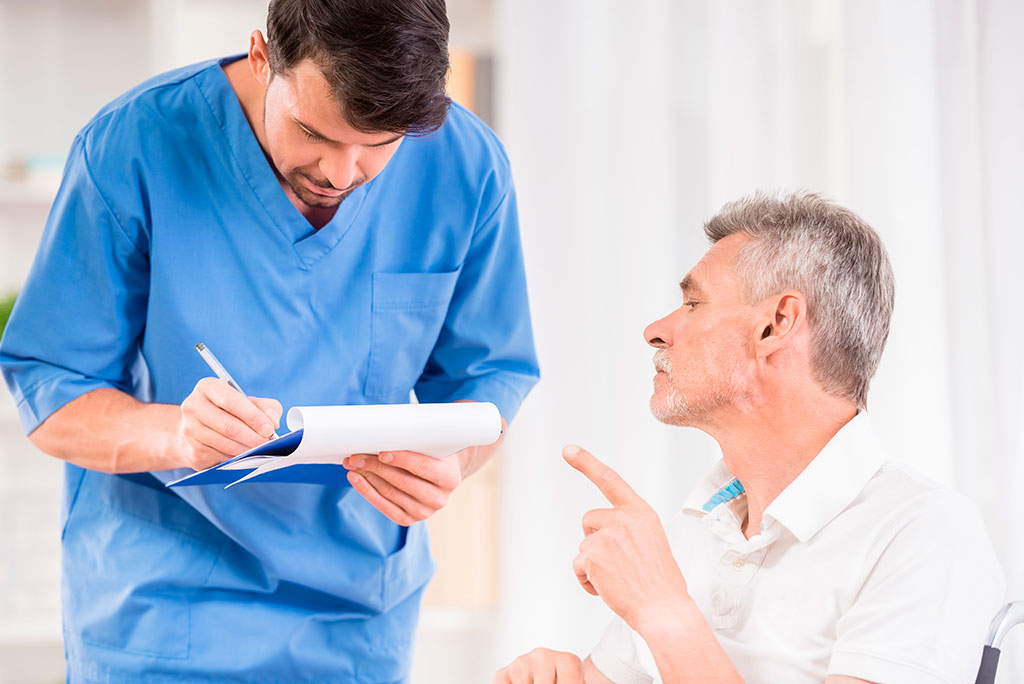 University Hospital RWTH Aachen
Department of Urology
University Hospital RWTH Aachen is a medical centre of higher level university. Both patients are treated here, and clinical studies are being conducted, future doctors are in training to further their medical education, and care services are provided. Research and clinical departments are located in the same building, which ensures active exchange and cooperation between them.
The Department of Urology deals with prostate cancer therapy. Surgical and conservative methods of treating this disease are used here. The treatment plan is made individually for each patient and is discussed on an oncological consultation. The surgeons, urologists, radiologists, specialists in palliative and nuclear medicine take an active part in the treatment process.
University Hospital Heidelberg
Urology Department
Heidelberg University Hospital is one of the oldest medical clinics in Germany, which over the years has not lost its leading position despite the rise of high-tech medical fields. Here innovative technologies are widely used for the treatment of various diseases, such as oncology, neurobiology, genetics, transplantation which are very well-developed here.
Treatment of prostate cancer is carried out by specialists of the Urology Department. It is recognized as the Centre of Excellence due to timely introduction of new, more effective methods of therapy for urological diseases. Doctors try to use laparoscopic operations whenever its possible. Surgical procedures using the DaVinci robot surgeon are used for the radical removal of the prostate.
University Hospital Tuebingen
Department of Urology
University Hospital Tuebingen is rated one of the five best German medical institutions in 2017 according to Focus magazine. It serves a large number of foreign patients. Here there are modern diagnostic and therapeutic options available for treating various groups of diseases. Quality care for patients is provided here.
Doctors of the Department of Urology effectively treat prostate cancer at any stage. Oncology Center offers treatment for the prostate gland functions here as well, which was certified in 2009 by the German Cancer Society. The department closely cooperates with the Centre of urogenital tumors (South-West German Cancer Centre).
University Hospital of Ludwig Maximilian University of Munich
Department of Urology
University Hospital of Ludwig Maximilian University of Munich was founded more than 200 years ago. During this time it became one of the leaders of German medicine. It includes 44 medical institutions of various profiles. All of them have vast technical capabilities and human resources, which allows the University Clinic of Munich to be one of the best in Germany.
A thorough diagnosis of prostate cancer is carried out in the Department of Urology in order to choose the most effective and sparing treatment for the patient. Here, nerve-sparing operations are effectively used in the radical removal of the prostate gland. Laparoscopic surgical interventions are used during the initial stages of cancer, which have a short period of postoperative recovery and a minimal risk of complications.
University Hospital Rechts der Isar Munich
Department of Urology
University Hospital Rechts der Isar Munich includes 33 specialized clinics and departments. There is a close interaction between research institutes and departments that conduct practical medical activities. This allows timely introduction of the latest scientific achievements in various fields of medicine.
Doctors conduct high-tech operations and apply the latest methods of conservative treatment for prostate cancer in the Department of Urology. The department uses high-frequency surgery, and microsurgical interventions are carried out also. Robotic-assisted surgeries are used for cases of radical prostatectomy.
Arrangement of treatment in Germany
Not every patient is able to correctly plan and organize treatment in Germany. To do this, you need to choose a clinic, get in touch with its administration, overcome the language barrier, and get an invitation from the head physician. Then you need to issue a visa, get to Germany, and travel from the airport to the clinic. Before this, you need to translate the medical documentation into German. In Germany, you need to find an interpreter to be able to communicate with the administration and the medical staff of the clinic.
To avoid unnecessary hassle, temporary and economic costs, use the services of Booking Health for the organization of treatment abroad. We will select the best clinic for you, where you can go for treatment in the very near future.
In addition, we will help you to:
Issue a visa and translate the documentation into German
Save up to 70% of the medical services cost
If necessary, arrange an urgent doctor's appointment in any medical institution in Germany
You will receive health insurance that will protect you from unforeseen expenses associated with the possible development of complications. This means that the originally agreed price of treatment in any case will remain unchanged even if additional diagnostic and therapeutic procedures should be required.
Make an application on our website. The specialist of Booking Health will contact you telephonically within the next few hours.
Choose treatment abroad and you will for sure get the best results!
---
Author: Dr. Nadezhda Ivanisova
Read:
Why Booking Health - questions and answers
How to make right decision when choosing the clinic and specialist
7 reasons to trust to the rating of clinics on the Booking Health portal
Booking Health quality standards
---
You might also be interested in:
---
Many treatments program are already bookable on bookinghealth.com